Arab League to Meet on Syria as Peace Mission Stumbles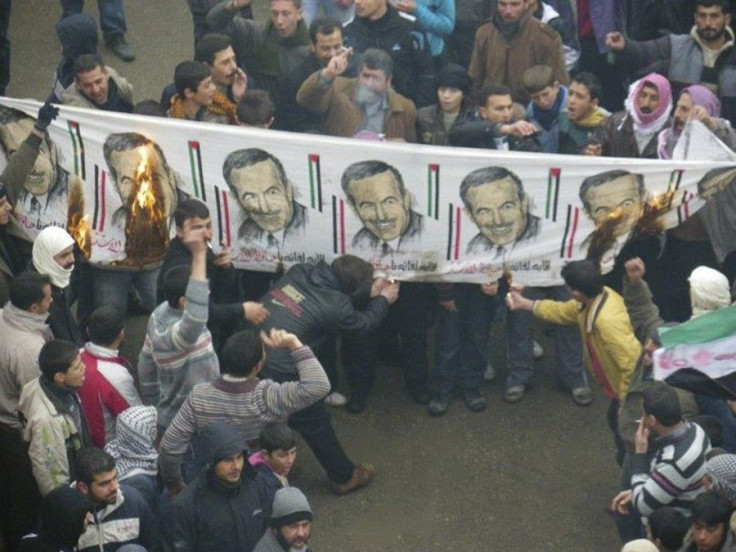 Arab League monitors will say on Sunday that Syria is defying a plan to end its crackdown on peaceful protests, Al Jazeera reported, as Arab foreign ministers prepared to discuss the findings of the mission.
An initial report from the monitors will say violence by Syrian security forces against anti-government protesters continues and the military has failed to withdraw from cities.
The Syrian government has only partially complied with its pledge to release political prisoners, with citizens complaining that some are still being detained in unknown locations, the pan-Arab satellite news channel said, citing leaked sections of the report.
The Arab foreign ministers meeting in Cairo were to discuss whether to ask the United Nations to help their mission, which has failed to end a 10-month crackdown on unrest in which thousands of people have died, according to U.N. figures.
Qatari Prime Minister Sheikh Hamad bin Jassim al-Thani said on Friday there had been no end to the killing and the monitors could not stay in the country to waste time.
The ministers will examine what monitors have found since starting work on Dec. 26 and will discuss ways for them to work more independently of Syrian authorities, a league source said.
But league sources said they were likely to reaffirm support for the operation, resisting calls to end what Syrian pro-democracy campaigners say is a toothless mission that buys more time for President Bashar al-Assad to suppress opponents.
Eleven Syrian soldiers were killed and 20 wounded in clashes with army defectors on Sunday in the village of Basr al-Harir in the southern province of Deraa, the British-based Syrian Observatory for Human Rights said. It did not report any casualties among the army defectors.
Qatar, chairing the Arab League committee on Syria, has proposed inviting U.N. technicians and human-rights experts to bolster the monitoring effort, league sources said. One said it might ask that U.N. staff helping the mission be Arabs.
Syria says it is providing the monitors with all they need and has urged them to show objectivity and professionalism.
No Withdrawal
Speaking on the eve of the meeting, the head of the monitoring operations room at the league's headquarters in Cairo, Adnan al-Khudeir, said the withdrawal of the monitors was not on the agenda and they were continuing their work according to protocols agreed with the Syrian government.
Ten Jordanian monitors arrived in Damascus on Saturday, Khudeir said, bringing to 153 the number involved.
The U.N. says more than 5,000 people have been killed in the uprising against Assad. The Free Syrian Army, an armed opposition force composed mainly of army deserters, has joined the revolt. The Syrian government says terrorists have killed 2,000 members of the security forces during the uprising.
The 22-member Arab League suspended Syria in November after months of silence over the crackdown. But some Arab leaders are uncomfortable about targeting one of their peers given their own restive populations, diplomats say.
Western powers that want Assad to step down to allow for democratic reform have welcomed the league's toughened stance. Arab states oppose any foreign military intervention like that which helped topple Libya's Moammar Gadhafi last year.
Assad's opponents say Syrian authorities have systematically deceived the monitors, for instance by hiding prisoners in military facilities.
Syria bars most independent journalists from the country, making first-hand reporting impossible, but a BBC Arabic service reporter was allowed to accompany three monitors to a town on the outskirts of Damascus. The BBC said it had been able to film, unhindered by the security forces.
Protesters and residents told the observers, all Algerian diplomats, of harsh treatment at the hands of the security forces. The observers witnessed a demonstration in which the crowd demanded Assad's execution, the BBC said.
In Damascus, crowds waving Syrian flags and pictures of Assad gathered on Saturday to bury 26 people whom the authorities said were killed by a suicide bomber.
The opposition Syrian National Council has accused the government of staging Friday's explosion to try to bolster its contention that it is fighting foreign-backed terrorists, not a popular pro-democracy movement.
(Additional reporting by Omar Fahmy and Ayman Samir in Cairo and Alistair Lyon in Beirut; Writing by Andrew Roche and Tom Pfeiffer; Editing by Janet Lawrence)
© Copyright Thomson Reuters 2023. All rights reserved.
FOLLOW MORE IBT NEWS ON THE BELOW CHANNELS