Argentine President Racist Tweet: Chinese Social Media Reacts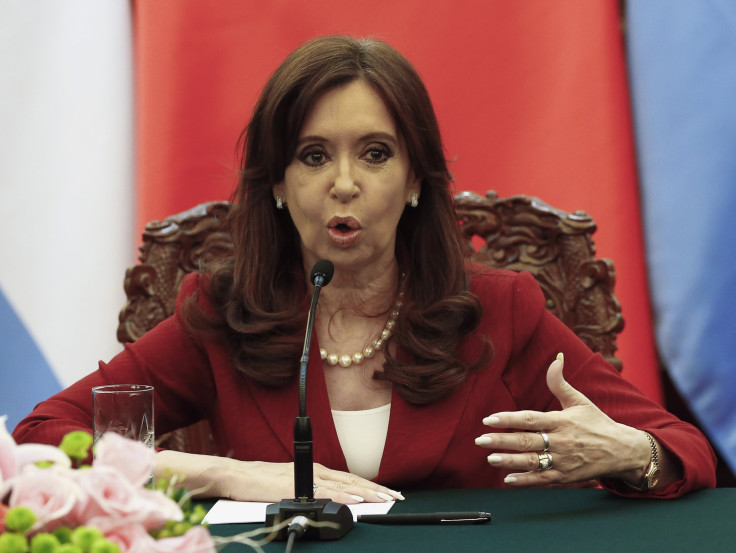 Argentine President Cristina Fernandez de Kirchner, who has been live-tweeting her visit to China while a scandal rocks her government at home, shocked people worldwide when she used the social media network to apparently mock Chinese speech on Wednesday. Some Chinese social media users were taking it all in stride. "Even the Argentinian president knows Chinese people can't differentiate between their R's and L's?" one user quipped on Chinese microblogging site Weibo. Others, however, took offense to the tweet, which was widely perceived as racist. "During the Argentine president's visit she made a very offensive joke at our expense. Is she tired of living?" opined another.
Kirchner's post -- which had been retweeted more than 2,300 times and favorited more than 1,200 times by early Wednesday -- plays on the stereotype that Chinese can't distinguish between their R's and L's. The tweet translates in English as: "More than 1,000 attendees at the event… Are they all from "La Cámpola" and did they only come for the lice and petloleum?" Kirchner misspelled "La Cámpora," an Argentine political youth organization supporting her government, as well as the words "rice" (arroz) and "petroleum."
Chinese Weibo users in recent days had been following Kirchner's tweets via Chinese media Xinhua coverage, as Twitter is blocked in the country. Up until her controversial post, Kirchner's tweets had been solely about her visit to Beijing to meet with Chinese President Xi Jinping to promote investment in South America. Energy and agriculture were among some of the major issues she discussed with Xi during her four-day trip to China, according to Bloomberg.
After her original post, Kirchner tweeted once again in Spanish, which roughly translated to: "Sorry. You know what? It's just that [the statement] was so highly ridiculous and absurd, it can only be understood as humor. If not, it would have been very toxic."
Argentina has been relying on Chinese loans to prop up its currency, which has fallen 23 percent against the dollar in the last year after the country defaulted on its debts twice in 13 years. Kirchner said in a speech that she signed 15 agreements with Xi to boost investments in the country. China, the world's second-largest economy, had previously indicated it will invest some $250 billion in Latin America.
Presidential spokesman Alfredo Scoccimarro did not respond to Bloomberg's requests for comments on the tweet, and the presidential palace's official Twitter account has retweeted Kirchner's comment about the offensive tweet being a joke. One Weibo user described her Chinese tweet as an "unfunny joke."
In Argentina, meanwhile, Kirchner's government is reeling from the killing of Alberto Nisman, a prosecutor who was investigating the 1994 bombing of a Jewish center. He drafted a warrant for Kirchner's arrest and questioning before being found shot dead in his home on Jan. 18.
© Copyright IBTimes 2023. All rights reserved.
FOLLOW MORE IBT NEWS ON THE BELOW CHANNELS