Ariel Sharon, Former Israeli Prime Minister, Dies At Age 85 After Eight Years In A Coma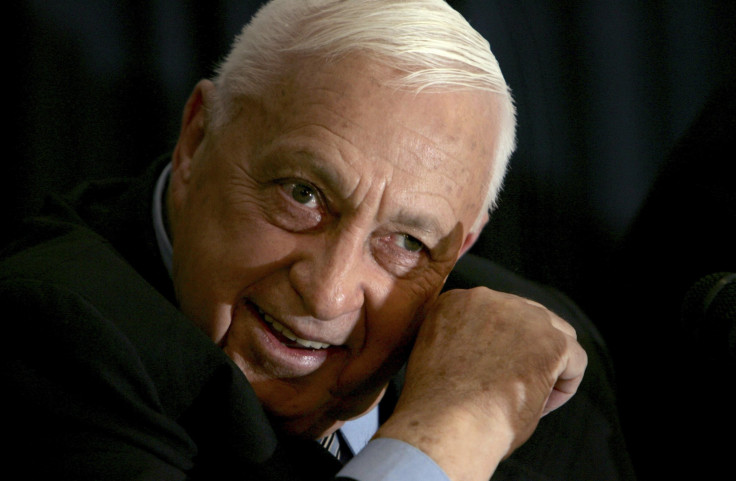 Ariel Sharon, Israel's 11th prime minister and one of the Jewish state's most controversial figures, died early Saturday of multiple-organ failure after eight years in a permanent vegetative state. His death marks the passing of Israel's last leader from the 1948 generation.
Sharon, who was 85, suffered a brain hemorrhage and subsequent devastating stroke on Jan. 4, 2006, while running for re-election as prime minister. He quickly slipped into a coma, from which he never emerged.
Doctors at Sheba Medical Center at Tel Hashomer near Tel Aviv kept Sharon alive with a breathing machine that sent air directly into his lungs and a tube that sent essential nutrients into his stomach.
At the time of his stroke, Sharon was running for re-election as part of the centrist Kadima Party, which he joined after leaving the more conservative Likud Party. When Sharon lapsed into a coma, Deputy Prime Minister Ehud Olmert took over and a few months later was elected prime minister.
At the time of his death, Sharon, who suffered renal failure last week, was surrounded by his family, including sons Gilad and Omri, who visited him daily while he was in a coma, according to the Jerusalem Post.
Sharon, whose parents moved from Russia to Kfar Malal in British-controlled Palestine before he was born, fought in the 1948 War for Independence and played a key role in the 1967 Six-Day War and the 1973 Yom Kippur War. In 1982, as defense minister, he orchestrated the invasion of Lebanon. It was during that invasion that hundreds of Palestinians were slaughtered by a Lebanese militia allied with Israel. Sharon was held indirectly responsible and forced to resign as defense minister the following year. But 18 years later he was elected prime minister, and in 2005 he surprised both Palestinians and Israelis by ending his nation's 38-year-old occupation of the Gaza Strip by unilaterally moving Jewish settlers out and withdrawing all Israeli troops.
© Copyright IBTimes 2023. All rights reserved.