Arsenal Transfer News: Moving Ahead on Hazard, Martin, Jagielka, and Kaka?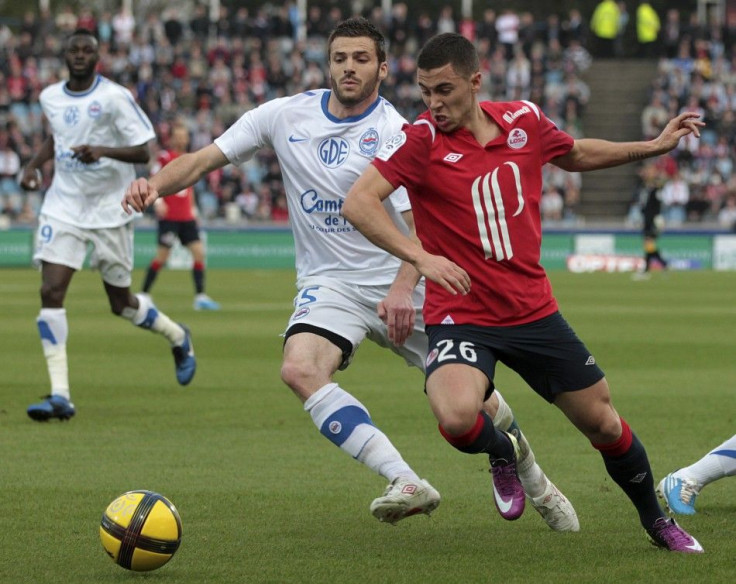 Reinforcements have arrived for Arsene Wenger ahead of Arsenal's second leg of Champions League group-stage qualifying at Udinese on Wednesday.
Jack Wilshere, Robin van Persie, and perhaps Samir Nasri, are expected to be in action against the Serie A club, with Arsenal leading on aggregate, 1-0. After a home loss to Liverpool in Premier League action, Arsenal need to bounce back against an Udinese side that showed flashes of high-quality play against the Gunners at Emirates Stadium last week. Arsenal will take any advantage they can get after a rash of suspensions, transfers, and injuries have weakened the club.
It's possible even more reinforcements are on the way, as Arsenal have reportedly stepped up efforts to land at least one creative midfielder, as well as a defensive midfielder, and a centre back. These prospects appear to be more serious than ones over the past few weeks.
The big questions surrounding the North London club are just how accurate and how serious are the rumours, and how quickly can Arsenal swing a deal as the August 31 deadline looms.
A loan for Argentine midfielder Lucho Gonzalez fell through according to Marseille manager Didier Deschamps, and another one is about to be dealt the same fate. Real Madrid playmaker Kaka, who is only four years removed from being named FIFA World Player of the Year, would probably be a solid fit for the Gunners as they search for a permanent midfield replacement, but there are major drawbacks that will almost certainly end a potential deal.
Kaka earns more than £200,000 a week, is injury prone, and has been quoted as saying that he intends to stay in Madrid. Arsenal wasn't willing to substantially increase the wage of Nasri, so to foot the bill for an overpriced 29-year-old seems highly unlikely.
The good news for frustrated Arsenal fans is that more plausible prospects have surfaced. The Independent reported that Wenger is pursuing Marvin Martin, Sochaux's creative 23-year-old midfielder, who has received high praise from France national club manager Laurent Blanc. Martin racks up assists with his excellent passing skills and keen field vision, and is valued at roughly £10 million.
Wenger is also expected to step up efforts for Rennes defensive midfielder Yann M'Vila, after the Udinese match. The Guardian reported that the 21-year-old is valued at £12 million.
Perhaps the most hopeful news is that Wenger has put a bid on Lille's Eden Hazard, according to Daily Mirror. The Belgian midfielder, valued at about the same price as Nasri, might be the best young playmaker in Europe. Hazard, 20, could prove to be an upgrade over Nasri for the Gunners, as the club could use an injection of fresh faces after a disappointing 2010-2011 season.
Both M'Vila and Hazard are believed to want to play in the Champions League so their arrival at Emirates might be contingent up on whether the Gunners advance on Wednesday.
Mikel Arteta, Willian, Riccardo Montolivo, and Andre Ayew are other possibilities, but seem to be longshots.
The Independent also reported that Arsenal remain interested in Phil Jagielka. The Everton centre back would be an ideal addition to Arsenal because of his experience and ability to also play defensive midfielder, a position held by Alex Song, but where Arsenal appears to lack depth. Jagielka is unsure about making the move to Emirates.
Should a deal for Jagielka fall through again, Per Merstesacker remains an obvious option. The 6'6 German centre back might be a steal at about £8 million, while it's possible that Werder Bremen may decide to swap him for forward Nicklas Bendtner.
Arsenal fans would be enamored by the possible scenario of Wenger adding Hazard and Martin in the midfield, and Merstesacker in central defense. It's also plausible that Arsenal could do better than that, but the mere notion that the trio might join the Gunners is a dramatic improvement over the last week's lack of negotiations.
Following the loss of Cesc Fabregas to Barcelona, there wasn't even chatter of Arsenal stepping up efforts to land legitimate replacements, fueling fan reaction that Wenger should possibly be replaced. Former Arsenal vice-chairman David Dein has come to Wenger's side recently, as have Liverpool boss Kenny Dalglish and Fabio Capello.
There is no chance of that [quitting] happening, I like to keep a sense of perspective, Wenger said, when asked about his future with the club.
Wenger remains among the sharpest minds in the game. However, the procrastination to upgrade key areas has caused many to question his off-season strategy. Arsenal have money to spend, but have been painfully slow to do so.
They need experienced, outstanding players and I think they need about another three in the side at the present time, said former Arsenal manager George Graham in a recent radio interview. They've got the money, let's sit down, get some of these players in he's supposed to be after and let's see if they can start winning trophies again.
It's not as though Arsenal need motivation to get a deal done. The early schedule had Champions League matches, as well as an early test against Liverpool last Saturday, which the short-handed Gunners lost at Emirates Stadium, 2-0.
Things don't get much easier beyond Udinese on Wednesday. The last match before the transfer deadline is rival Manchester United at Old Trafford on Sunday.
Now that Wenger has some players in sight, it's way past time to make a deal.
© Copyright IBTimes 2023. All rights reserved.