Arsenal Vs Manchester United: Here's Why Ten Hag's Team Will Be Without Casemiro
KEY POINTS
Casemiro moved from Real Madrid to Man Utd last summer
Casemiro has netted a goal and three assists in last seven games
Man Utd are set to take on Arsenal on Sunday
Midfielder Casemiro will reportedly miss Manchester United's upcoming clash against Arsenal.
They are eight points behind leaders Arsenal in the ongoing league season. The two sides will face off against each other at Emirates Stadium on Sunday. Casemiro will miss the Red Devils' trip to London this weekend due to a yellow-card suspension, according to Sports Mole.
Manchester United's previous Premier League title win came in the 2012-13 season under Sir Alex Ferguson.
The 30-year-old defensive midfielder entered Wednesday's Premier League clash against Crystal Palace with four yellow cards to his name, including a caution in the Manchester derby last Saturday. While Casemiro was hoping to avoid a fifth yellow card at Selhurst Park, he received it in the 80th minute for a late lunging challenge on Wilfried Zaha.
Premier League players who receive five yellow cards within the first 19 fixtures are suspended for one match. Casemiro picked up his latest booking in Manchester United's 19th game of the 2022-23 campaign. In the second half of a Premier League season, the five-yellow limit is raised to 10 and suspensions are increased to two matches.
Casemiro has been in fine form since his arrival at Old Trafford from Real Madrid last summer and is one of the key reasons behind Erik ten Hag's latest success with the club. The Brazilian midfielder has contributed with a goal and three assists in his last seven appearances for Manchester United in all competitions.
Reacting to Casemiro's booking, Manchester United manager Ten Hag told Sky Sports, "I think it's instinctive, he went for the ball. He missed the ball but it's quite clear, on our right side, it could have been a dangerous situation. He wants to stop it. That was his reaction, it was quite clear. Last time we beat Arsenal without Casemiro, so this time we have to do the same."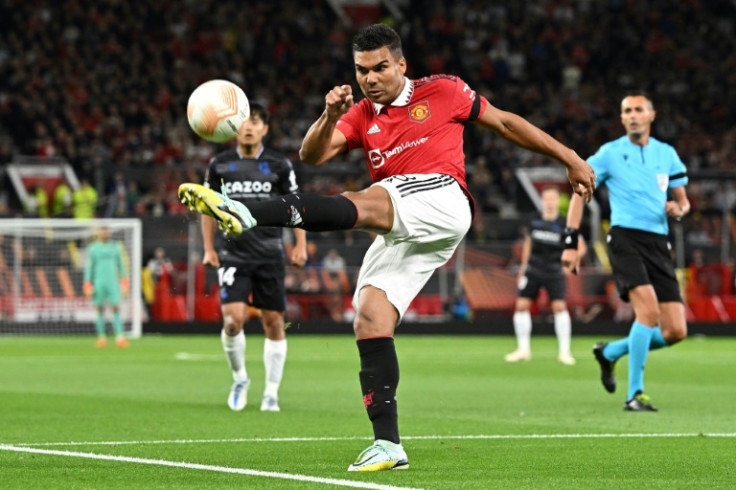 When Arsenal started the 2022-23 Premier League season with a five-win streak, it was Ten Hag's Manchester United that ended the Gunners' run by beating them 3-1 at Old Trafford last September.
With 47 points, Arsenal are at the top of the league table and are eight points clear of second and third-placed Manchester City and United.
© Copyright IBTimes 2023. All rights reserved.