Asian Shares Fall After US Rally Ends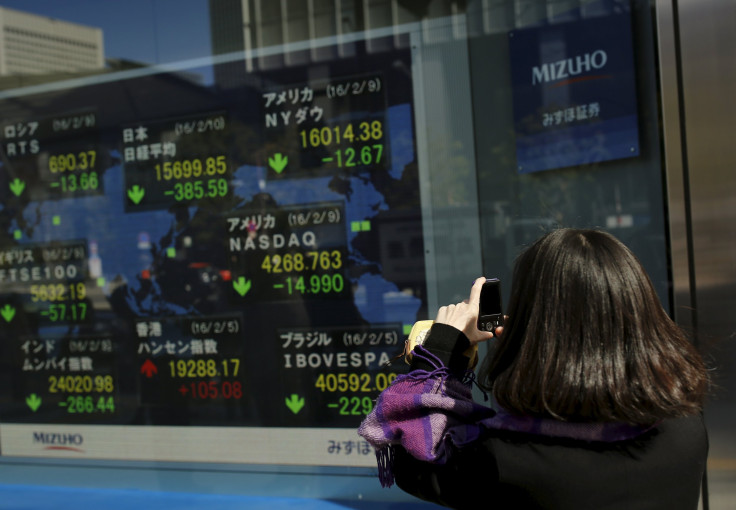 Asian shares fell after U.S. stocks snapped a three-day winning streak, dragged by record oil inventories. Japan's Nikkei 225 dropped after the yen rallied on Thursday, hurting prospects of the country's export-oriented companies.
Japan's Nikkei 225 fell 1.4 percent and Australia's ASX 200 fell 0.4 percent. South Korea's KOSPI 200 was little changed and Singapore's STI rose 1.7 percent.
In the U.S., the Dow Jones Industrial Average fell 0.3 percent, the Standard & Poor's 500 0.5 percent and the Nasdaq Composite 1 percent.
"The stronger yen will be a burden on Japanese markets," Bloomberg reported Hideyuki Ishiguro, a senior strategist at Okasan Securities Co. in Tokyo, as saying. "Investors are concerned at the downside of earnings, especially for exporters, which may weigh down the markets. We're not in a place where we can buy. The yen may strengthen further versus the dollar."
U.S. crude inventories rose to a record -- their third in as many weeks -- to 504.1 million barrels, Reuters reported, citing the Energy Information Administration. Oil benchmarks -- lifted this week by optimism Saudi Arabia and Russia would lead oil producers to take steps to boost prices -- gave up some or all of the day's gains. U.S. crude rose just 11 cents to $30.77 a barrel after rising to as high as $31.98. The global benchmark fell 22 cents to $34.28 a barrel, after rising more than $1.20 before the report.
Analysts said some stock investors took that as a cue to cash in on gains made since last week. Low oil prices hurt energy producers and the many industries that supply them.
"We've had a pretty significant bounce," Reuters reported Michael James, managing director of equity trading at Wedbush Securities in Los Angeles, as saying. "Today is just a bit of profit-taking from those that have benefited from the significant move."
© Copyright IBTimes 2023. All rights reserved.