Asian Shares Gain On Rising Optimism On Banks, China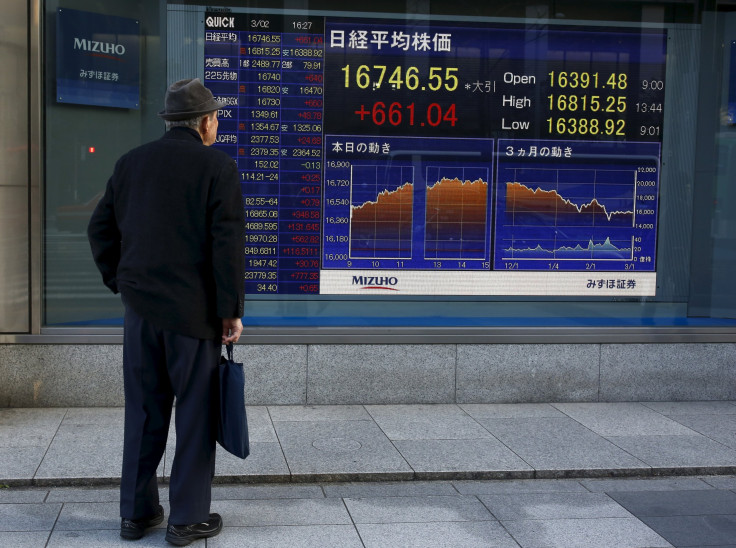 Asian stock markets rose to their highest level in more than four months on Thursday, helped by optimism in the global banking sector and hopes of stabilization in the Chinese economy after solid trade data.
MSCI's broadest index of Asia-Pacific shares outside Japan rose 0.4 percent while Japan's Nikkei gained 2.0 percent.
Overnight, U.S. S&P 500 Index .SPX gained 1 percent to a four-month high after JPMorgan Chase's first-quarter earnings fell less than expected, helping to lift the S&P 500 financial sector 2.2 percent.
That came after bank shares in Europe .SX7P did even better, surging 6.3 percent, as investors scooped up Italian banks, re-evaluating a state-orchestrated plan to set up a 5 billion euro ($5.7 billion) fund to shore up weaker banks.
In Asia, China's exports in March returned to growth for the first time in nine months, adding to further signs of stabilization in the world's second-largest economy that cheered regional investors.
Moves higher across Asia, Europe and the Americas helped the MSCI All World Index rise to the positive territory on the year.
In the currency market, rising risk appetite led the dollar to turn the table against lower-yielding euro and yen.
The euro slipped 1.0 percent, its biggest fall in about 5 months, on Wednesday and last traded at $1.1276, off Tuesday's six-month high of $1.1465.
The dollar bounced back against the yen to 109.41, extending the recovery from its 17-month low of 107.63 touched on Monday.
Even softer-than-expected U.S. producer prices and retail sales numbers last month dented the dollar only for a brief moment.
U.S. retail sales unexpectedly fell in March as households cut back on purchases of automobiles and other items, further evidence that economic growth stumbled in the first quarter.
Commodity currencies were also brisk, with the Canadian dollar hitting a nine-month high of C$1.2744 per U.S. dollar on Wednesday before giving up some of its gains to trade at C$1.2810.
Elsewhere, the Singapore dollar weakened 0.6 percent after the city state's central bank eased its policy, saying it will guide the Singapore dollar essentially flat and issued a downbeat assessment of its economy.
The Korean woneased 0.3 percent after South Korea's ruling conservative party suffered an upset defeat in a parliamentary election in a stinging blow to President Park Geun-hye.
Oil futures hit four-month highs in choppy trading on Wednesday before edging back as comments from Russia's energy minister added to doubts a producer meeting set for Sunday in Doha, Qatar, to discuss freezing output would yield a positive outcome
Prices fell after Reuters reported that Russian oil minister Alexander Novak told a closed-door briefing that a deal on an oil output freeze scheduled to be signed this month in Doha will be loosely framed with few detailed commitments.
"The biggest focus for now is the Doha meeting. I suspect an agreement will be difficult and we could see some setback," said Takeru Ogihara, chief strategist at Mizuho Trust Bank.
Brent crude futures fell 0.5 percent in early Asian trade on Thursday to $43.97 per barrel after having scaled a high of $44.94 on Wednesday.
© Copyright Thomson Reuters 2023. All rights reserved.