Aside From Russian Attacks, Ukrainians Are Now Dying Because Of Floods
KEY POINTS
3 Ukrainians have died due to flooding in the occupied city of Oleshki in Kherson Oblast
Water levels have reached up to four meters in some parts of the city
A city official said Ukrainians are not being allowed by the occupying adminsitration to evacuate on their own
Apart from Russian attacks, Ukrainian civilians are now also dying due to the flooding caused by the recent destruction of the Kakhovka Hydroelectric Power Plant, according to media reports.
As of Wednesday, at least three Ukrainian civilians died due to flooding in the temporarily occupied city of Oleshki in the Kherson region, as reported by the Suspilne news outlet in a Telegram post, citing the city's mayor Yevhen Ryshchuk.
"To date, it is known that three people have died from the flood in the temporarily occupied Oleshki. Mayor Yevhen Ryschuk informed Suspilno about this," the report read, as translated via Google Translate. "We already have one dead man. Two more have been brought to the hospital. I think there will be many more. Many people are bedridden, they were legless, how can a legless person climb onto the roof?"
The mayor also noted that at least 90% of the city is flooded, with the water levels reaching three meters on some streets and four meters in the lowlands. This has forced many Ukrainian civilians living in the city to sit on the roofs of their homes to keep themselves safe from the flood.
Tetiana Hasaneko, head of the Oleshki Military Administration, alleged that civilians are not allowed to evacuate on their own. Instead, the occupying administration allegedly only offers to evacuate them to the Krasnodar region of the Russian Federation, as reported by Radio Liberty.
The flooding in southern Ukraine comes after the destruction of the Kakhkova Dam. The dam is the largest reservoir in Ukraine in terms of volume.
It is unclear when exactly the dam first suffered damages or how it happened. Satellite images, however, showed that the dam had been badly damaged from June 2 before the wall completely collapsed on June 6.
Apart from the flooding, the destruction of the Kakhovka dam could leave hundreds of thousands of Ukrainians without access to drinking water. At least tens of thousands of hectares of agricultural fields are also expected to turn into "deserts" as early as next year due to the lack of water for irrigation systems.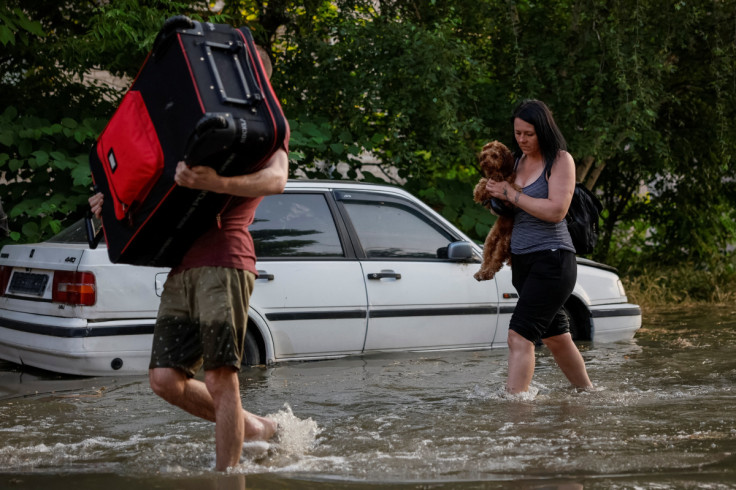 © Copyright IBTimes 2023. All rights reserved.