The Assassination Of Malcolm X: Malik Shabazz And The Work Left Undone 50 Years Later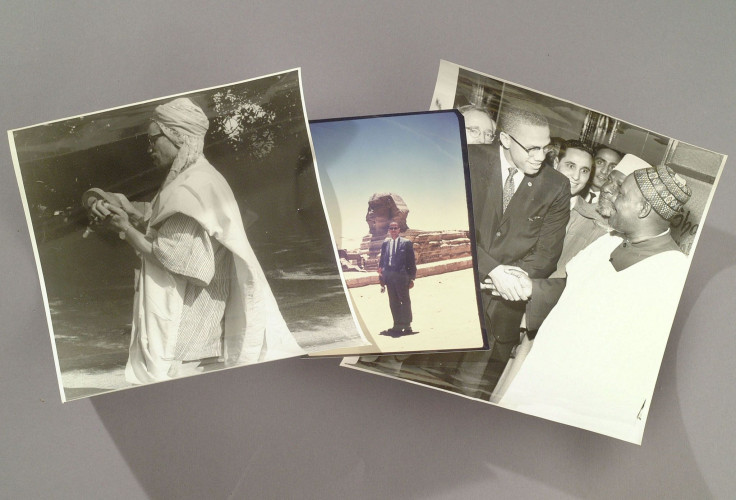 The intersection of 125th Street and Seventh Avenue in New York's Harlem neighborhood, where Malcolm X began his ascension through the ranks of the Nation of Islam as a street-corner preacher, offers an unflinching reminder of what he worked for and the work that remains undone.
What was then the home of the African National Memorial Bookstore, where Malcolm was known to spend hours reading -- The "House of Common Sense and the Home of Proper Propaganda," owner Lewis Michaux called it -- is now the 19-story Adam Clayton Powell Jr. State Office Building. The corner overlooks a Verizon Wireless store on one side, a Citibank branch on a second and an Aerosoles shoe store on a third. All are owned by large corporations, none of which is led by an African-American.
It was Feb. 21, 1965, exactly 50 years ago, that Malcolm was killed. And his philosophy of Black Nationalism remains misunderstood. Often characterized simply as an embrace of segregation, in truth it was an economic, political and social philosophy that aimed to address issues such as police brutality, economic exploitation and division among African-Americans, issues that 50 years after his death still plague communities around the country.
Black Nationalism, he said during a television interview, meant that "the black man should control the politics of his own community and control the politicians who are in his own community."
On economics, Malcolm defined Black Nationalism as meaning "that the black man should have a hand in controlling the economy of the so-called Negro community. He should be developing the type of knowledge that will enable him to own and operate the businesses and thereby be able to create employment for his own people, for his own kind."
Today on 125th Street, African and African-American vendors sell perfume, clothes, figurines and just about anything else, but keep their distance from the entrances to stores such as The Gap and Champs Sports that occupy the brick-and-mortar real estate on the increasingly popular thoroughfare.
The Hotel Theresa, once known as the Waldorf of Harlem -- where Malcolm headquartered his Organization of Afro-American Unity, or OAAU, and met with world leaders such as Fidel Castro -- in 1970 became the Theresa Towers, home to enterprises such as the Correctional Association of New York, Platinum Electrical Service Inc. and Touro College. In 2002, it welcomed the Harlem Republican Club.
A block away, at the confluence of Malcolm X and Martin Luther King Jr. boulevards, is a cluster of stores anchored by CVS, Dunkin Donuts, Marshalls and Staples. Across the street is a vacant lot.
The scene inspired rapper Hanif Collins, who formerly performed as Luck-One and now does so under his first name, to release the song "Malcolm X Blvd." in 2014. "Your enemies are not the dudes that live across the street," he raps. "Your enemies are buying buildings while the price is cheap. While these young'uns mean mug and act hard. And the white folks own all the property on Malcolm X Blvd."
Collins, a 30-year-old transplant from Portland who lives on 145th Street in Harlem, says that while the specter of Malcolm continues to loom large, much of his real message has been lost.
"Malcolm X said Black Nationalism is the idea that black people should control their own communities," says Collins, whose introduction to Malcolm came when he was 11 years old and his father told him he couldn't leave the house until he finished reading "The Autobiography of Malcolm X."
"Now you go to Malcolm X Blvd., is there a business owned by African-Americans? We get the phraseology, we get the sloganizing, we get the street sign, but we don't get any of the food."
Pieces of the Harlem that Malcolm was creating remain, but most are quietly tucked away along side streets. The former Mosque No. 7, where he led the Nation of Islam as a preacher until he left the organization in 1964, still operates on 116th Street as a prayer center and school under the name Malcolm Shabazz Masjid. Similarly, the Mosque of Islamic Brotherhood, once home to Malcolm's Muslim Mosque Inc., remains open for prayer, but locked outside scheduled hours.
The neighborhood is also still home to a congregation of so-called Malcolmites such as 76-year-old Herb Boyd. Raised in Detroit, Boyd has been living for a couple of decades in Harlem, blocks away from the apartment that housed Malcolm Little as a teenager. The professor of black studies at the City College of New York and College of New Rochelle says he has Malcolm to thank for his career. Boyd had planned to move to New York to join Muslim Mosque Inc. or OAAU as a writer for the organizations' newsletters, but when Malcolm was killed, his life changed direction.
"My bags were packed. But my plans changed," Boyd says. "Instead of going to New York, I went to Wayne State University and got involved in a whole academic career, and Malcolm was responsible for that. Since I couldn't go to Malcolm, I went to college."
Boyd, who says he has followed Malcolm since the 1960s, released "The Diary of Malcolm X," in 2013, co-edited with Malcolm's daughter Ilyasah Shabazz. The book details Malcolm's life as he toured North Africa and the Middle East and his transformation from Malcolm X to El-Hajj Malik El-Shabazz.
"Malcolm was on a mission," Boyd says. "He was there representing black America, and he had a case that he wanted to bring against [the United States] and charge them with genocide and violation of our human rights. He was hooking up with almost a dozen prominent international political leaders, future presidents and presidents of their countries."
The fight to charge the U.S. with crimes against its citizens of African descent has been raised again in recent years, especially since the deaths of Michael Brown, Eric Garner, Tamir Rice and other young black men and boys at the hands of police around the country. Last year, a group called We Charge Genocide presented its findings on Chicago police to the United Nations Committee Against Torture, or Uncat. The U.N. responded.
"The committee is particularly concerned at the reported current police violence in Chicago, especially against African-American and Latino young people who are allegedly being consistently profiled, harassed and subjected to excessive force by Chicago Police Department (CPD) officers," the committee noted in its concluding observations.
Page May, an organizer with We Charge Genocide, says the group's push to take its case to the U.N. was not a cry for help, but a show of strength.
"We didn't go to the U.N. because we thought that they would save us. Their findings and their acknowledgement of CPD violence against young black and brown people in Chicago was huge, it's actually helping our organizing efforts," she says. "But I think more than anything it was about ... trying to build up community power."
Police aggression against communities of color had been one of Malcolm's core issues when he was with the Nation of Islam. The arrest and beating of Johnson Hinton, an NOI member, by two New York police officers in 1957 is what first brought his name to prominence. After police refused to allow anyone to see Hinton, a crowd outside a police station grew from about 500 to around 4,000. Malcolm directed the crowd using only hand gestures, and the growing mass of people eventually prompted police to allow Hinton to be taken by ambulance to the hospital. After the standoff, one officer told the New York Amsterdam News, "No one man should have that much power."
Five years later, more than 2,000 people gathered in Los Angeles to hear Malcolm deliver a eulogy for Ronald Stokes, a 28-year-old black man who had been shot and killed by police outside the city's Nation of Islam Mosque. Witnesses say Stokes had his hands up in surrender when he was shot and killed.
But Stokes' death and the NOI's desire not to respond strongly began an unraveling of Malcolm's relationship with Elijah Muhammad and the organization, according to historian Manning Marable's "Malcolm X: A Life of Reinvention." Some of Marable's findings in the book have been criticized by scholars, including Boyd, who curated a response, "By Any Means Necessary Malcolm X: Real, Not Reinvented," but none doubt the depth of Marable's research.
It was during the time after Stokes' death that Malcolm began the second evolution of his life: from Malcolm X to Malik Shabazz. Within two years, he had struck out to form Muslim Mosque and OAAU, leaving the Nation of Islam March 8, 1964. About a month later, he gave perhaps his most well-known speech, "The Ballot or the Bullet," admonishing racial hatred and advising that it was time to "expand the civil-rights struggle to a higher level -- to the level of human rights."
"He had come a tremendous distance and still had so much more to promise of his journey," Boyd says. "It was only beginning to open for him, only beginning to unfold where he could see exactly the possibilities of unification of the African-American and African struggle. That would've been a powerful moment. Even equally powerful would've been finally the confluence of his ideas and Dr. King's. Those are very powerful imaginative moments, you know, in which this U.S. government would be absolutely terrified of these two entities coming together."
Sunday, the former Audubon Ballroom, now home to the Malcolm X and Dr. Betty Shabazz Memorial and Educational Center, will hold a special service to honor Malcolm's life and legacy. It will feature a reading of his eulogy that was first delivered by Ossie Davis. A bronze statue of Malcolm on a stage faces the entrance of the building. His right index finger points straight ahead, and his left hand is in his pocket. In many ways, he will overlook the event. A national moment of silence will be called at 3:10 p.m. EST, to coincide with the moment Malcolm was shot, and will be followed by "libations and prayers," according to Bryan Epps, director of the Shabazz center.
"We are going into a movement that has taken two generations, but that is sometimes how it works," says Epps. "Fifty years is not a lot of time in the universe."
© Copyright IBTimes 2023. All rights reserved.