Assyrian Safe Haven In Nineveh: Resolution To Protect Iraqi Minorities From ISIS Approved In EU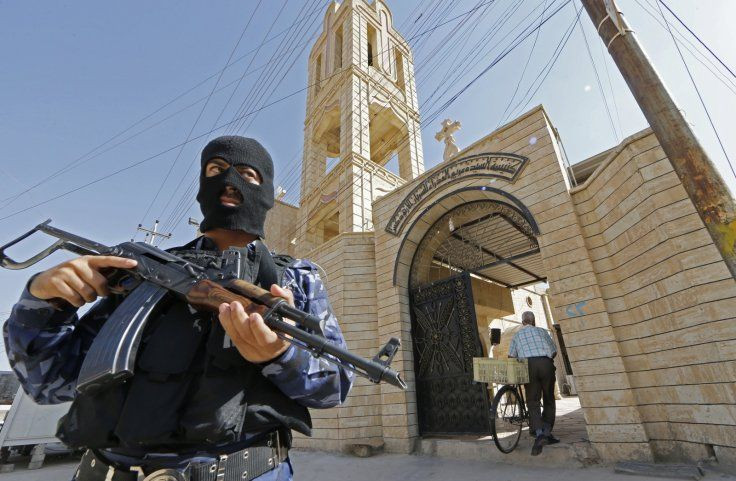 The European Union's parliament approved a nonbinding resolution Thursday to create a safe haven in Iraq's Nineveh Plains for vulnerable ethnic and religious minorities targeted by ISIS militants in the Middle East. The resolution comes amid recent attacks and abductions by the Islamic State group of the region's indigenous people, most notably the Assyrian/Chaldean/Syriac.
The European Parliament stressed the importance of providing a protected zone in the Nineveh Plains, an area in northern Iraq that was mostly inhabited by peaceful minority groups including the Assyrians – also known as Chaldeans or Syriacs – before ISIS's advance in August.
"As it turns out, living as a peaceful people in the Middle East is becoming increasingly difficult," said Steven Oshana, executive director of A Demand for Action, a rights group that campaigned for the resolution. "The Nineveh Plains has become ground zero for the survival of the Assyrian people."
These ethnic and religious groups were persecuted under the Ottomans, Saddam Hussein's Baathists and now by Islamist extremists such as the Islamic State group – formerly known as ISIS or ISIL. Christians – including Catholics, Apostolic Armenians, Copts and Yazidis – and Muslim minorities in the Middle East are subject to brutal attacks and abductions by ISIS, the European Parliament said Thursday.
Last month, ISIS fighters captured hundreds of Assyrians in northeastern Syria, where the Sunni militant group sought control over the area as a corridor to the eastern border of Iraq. The Assyrian International News Agency estimated between 263 and 373 Assyrians were abducted from 35 villages by ISIS on Feb. 23. Some 3,000 Assyrians who escaped the attack fled their villages, which are now vacant. The Assyrian people are indigenous Christians in Iraq who can be traced back to ancient Mesopotamia.
Earlier this year, the terror group bombed large parts and expanses of the ancient Nineveh wall, an important archaeological monument in Iraq that dates back to the Assyrian civilization, Iraqi News reported at the time. ISIS has destroyed a slew of archaeological sites and churches in Iraq, declaring the pre-Islamic artifacts and buildings offend its religion.
"[ISIS] has embarked upon a campaign to eradicate all traces of religious and faith communities other than those representing its own interpretation of Islam, by killing or expelling its adherents and destroying their holy places, historical sites and artifacts, including unique and irreplaceable heritage recognized by UNESCO as World Heritage and described as 'cultural cleansing' by this organization," the resolution said.
More than 2 million Iraqis have been internally displaced by intensified fighting between government security forces, Kurdish Peshmerga and ISIS militants in the past year, according to the Internal Displacement Monitoring Center. A Demand for Action spokesman Nathan Kalasho said the situation is genocide by definition.
"We use the word ethnic cleansing because it seems like that's the only word people will use," Kalasho said during a telephone interview Thursday. "If you look up the definition of genocide, it would meet all the criteria."
Although the adopted resolution isn't binding, Kalasho said it's a step closer to designating a province for the Assyrian/Chaldean/Syriac people and other minority groups where they are safeguarded by international troops as well as defense forces. The Iraqi Council of Ministers first approved a plan to establish and formally recognize Nineveh Plains as a self-governing province in 2014, according to the Middle East Monitor.
Oshana said Nineveh Plains -- northeast of Mosul, an ISIS stronghold -- is an ideal location for the safe haven because it already was an Assyrian heartland. The ancient city of Nineveh, which is located in Mosul, was also the capital of the Neo-Assyrian Empire in ancient Mesopotamia. "But Nineveh is so much more than all that, it is our only spiritual link to our ancestors, to our martyrs who gave their lives for our cause," he said during an email interview Thursday. "It is the very essence of what it means to be Assyrian, and we will fight for it until the bitter end."
The European Parliament also urged EU member states Thursday to ensure religious minorities are respected worldwide, and called on the international coalition "to do more" to prevent the attacks and abductions.
"In order to stem the suffering and the mass exodus of Christians and other indigenous populations of the region, a clear and unequivocal statement by regional political and religious leaders, in support of their continued presence and full and equal rights as citizens of their countries, is necessary," the resolution said.
A similar resolution failed to pass last year, but the European Parliament on Thursday underlined the need for a protected zone as the situation for the region's minority groups becomes dire.
"We're at a point now where we are about to see an ancient race, the Assyrians, who have lived in the land since the beginning of civilization, become extinct," Oshana said. "That's a dangerous precedent and I applaud the EU for acting out of good conscience."
FOR FREE to continue reading
✔️ Unlock the full content of International Business Times UK for free
offer available for a limited time only
✔️ Easily manage your Newsletters subscriptions and save your favourite articles
✔️ No payment method required
Already have an account?
Log in
© Copyright IBTimes 2023. All rights reserved.