AT&T HTC One X Vs Sprint Galaxy Nexus: Two Android Killer Smartphones Land On US Market Shelves; Which One Should You Buy?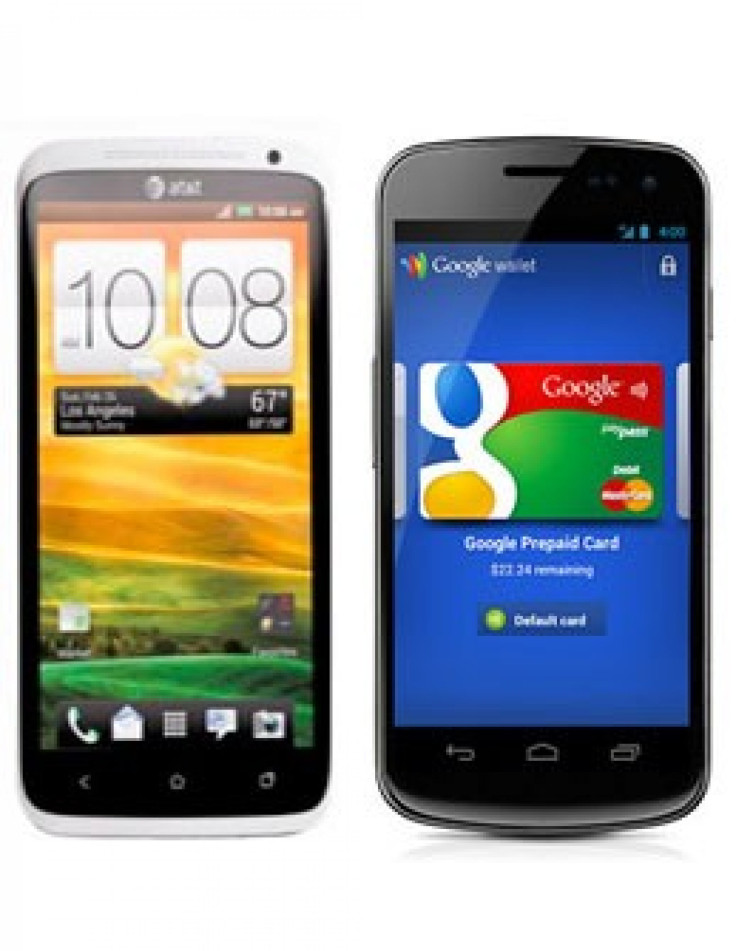 Samsung Galaxy S3 and Apple iPhone 5 have not yet been even released, but they are making big news, as to how they will clutch the market share of others prevailing in the market. However, there are others in the markets that have already marked a debut before these two hefty challengers plan to land aboard.
The two most talked about smartphones after the Samsung and Apple biggies are AT&T's HTC One X and Sprint Galaxy Nexus, which are not leaving any stone unturned to lure the US customers towards their offerings.
HTC One X -- the Taiwanese company's biggest offering so far -- has already got a lot of rumors regarding its US launch date. Recently, AT&T confirmed it would debut the HTC One X on May 6 in the US retail shelves at a price of $200 on a two-year contract. Further the customers who wish to be among the first to own the smartphone will be able to pre-order it only $199.99 USD (150 EUR) with a new two-year agreement.
At the same time, US wireless carrier operator Sprint also introduced Google's flagship Android ICS phone, the Samsung Galaxy Nexus at a price for around $199.99 with a 2-year contract for the market. Further keeping its promise, Sprint has also assured its customer, the availability of the Galaxy Nexus backed by the 4G LTE capability and the Google Wallet feature (the Google's mobile payment service missing in Verizon Galaxy Nexus).
Both the smartphones are bold, beautiful and packed with power. So how will you decide which out of the two will stack up for your needs in the best way. Well, here is a brief detailing on all the specs and pricing details of both the power-puffed handset. Take a look and decide which out of the two is worth your wallet and suitable for your next phone upgrade.
AT&T HTC One X Deal
HTC One X is the first smartphone from AT&T to be launched with the latest version of the Android operating system (4.0) and will be available from the operator beginning May 6 for $199.99.
Further, the handset will be available in two colors including black and white and would also get the support of the operator's largest 4G network, with 4G LTE backed by AT&T's HSPA+ network, making One X a complete package for Android users.
As for now, the smartphone is already up for pre-release and customer can pre-order the HTC One X for only $199.99 USD (150 EUR) with a new two-year agreement.
Sprint Galaxy Nexus Deal
Sprint also announced the availability of the Samsung Galaxy Nexus this week itself. According to the company press release, the Android 4.0 handset can be pre-ordered now and is available for purchase at $199.99 with a new two-year agreement.
As an extra bonus, Sprint is offering customers who register a Google Wallet account within a week of activating their devices, a $10 instant credit, along with an additional $40 of credit to be delivered within three weeks. Customers who pre-order Galaxy Nexus will begin receiving the device as early as Friday, April 20.
Galaxy Nexus customers can enjoy an unlimited data experience with Sprint Everything Data plans. Sprint's Everything Data plan with Any Mobile, AnytimeSM includes unlimited web, texting and calling to and from any mobile in America while on the Sprint Network, starting at just $79.99 per month for smartphones - a saving of $40 per month versus Verizon's comparable plan with unlimited talk, text and 2GB web, or $10 per month savings versus Verizon's 450-minute plan with unlimited text and 2GB web. Additional key features will also include Face Unlock, Android Beam, Google+ Hangouts, Google Play and Google Voice.
AT&T HTC One X Vs Sprint Galaxy Nexus -- Specs Comparison
Form Factor
HTC One X has a candybar form factor and has a minor inferiority from the Galaxy Nexus screen as the pixel density for HTC One X is 312ppi as compared to Nexus's pixel density of 316ppi. However, at the same time, One X comes backed by Corning Gorilla Glass protection.
On the other hand, Galaxy Nexus sports a premium curved slim design and measures around 135.5 x 67.94 x 9.47 mm in dimension and have a weight of 150 grams while, HTC One X figures dimensions of around 134.4 x 69.9 x 9.3 mm and weighs about 130 grams.
Also, Galaxy Nexus flaunts a Super AMOLED capacitive touchscreen with a resolution of 1,280 x 720 pixels. The 4.65-inch device includes an oleophobic coating as well as multi-touch functionality. Well, on the other end, HTC One X features 4.7-inch Super IPS LCD2 touchscreen with 720p resolution.
Operating System
Both the smartphones run on Android 4.0 ICS which features multi-tasking, rich notifications, resizable widgets and new lock screen actions. On the brighter side for Galaxy Nexus, the smartphone can be upgraded to Android 4.0.4, a slightly higher version.
On the hand hand, HTC One X has much more to offer as the handset along with the latest OS is also topped by HTC Sense UI version 4.0. Additionally, HTC offers 25GB of Dropbox storage free for 2 years, Beats Audio integration and enhanced video and photo capabilities.
Processor
HTC One X is known for its quad-core 1.5 GHz Tegra 3 processor. It has 1GB of RAM and 16/32GB of internal storage. Surprisingly, there is no expandable memory option in One X. Also, the AT&T variant of One X will be dual-core only, based on Qualcomm Snapdragon chipset. The US version will feature 1.5GHz dual-core Qualcomm Snapdragon CPU instead of the 1.5GHz quad-core Nvidia Tegra 3 processor. Hence HTC fans in the US would still have to wait a little more for the quad-core version of the smartphone.
Turning on to the Galaxy Nexus, it is powered by a 1.2GHz Cortex-A9 dual-core CPU and TI OMAP 4460 chipset. Its faster processor ensures a quick way to access apps and web browser. PowerVR SGX540 adds support to powerful graphics. The Sprint version Galaxy Nexus will have a single 32GB variant of internal storage accompanied by 1GB RAM and just like One X, Galaxy Nexus also does not has expandable memory card slots option.
Camera
Galaxy Nexus boasts a 5 megapixel rear-facing camera which features autofocus, LED flash, touchfocus, geo-tagging and face detection. It lets the user record the video of 1080p and also comes with a 1.3 megapixels front facing camera.
On the other hand, One X has a big camera upgrade of 8 megapixel camera accompanied with LED flash support. It records 1080p videos at 30fps with stereo sound recording. Further, it scores high with its VGA 1.3-megapixel camera in the device that is capable of recording 720p videos.
Connectivity
In the following segment, HTC One X features Wi-Fi with DLNA sharing and hotspot functionality, Bluetooth version 4.0, NFC, assisted GPS and microUSB version 2.0 with MHL support. However, there is no FM Radio support in One X.
On the other hand, Galaxy Nexus features a Wi-Fi 802.11 a/b/g/n with DLNA, Wi-Fi hotspot as well as NFC for contactless mobile payments. Galaxy Nexus supports Bluetooth 3.0 with A2DP wireless technology.
While HTC One X already has a strong support of AT&T strong 4G LTE network capability, Samsung Galaxy Nexus also comes with 4G LTE capability. However, as for now, a Sprint Galaxy Nexus will begin with a simple 3G connection and eventually upgrade to 4G as the carrier is still in the process of rolling out a 4G LTE network to match the Galaxy Nexus's connection capabilities. Six cities are expected to go live with Sprint 4G LTE by the middle of the year, most likely around June: Atlanta, Dallas, San Antonio, Houston, Kansas City and Baltimore. And the carrier has announced in a statement that they will be able to cover 123 million users with 4G service by the end of the year, increasing to 250 million by the end of 2013.
Battery
HTC One X has an internal, non-removable 1,800mAh battery while Galaxy Nexus comes with a Li-Ion 1750mAh standard battery which allows a stand by time of up to 290 hours on 2G and 270 hours on 3G networks. It offers a talk time of up to 17 hours 40 minutes on 2G and 8 hours 20 minutes on 3G networks. And one more advantage, Galaxy Nexus is removable and can be replaced if damaged by the user.
So lets us know in your comments, which one out of the powerful duos -- AT&T HTC One X and Sprint Galaxy Nexus -- have you decided to go for?
© Copyright IBTimes 2023. All rights reserved.