Attacks On France's Jews Surge Amid Concerns Of Rising Anti-Semitism in Europe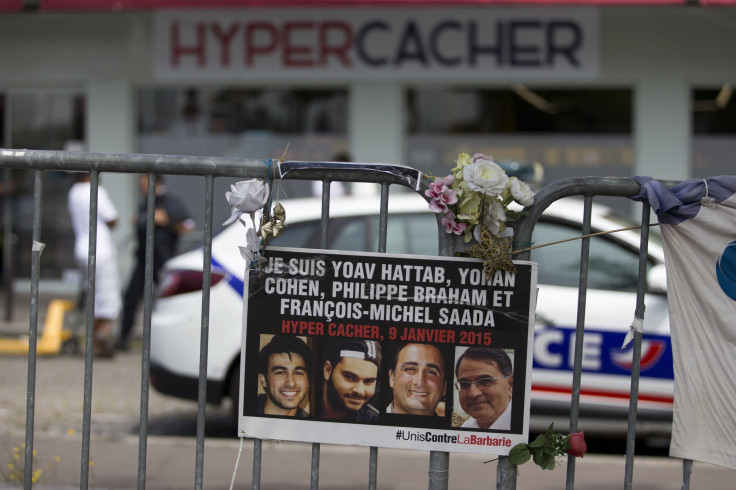 The number of reported anti-Semitic incidents in France increased exponentially during the first quarter of 2015, compared to the corresponding period the year before, a French watchdog group found. The country has seen an 84 percent uptick in anti-Semitic hate crimes since four Jewish shoppers at a kosher supermarket in Paris were killed by an Islamist gunman after the Charlie Hebdo murders, the Jewish Telegraphic Agency reported.
The watchdog, Service de Protection de la Communauté Juive (SPCJ), counted 508 anti-Semitic incidents between January and May this year, compared to just 276 incidents the year earlier. Almost a quarter of those attacks were classified by the organization as violent. Most of the other incidents were reportedly death threats, JTA said.
Jewish leaders in France have grown increasingly concerned by the rise of anti-Semitism in their country in recent years. From 2013 to 2014, anti-Semitic incident reports doubled, the European Jewish Press reported. On Monday, CRIF, an umbrella of Jewish organizations in France, issued a statement saying that the recent SPCJ findings represent just a sliver of the full extent of incidents. ''Nothing seems to stop the dramatic increase of anti-Semitism in France, which today reached appalling levels,'' they said.
In the wake of the kosher supermarket attack, Israel's prime minister, Benjamin Netanyahu, called on Jews in Europe to emigrate en masse to Israel, vowing that the Jewish state could ensure their safety where Europe could not. "This wave of terror attacks can be expected to continue, including anti-Semitic and murderous attacks. We say to the Jews, to our brothers and sisters, Israel is your home and that of every Jew. Israel is waiting for you with open arms," the Israeli leader said.
European leaders rejected the prime minister's statements, alleging that European governments could ensure the safety of Jews in their countries and asserting that Jews belong in Europe. Jewish leaders also widely rejected his plea. "Terror is not a reason to move to Israel," Denmark's chief rabbi, Jair Melchior, said, according to the Guardian. His comments opened a nationwide discussion and drew prompt international attention to violence toward Jews in Europe.
Some Jews have apparently heeded Netanyahu's call. A growing number of Jews have been moving to Israel from European countries in recent years. France, a country with 500,000 Jewish people, saw some 7,000 leave their country for Israel last year.
If the spike in hate crimes corresponds to the kosher supermarket killings, it wouldn't be the first time a shooting has prompted a surge in hate crimes. In 2012, following the slaying of four Jews -- including three children at a Jewish school in France -- a noticeable increase in anti-Semitic attacks were reported. In the 10 days that followed, there were more than 90 reported incidents, JTA said.
© Copyright IBTimes 2023. All rights reserved.