Anti-Semitism In France: Country Has History Of Hate Crimes Against Jews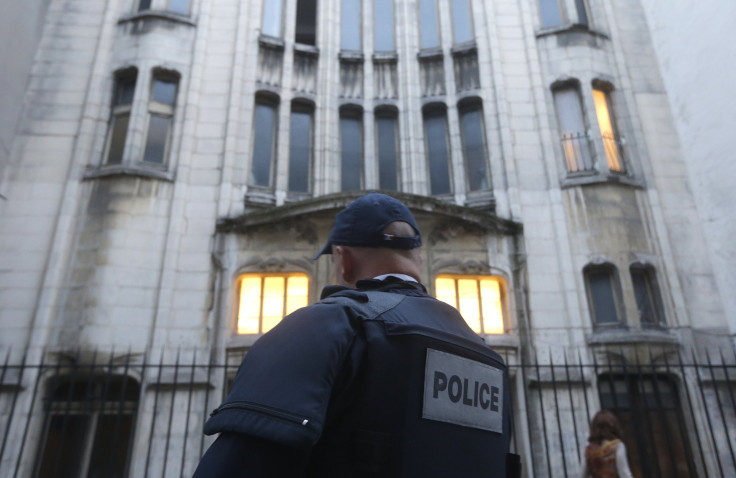 The hostage situation at a kosher supermarket in Paris on Friday, in which four people and the gunman died, has been called an "anti-Semitic attack" by French President François Hollande. It's just the latest crime to fit that description in a country that has seen a rash of anti-Jewish incidents in recent years.
Soon after Friday's standoff, Jews and non-Jews alike banded together under the hashtag #JeSuisJuif to show solidarity for French Jews. The hashtag was modeled after #JeSuisCharlie, which began trending after 12 people were killed at the Charlie Hebdo offices on Wednesday.
The Grand Synagogue of Paris closed for security reasons. It is the first time since World War II that the synagogue will not host Shabbat services. Jewish leaders urged community members to avoid gatherings and to report suspicious activity.
France has the largest Jewish and Muslim populations in Western Europe. It also has the most violent anti-Semitic incidents reported in 2013 worldwide, with 40 percent of all crimes in France directed toward the Jewish community. The Jewish Community Protection Service (SPCJ), which logs anti-Jewish acts of aggression in France, said there were 423 anti-Semitic acts: 318 "threats," 49 acts of violence, 52 acts of vandalism, three arson attacks and one attempted homicide in 2013.
Philippe Schmidt, executive vice president of the International League Against Racism and Anti-Semitism, says the current climate is caused by various factors, including the second intifada in Israel in 2000 and anti-Zionist views purported by far-left politicians. The country also has seen more than 1,000 young people join the Islamic State in Iraq and Syria. The Israel-Gaza conflict last summer also incited anti-Semitic sentiment.
"Jews feel in danger. Some are already leaving France," Roger Cukierman, head of France's umbrella group for Jewish organizations, the CRIF, said at a rally in December, the BBC reported. The rally was organized after a 19-year-old Jewish woman in Paris was raped and robbed.
Below is a time line of major recent anti-Semitic incidents in France:
2014
In July, a series of anti-Semitic attacks broke out.
On July 8, the day Israel began the military Operation Protective Edge in Gaza, a man pepper-sprayed a Jewish 17-year-old girl. She told police the man shouted, "Dirty Jewess, inshallah you will die." On July 14, a firebomb exploded in front of the entrance to a synagogue in Aulnay-sous-Bois, a northeastern suburb of Paris.
Six days later, violent anti-Semitic riots broke out in Sarcelles, a Paris suburb known as "Little Jerusalem." Cars were set on fire, stores were looted and two synagogues were attacked. Protesters reportedly chanted anti-Semitic slogans including "Death to Jews" and "Slaughter the Jews." A week later, a man in Toulouse threw firebombs at a Jewish community center.
2013
Beginning in September, a gesture known as a "quenelle salute" emerged. The backward Nazi salute was made famous by French comedian Dieudonné M'Bala M'Bala in anti-Zionist campaign during the 2009 elections. At the time he said he wanted to shove a quenelle – a sausage-shaped dumpling made of fish paste – up the backside of Zionists.
In September, the move resurfaced after two soldiers were photographed making the gesture outside a Paris synagogue. Young fans of the comedian have posted photos online of them making the gesture.
According to Jean-Yves Camus, a French academic who studies the extreme right, the quenelle has become a "badge of identity, especially among the young, but it is doubtful that all of them understand its true meaning," he told the Independent.
Earlier that year, a rabbi and his son were stabbed outside Beth-El synagogue in Paris. The assailant was reportedly an Iranian man who had escaped from a psychiatric hospital.
In Marseilles, a 20-year-old Jewish man wearing a Star of David was mugged twice outside the city's train station. Two men tore off the man's chain, called him a "dirty Jew" and fled. Moments later another group of young men shouted epithets and hit and robbed him.
2012
A shooting at a Jewish school in Toulouse killed one rabbi, three children and three paratroopers. The gunman, Mohamed Merah, holed up in the school for 32 hours before jumping from a window. He was fatally shot in the head by police. Merah reportedly followed a radical form of Islam and received training from al Qaeda.
© Copyright IBTimes 2022. All rights reserved.
FOLLOW MORE IBT NEWS ON THE BELOW CHANNELS