Australian Boy Poses With Severed Head As Country Joins Rescue Efforts In Iraq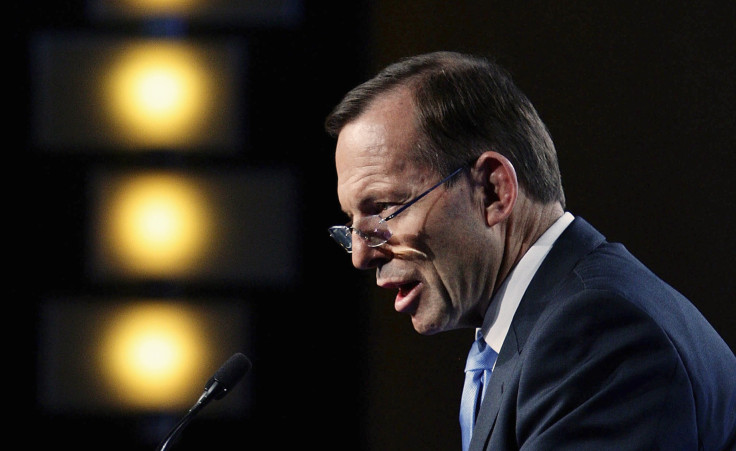 An Australian newspaper published photographs of a young boy, said to be the son of a convicted Australian terrorist, holding the decapitated head of a Syrian soldier on Monday. The incident prompted Tony Abbott, the Australian prime minister, to say that the photograph was proof of "just how barbaric" the Islamic State is.
Khaled Sharrouf reportedly posted the picture of his son with the decapitated head on Twitter with the comment: "That's my boy!" The image was reportedly taken in the northern Syrian city of Raqqa, which fell to the Islamist fighters earlier this year and shows Sharrouf's seven-year old son, who was raised in Sydney, dressed in blue-checked trousers, a blue shirt and a baseball cap, while struggling to hold up the severed head of a slain Syrian soldier.
"What we've got to appreciate is that Islamic State - as they're now calling themselves - is not just a terrorist group, it's a terrorist army and they're seeking not just a terrorist enclave but effectively a terrorist state, a terrorist nation," Abbott said, adding: "And this does pose extraordinary problems... not just for the people of the Middle East but for the wider world." Abbott went on to condemn the Islamists' actions by saying, "we see more and more evidence of just how barbaric this particular entity is," according to a report by Al Jazeera.
In another picture published by the Australian newspaper, Sharrouf stands along with three boys who are believed to be his sons, with guns in front of the black flag of the Islamic State, which has taken over large parts of Iraq and Syria.
Sharrouf who spent almost four years in Australian prisons, after pleading guilty to a 2005 conspiracy charge to attack Sydney, had been banned from leaving Australia before reportedly escaping the country for Syria, along with his wife and three children, by using his brother's passport. Australia has an arrest warrant out on Sharrouf who has previously been pictured posing with severed heads in Syria. About 150 Australians have joined the call for jihad in Iraq and Syria, officials said.
Abbott also said Australia would join U.S. missions to air-drop food and essentials to civilians who have fled the Islamic State's advance in Iraq, and will deploy two aircraft for airlift missions. The Sunni extremist group has reportedly persecuted and driven thousands of people belonging to minority communities from their homes.
"Australia will gladly join the humanitarian airlifts to the people stranded on Mount Sinjar," Abbott reportedly told ABC, adding: "This is a potential humanitarian catastrophe. We see more and more evidence of just how barbaric this particular entity is."
Islamic State's positions are being bombarded by American jets and drones in northern Iraq as Obama seeks to halt the Islamists' advance in the region. About 50,000 to 150,000 people are believed to be trapped with scarce supplies on the Sinjar Mountain where people fleeing the fighting have sought refuge.
© Copyright IBTimes 2022. All rights reserved.
FOLLOW MORE IBT NEWS ON THE BELOW CHANNELS