Australian 'Jihadi Brides' Traveling To Syria, Iraq To Support And Participate In Terrorist Activity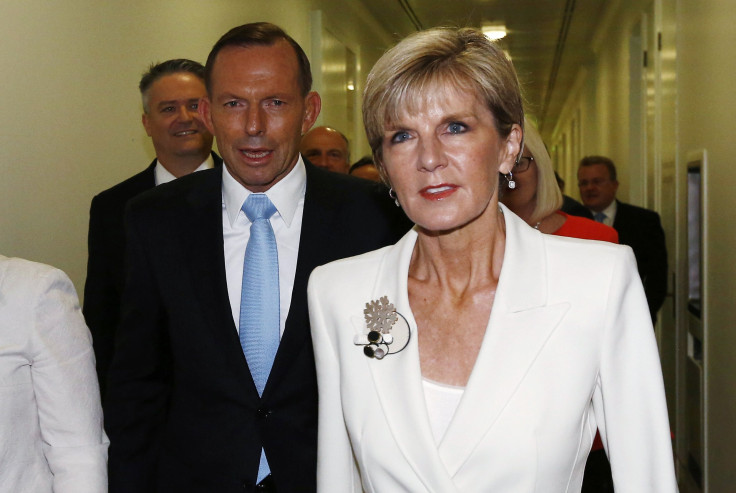 Nearly 40 Australian women have participated in or have supported terrorist activity in Iraq, Syria and Australia, Julie Bishop, Australia's foreign minister told the country's parliament Wednesday. The women, who have come to be known as "jihadi brides," are being used as sexual slaves or suicide bombers by men fighting for the Islamic State group, Bishop added.
According to Bishop, a fifth of all foreign fighters in Syria and Iraq are now women, and urged Australians to prevent their family members from becoming radicalized. Currently, an Australian illegally visiting Iraq and Syria could face up to 10 years of prison.
"More women are either joining their foreign fighter husbands or apparently seeking to find partners, the so-called jihadi brides, or are otherwise providing support for terrorist organisations," Bishop said, according to ABC News, adding: "This defies logic... given we know the attitude of [ISIS] towards women."
"If the killings and executions aren't enough, [ISIS] has published instructions on the treatment of sexual slaves, which includes raping and beating women," Bishop said, according to ABC News, adding: "Even children are not immune, with instructions encouraging sexual assault on girls who have not yet reached puberty."
Bishop also described the case of Amira Karroum, a 22-year-old woman from the Gold Coast, who died fighting in Syria, where she had traveled to just before Christmas. "Her death was not martyrdom, it was a tragic senseless loss," Bishop said, according to the Daily Mail.
Bishop's comments followed Monday's statements from Prime Minister Tony Abbott, who announced a push to toughen the country's citizenship laws in a bid to reduce extremism on Australian soil.
"Australians who take up arms with terrorist groups, especially while Australian military personnel are engaged in Afghanistan and Iraq, have sided against our country and should be treated accordingly," Abbott had said, according to BBC.
© Copyright IBTimes 2023. All rights reserved.
FOLLOW MORE IBT NEWS ON THE BELOW CHANNELS