Australian Labor Party Proposes Legalizing Gay Marriage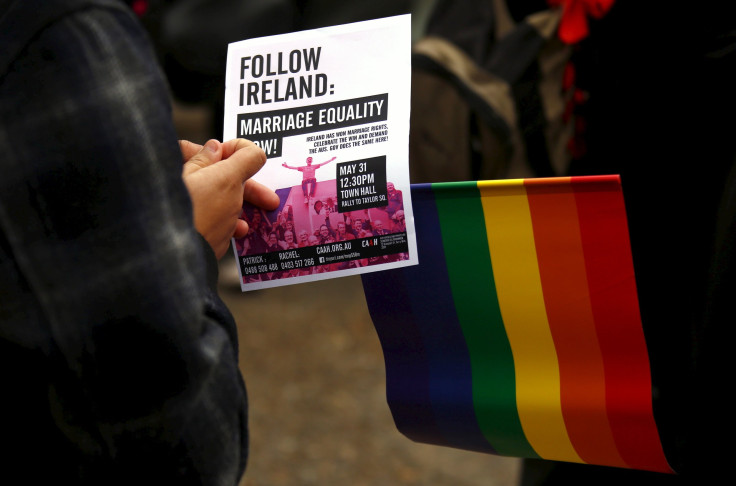 Australia's main opposition party on Monday proposed a bill to legalize gay marriage in the country, seeking to capitalize on momentum from Ireland's referendum on the issue.
Bill Shorten, leader of the center-left Australian Labor Party, introduced the bill in Australia's House of Representatives, according to the Associated Press (AP). Prime Minister Tony Abbott has generally opposed measures to recognize same-sex marriage though same-sex civil unions are recognized in Australia.
"Our laws should be a mirror reflecting our great and generous country and our free, inclusive society," Shorten said while introducing the bill, the AP reported.
Shorten also assured the parliament that the law would not force religious authorities to officiate same-sex marriages, and called for Abbott to allow members of his center-right Liberal Party of Australia to a free vote, rather than forcing them to conform to the party line.
Abbott's sister, Christine Forster, called for bipartisan support for the bill on Sunday. "This has to be a cross party reform. It's the only way it can successfully move ahead," Forster, who is engaged to a woman, told the ABC.
Abbott said his government was more focused on delivering economic reforms and national security over social reforms. "Let's see where the community debate goes. ... There's a range of views on both sides of the issue," Abbott told reporters.
In 2004, the country changed the Marriage Act with unanimous support from both the ruling conservative coalition and the Labor Party to specify that only a man and a woman were eligible for marriage. A 2004 poll had showed that support for gay marriage stood around 38 percent. By 2014, that number had jumped to over 70 percent.
Fairfax Media reported that since last January, over 370 same-sex couples from Australia elected to get married in neighboring New Zealand, where it is legal.
The Labor Party hopes to push for a vote sometime this year, and Shorten emphasized that the bill was necessary as an important gesture for gay youth in Australia. "We know two out of every five young Australians who are gay have thought about self-harm or suicide. Two out of every five," he said on Monday, according to the Guardian.
© Copyright IBTimes 2023. All rights reserved.