Australian PM Tony Abbott Brings Forward Vote On Leadership To Monday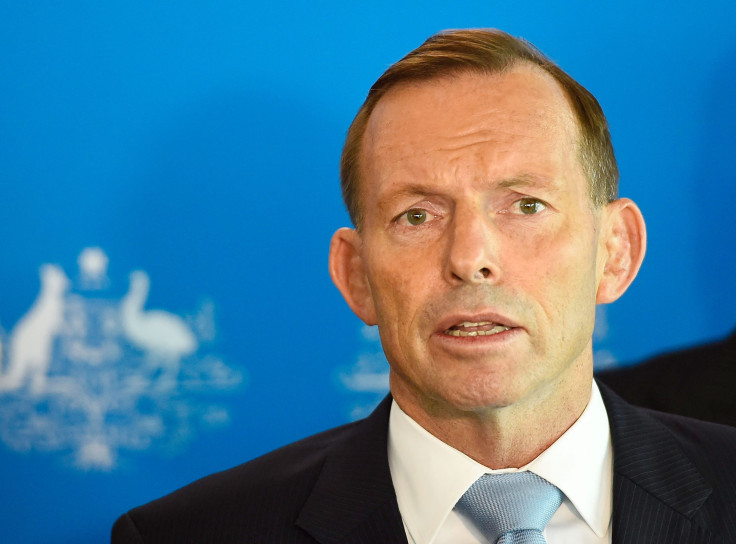 SYDNEY (Reuters) - Australian Prime Minister Tony Abbott, fighting for his political life, said he would bring forward to Monday a meeting of his ruling party to consider a challenge to his leadership in an effort to halt a destabilizing internal revolt.
A member of Abbott's conservative Liberal Party called on Friday for a secret ballot to decide whether to declare the leadership and deputy leadership positions vacant, to be held at a scheduled meeting on Tuesday.
However, Abbott said the meeting would be brought forward by a day.
"It is important to end the uncertainty at the very beginning of the parliamentary sitting week," Abbott said in a brief statement on Sunday.
Abbott has faced a torrent of criticism in recent weeks over policy decisions ranging from his handling of the economy to awarding an Australian knighthood to Queen Elizabeth's husband, Prince Philip.
No member of the government has so far indicated a direct challenge to Abbott, although most attention has focused on Communications Minister Malcolm Turnbull, a former party leader toppled by Abbott.
Turnbull, a millionaire lawyer and former investment banker, has not yet said he will challenge Abbott directly but on Sunday he gave the strongest indication yet he would run.
"If for whatever reason, the leadership of a political party is vacant, then any member of the party can stand ... without any disloyalty to the person whose leadership has been declared vacant," Turnbull told reporters outside a function in Sydney.
Abbott has admitted mistakes as pressure intensified on his leadership in recent weeks, and vowed to be more "collegial" and "consultative" in his approach after several of his so-called captain's calls backfired on his administration.
Political analysts said Abbott's move to bring forward the vote on his leadership would give any challenger less time to accumulate support from colleagues, who will return to the nation's capital, Canberra, for parliament on Monday.
"My reading of this is that there is very strong support behind the prime minister (and) that it has strengthened," said Nick Cater, a conservative columnist and commentator.
However, the move appeared to backfire with at least some of Abbott's colleagues. Influential lawmaker Arthur Sinodinos - chief of staff for Abbott's mentor, long-serving former prime minister John Howard - and former minister Teresa Gambaro were both scathing in their criticism of the decision.
If Abbott is ousted, Australia is faced with having its sixth prime minister in eight years.
Foreign Minister Julie Bishop, deputy leader of Abbott's party, has also been touted as either a potential successor to Abbott or party deputy under Turnbull.
Bishop, seen as one of the best-performing ministers in Abbott's Cabinet, has said she will vote against the motion but has not ruled out standing if the positions are declared vacant.
She was met by Turnbull at the function in Sydney, a party fund-raising event.
Opinion polls have consistently shown voters prefer Turnbull to lead the party but his views on a carbon trading scheme, marriage equality and support for an Australian republic have made him unpopular with the right wing of his party.
Removing Abbott would need support from more than 51 of the 102 members of the federal Liberal Party at the party-room vote.
(Additional reporting by Morag MacKinnon; Editing by Frances Kerry and Paul Tait)
© Copyright Thomson Reuters 2023. All rights reserved.
FOLLOW MORE IBT NEWS ON THE BELOW CHANNELS