Auto Shanghai Car Show Does Away With Scantily Clad Models, But Not With 'Hostesses'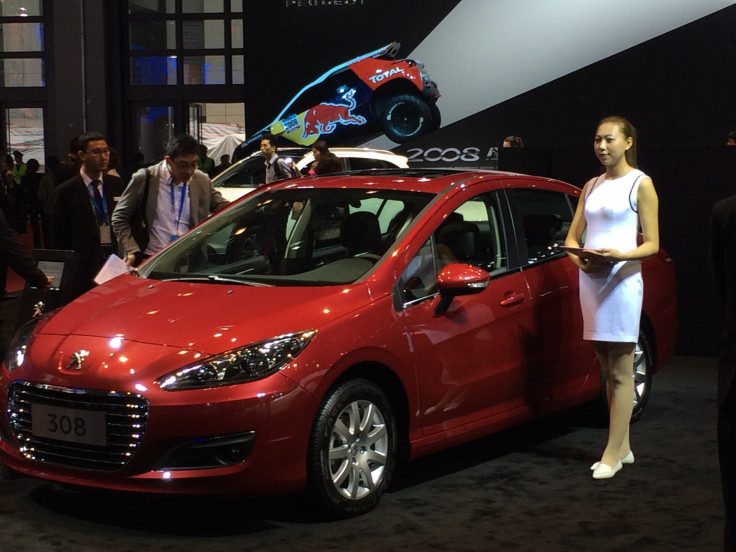 One staple of Chinese auto shows was missing from the opening of Auto Shanghai, the country's largest car show, on Monday: the once-ubiquitous female models, famous for their revealing outfits, who used to draw crowds of onlookers and photographers alike. After many years when, some observers say, automakers and their public-relations companies pushed the limits of good taste in China -- and at the same time made stars of some of the country's most popular car-show models -- the organizers of Auto Shanghai announced that this year's event would be free of so-called glamour models.
Gu Chuting, head of the organizing committee, said the rules were intended "to encourage people to focus more on the automobiles." He added that they would "restore the essence of the exhibition and provide a more civilized atmosphere," though organizers said they did not oppose "normal performances."
Old Habits Die Hard
Yet despite the rule change, old habits die hard: Even before the show, Chinese media quoted insiders as saying that "some companies would work hard on selecting receptionists, and showgirls would be transformed into senior sales consultants or tour advisers."
Several companies' stands at the show featured young "hostesses" in figure-hugging white costumes standing alongside the cars, holding tablet computers. Some consulted the tablets to offer information to visitors about the vehicles, while others simply referred questions to other staff members.
Some launches featured singers and dance troupes. One Chinese brand staged a high-energy performance by two male and three female singers, backed by female dancers wearing shiny shorts and skintight tops.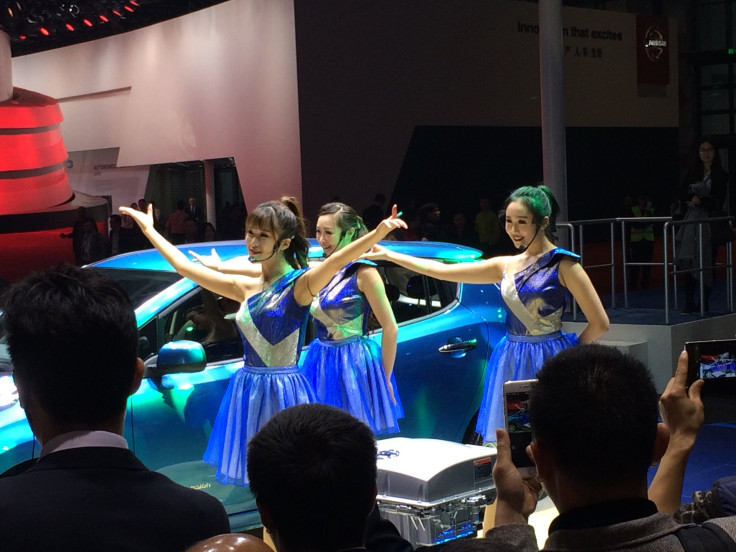 And while some brands were willing to let the cars do the talking, many had resorted to star power. On the second day of the show, celebrities appearing at the event included French actress Sophie Marceau, Taiwanese pop star Jay Chou and his model wife Hannah Quinlivan, Chinese actress and model Gao Yuanyuan -- described by some Chinese media as "the people's goddess" -- and Taiwanese movie star Chang Chen, star of director Ang Lee's 2000 film, "Crouching Tiger, Hidden Dragon."
Not everyone is happy about the ban. China Radio International quoted one model who said she and her colleagues "felt punished for some people's lack of self-control."
But one Chinese media commentator said the ban would end a "vicious circle," whereby "showgirls who expose themselves attract more attention and earn more contracts and make more money" and "those not ready to expose themselves end up losing their incomes." He blamed cutthroat competition in China's PR and entertainment industry, and a lack of regulation, for the phenomenon, and said laws should be passed to regulate modeling in China.
The ban has been seen by some as a feminist gesture. However, such interpretations may be undermined by the recent monthlong detention of five young feminist activists for planning a public campaign against sexual harassment and domestic violence.
New Mood Of Puritanism
Other analysts have described the ban as being in keeping with a new mood of puritanism encouraged by the leadership of President Xi Jinping. Not only have the Chinese authorities launched a major campaign against corruption and waste, they have called for a crackdown on prostitution, and instructed officials to observe strict moral values. One drama series was withdrawn from Chinese state television earlier this year because its female stars were considered to be showing too much cleavage.
However, Kerry Brown, director of the China Studies Center at the University of Sydney, argued that the crackdown on car-show models was something of a sideshow to another aspect of China's auto world. "To me, the truly obscene thing is that party officials' children have in recent years been able to afford cars that only the most mega wealthy in other countries can purchase, when their parents are meant to be earning only a few thousand yuan [a few hundred dollars] a month," he said in an interview.
In the most famous such case, in 2012, the son of Ling Jihua, a top adviser to former President Hu Jintao, died when he crashed his Ferrari on a Beijing highway; two women who were in the car with him at the time were injured. Some reports said all three were naked or semiclothed at the time. Ling is currently under investigation for discipline violations, and state media have accused other members of his family of corruption.
Public anger at the behavior of some drivers of expensive cars was highlighted again last week, following a crash between a Ferrari and Lamborghini in a Beijing tunnel. The two drivers, who were reported to be having a road race, were described by police as unemployed. Their families said they had made the money to buy the cars by investing in the stock market.
However, a commentator in the Global Times newspaper said their behavior had "ignited hatred of rich people," and called on China's wealthy to "stop acting like Beverly Hillbillies [and] stop flaunting their wealth on inappropriate occasions."
© Copyright IBTimes 2023. All rights reserved.