Bali Nine Duo Taken To Execution Site Amid Heavy Security Presence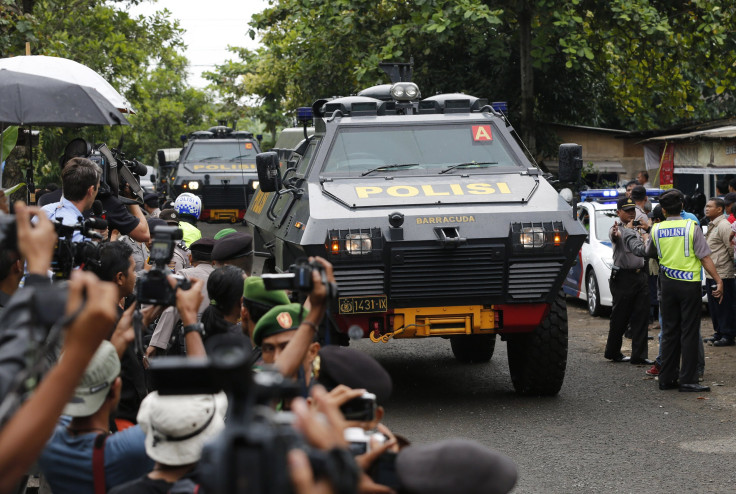 Two Australians who led the "Bali Nine" drug smuggling ring have been transferred to the Indonesian island of Nusakambangan for execution, media reports said.
The island in central Java is home to Indonesia's maximum security prisons, designed to hold terrorists, murderers, drug dealers and high-profile political criminals. Andrew Chan and Myuran Sukumaran, along with eight other foreigners, are expected to be executed by firing squad in the coming days, The Sydney Morning Herald reported.
Nusakambangan, which has been described as "Execution Island" in the media, underscores Indonesia's harsh stance toward drug smuggling. After his predecessor was criticized for leniency toward drug trafficking, Indonesian President Joko Widodo has cracked down on smugglers and traffickers, ending a de facto moratorium on executions. There have been 77 convicts put on death row for trafficking charges since 2004. In January, Indonesia executed six people, five of whom were foreigners, for drug offenses, the BBC reported.
The pair were earlier escorted to the port town of Cilacap accompanied by a heavy military presence, including two Sukhoi jets, Sky News Australia reported. The transfer comes as relations between Australia and Indonesia fell to a new low, with Foreign Minister Julie Bishop admitting that Indonesian officials had failed to confirm the Wednesday transfer, the Sydney Morning Herald reported.
Speaking on Australian radio, Bishop vowed to continue appealing to the Indonesian government, and called on Widodo to show "mercy and forgiveness" for the two smugglers, The Age reported.
"I understand the seriousness of these crimes ... [people] will say well 'my children have been affected' or 'we've had heroin overdoses that have led to death and I understand the seriousness of what they've done," she said.
"But they've shown great remorse, they have been rehabilitated and [you] cannot turn back the clock if we have them executed now if the Indonesian government, the authorities, carry out these executions it is not going to deter others. That has to be done through education programs and other initiatives."
Prime Minister Tony Abbott said he was "revolted" by Jakarta's actions, but added that Australia would not let its anger over the incident undermine relations with the country.
"Whatever might happen in the next few days, the relationship with Indonesia must endure and over time it must grow stronger," he told reporters on Wednesday, 9News reported.
Chan and Sukumaran have had all their appeals and calls for clemency rejected by the government, which has continued its hardline prosecution of foreign drug smugglers despite a diplomatic fallout from several countries, including Brazil and the Netherlands, which withdrew their ambassadors in protest.
Their lawyers said they plan to press another legal challenge, but Indonesian Attorney General Muhammad Prasetyo said on Monday that the government would not consider any further legal appeals after a request for clemency was rejected by Widodo.
Chan and Sukumaran's families have expressed their regret over the pair's actions and have stressed that they had been reformed since being arrested in 2005.
"As a family we are very sorry for this situation and we apologise for Andrew. It has brought a lot of unnecessary shame to Indonesian people and their country," Chan's brother Michael told Indonesian news station TV One on Monday, News.com.au reported.
"Now hopefully 10 years (on) the President can see the good work that they have done inside the prison and hopefully this is enough to have a second chance and to be able to serve the people of Indonesia. We would just like that chance."
© Copyright IBTimes 2023. All rights reserved.
FOLLOW MORE IBT NEWS ON THE BELOW CHANNELS