Bank of America Corp Q2 Earnings Preview: Small Gains Predicted In Line With Housing market Recovery, But Rising Rates Could Weigh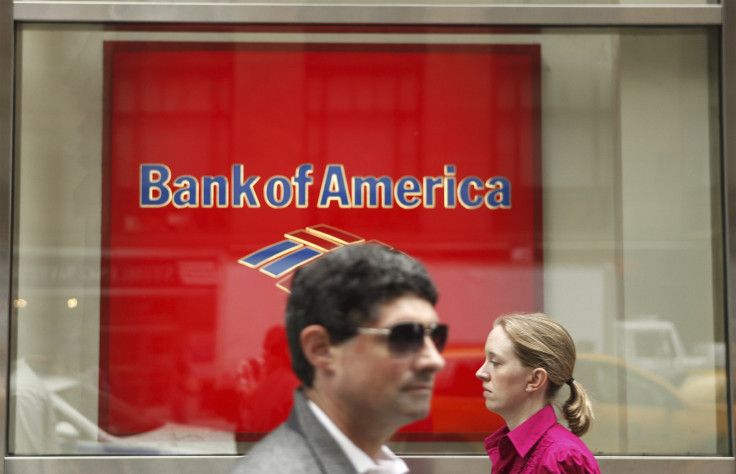 Bank of America Corp. (NYSE:BAC) is expected to report a 4 percent increase in second-quarter profits as the slow recovery of the housing market continues to assist all of Wall Street's big banks.
The bank will issue its second-quarter results on Wednesday before the market opens.
Analysts polled by Thomson Reuters expect Bank of America to report net income of $2.9 billion, or $0.25 per share, on revenue of $22.8 billion, up from the year-earlier period's net income of $2.1 billion, or $0.19, on revenue of $21.96 billion.
However, some analysts are predicting losses in some of the bank's holdings.
"While the bank stands to gain from the slow recovery of the housing market, increases in interest rates may incur losses on bonds and other securities for the bank. Although the bank's nonperforming loans ratio has been decreasing (2.6 percent in 2012), it is still quite high when compared to the industry average," said Business & Financial Services research analyst Sheetal Kothari.
Kothari also believes that the current interest rate environment could dent the bank's capital ratio, currently at 16.3 percent.
"However, price-to-book value of Bank of America stands at 0.65, which is much below its competitors (Citigroup stands at 0.77). Analysts expect this multiple to reach close to 1, thereby indicating greater growth potential for this bank in the future quarters," said Kothari.
Adam Sarhan, of Sarhan Capital, believes BAC should beat the general analysts' prediction of $0.25 per share, much like Citigroup (NYSE:C) and JPMorgan (NYSE:JPM) have done so far.
"In the same period last year, BAC earned $0.19, so if they just meet estimates earnings, they will have vaulted over 30 percent, which is not an insignificant sum," said Sarhan.
This year's trend of housing market gains gives Bank of America hope for a positive outcome. Sarhan believes they will grow up to 7.9 percent but concedes that most eyes will be on the bank's corporate and commercial banking sector, which should be looking at about 29 percent growth.
"For the same reasons as JPMorgan, Bank of America has a high exposure to the U.S. economy and specifically the housing market. On average, all their lines of business benefited from a healthy environment and an improving housing market," said Sarhan.
© Copyright IBTimes 2023. All rights reserved.
FOLLOW MORE IBT NEWS ON THE BELOW CHANNELS