Bank Stocks Hit By Panic Selling On Greece Crisis, JPMorgan Losses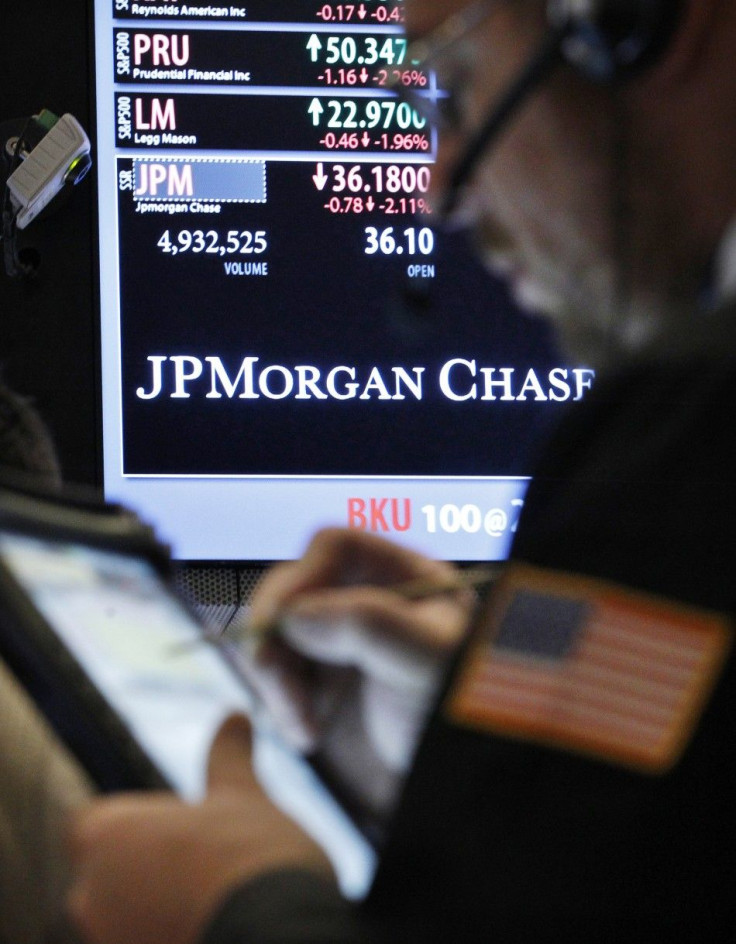 Global bank stocks fell Monday as investors panicked that the electoral impasse in Greece may augur the nation's departure from the 17-member euro zone.
Fears of what exactly a Greek departure from the monetary union would do to Europe's -- if not the world's -- financial system were worsened by the fallout from trading activity at JPMorgan Chase & Co. (NYSE: JPM) that the bank said on Thursday will likely result in losses upwards of $3 billion.
European central bankers are now publicly talking about a Greek euro exit as the political deadlock continues in Athens, even as the Greek president tries to broker a deal for a coalition government, Michael Hewson, senior market analyst at broker CMC Market, said. Banking stocks across Europe have also been sold heavily, especially in Spain and Italy, as fears grow of a contagion from a Greek exit.
The fallout from the JP Morgan trading losses probably hasn't helped either.
Indeed, New York-listed shares of European banking stocks kept declining throughout Monday, even after the markets of Paris, Madrid and Frankfurt closed. British banks were particularly badly hit, a surprising development in a day when the British pound rose against the dollar and the euro.
American depositary shares of Lloyds Banking Group PLC (NYSE: LYG) and Barclays PLC (NYSE: BCS) fell 5.10 percent and 4.73 percent, respectively, mirroring or exceeding the drop seen for those banks' equity positions in the London market.
One of the day's biggest losers, Dutch Bancassurer ING Group NV (NYSE: ING), was recently down 5.28 percent in New York trading.
Major French, German, Italian and Spanish banks traded in New York all fell between 3 and 4 percent for the day, with Madrid's Banco Bilbao Vizcaya Argentaria SA (NYSE: BBVA) and Deutsche Bank AG (NYSE: DB) leading the downward charge for Continental banks.
Zurich's Credit Suisse Group AG (NYSE: CS) performed better than European large bank peers, down 2.55 percent in late-afternoon trading on the New York Stock Exchange.
That performance was better than a few large American banks. After leading the market for U.S. financials down for the day, Citigroup Inc. (NYSE: C) inexplicably collapsed in late-afternoon trading, and recently sold for $28.18 per share, off 3.99 percent for the day. JP Morgan Chase & Co. (NYSE: JPM) also got dumped by investors in late-afternoon trading, and was recently off to $35.86, or 2.98 percent for the day.
Among large brokers, Morgan Stanley (NYSE: MS) -- to an extent the proverbial canary in the coal mine for American financiers because of its exposure to Europe -- was off 4.28 percent for the day, recently trading at $14.31 per share. Those latest losses make Morgan Stanley one of the worst performing large U.S. bank stocks of 2012.
While the Dow Jones Bank Titans 30 Index, a benchmark index of large global financial institutions, is up more than 5 percent for the year, Morgan Stanley's shares have plummeted since mid-March, losing nearly a third of their value and putting the shares in the red for 2012.
© Copyright IBTimes 2023. All rights reserved.