Barcelona New Signing Replaces Lionel Messi In All-Time List
KEY POINTS
Yusuf Demir makes a monumental debut for Barcelona
Demir has become the youngest non-Spanish Barca debutant
Barca boss Ronald Koeman addresses the post-Messi era once again
A new Barcelona signing has joined Lionel Messi in a special feat.
Yusuf Demir's first top-flight appearance for Barcelona was monumental than it seems to be.
The Austrian striker put his name on the record books by becoming the youngest non-Spanish player to debut for Barca in La Liga since Messi, Goal reported.
On Saturday, Demir came off the bench to replace Martin Braithwaite in the second half of Barcelona's La Liga match against Athletic Club--his first feature since joining the Catalans this summer.
After entering the pitch at exactly 18 years and 80 days old, Demir became the youngest Barcelona debutant with Messi, the previous record-holder at 17 years and 114 days old, already left for Paris Saint-Germain.
Speaking after the game, Barcelona boss Ronald Koeman stressed that the incredible moment was essential in the development of Demir.
"[Yusuf] Demir has had a hard time in the big San Mames stadium because he's still very young, but it is very good for him to have made his debut here to begin to adapt to football of this level," Koeman explained.
An earlier report said that Koeman has long been enamored by Demir's qualities, having been the most impressive young talent in the club's training camp.
With Barcelona moving on from Messi's departure, it wouldn't be a shock if Demir also becomes one of the club's favorites to replace the Argentine.
Stacked with a wide array of youngsters, Barca started the new La Liga season with a bang by thumping Real Sociedad, 4-2. However, the Blaugrana came up short against Athletic Club and succumbed to a 1-1 draw.
Revealing his thoughts on the post-Messi era, Koeman admitted that he can sense rival teams are beginning to smell "fear" from Barcelona now that the six-time Ballon d'Or winner is gone.
"I don't like to always talk about the same thing, but we're talking about the best in the world," Koeman said in a recent post-match interview. "Our opponents had more fear when Messi was here."
"For us as well, if you pass the ball to Leo, usually he won't lose it," he added. "You can tell [Messi] isn't there. We know that and we can't change it."
After the pre-season, Koeman already emphasized that Messi is a thing of the past now, and the club will be relying mostly on its "young players."
"We are still in the transition," the Dutchman explained. "We have to understand that the start of this season is difficult. We still have COVID, for all the clubs, but still, we have players with injuries so we cannot put all the players for playing because we are still missing good players. We did a good preseason, we have young players in, but if we get all the players back from injury the squad is still a strong one."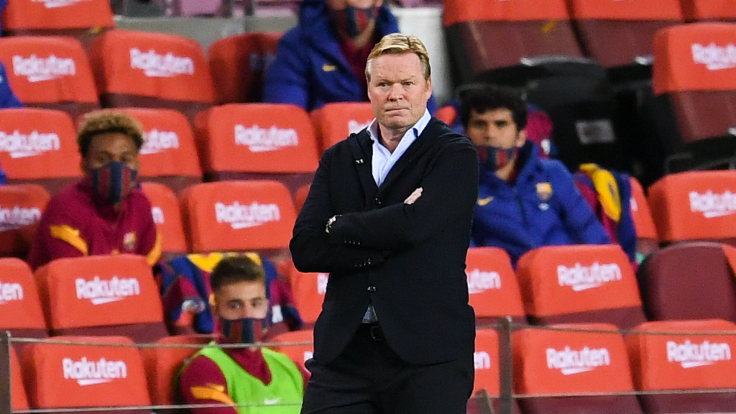 © Copyright IBTimes 2023. All rights reserved.