The Barclays Golf: Watch Live Stream Online; Preview of PGA Tour Playoff Event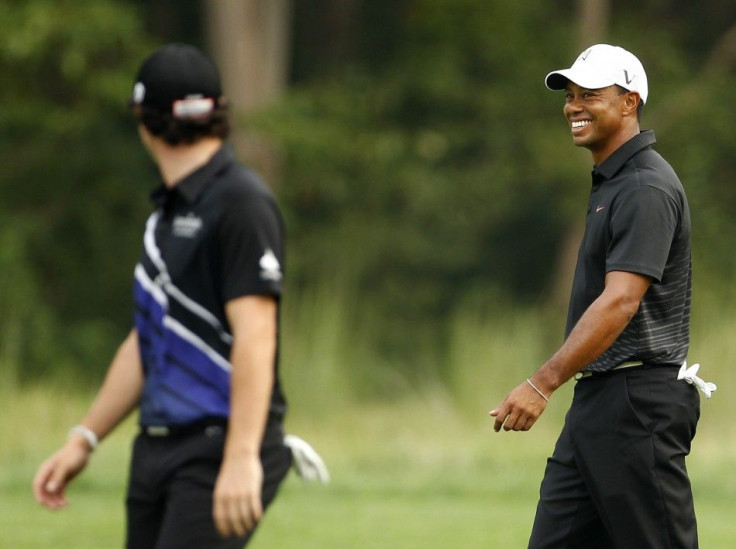 The Barclays Championship is now underway at Bethpage in Long Island, New York. The event is the first of the FedEx Cup Playoffs and features the top 125 in the FedEX Cup standings. Live coverage of the event can be viewed online now on ESPN3.
As has become a regular feature across the golfing calendar, the focus of attention on the Black Course will be on the rivalry between Tiger Woods and Rory McIlroy. With Woods first in the standings and McIlroy third, the regulations have done all golf fans a favor by stipulating that the pair would tee-off in the same group.
Having previously endured a difficult year, McIlroy stormed to a record-breaking victory at the PGA Championship earlier this month to claim the second major of his young career. With Woods without a major win in over four years, speculation has now turned to the possibility of the Northern Irishman overhauling Woods' major tally of 14.
For his part, though, Woods says he enjoys the rivalry.
"I enjoy playing with Rory and I hope he feels the same way about playing with me," said Woods, according to the Daily Telegraph. "He's a great kid and he's great to be around. What an amazing talent he really is. I just hope everyone just lets him and grow and develop as a player, because it's going to be fun seeing over the next 20 years how this kid's career is going to pan out."
Having been asked about the rivalry as Woods entered the room, McIlroy joked about how he'd like to see the event pan out.
"I really enjoy his company. I know we'll have a good time out there," he said, according to ESPN. "I'm keeping him waiting here, so I'll stop talking about him."
"I'd love to go out first [in Sunday singles] and kick [Tiger's] ass."
© Copyright IBTimes 2023. All rights reserved.