Bardarbunga Volcano Live Stream: Iceland Issues Volcano Red Alert For Bardarbunga Explosion [PHOTOS]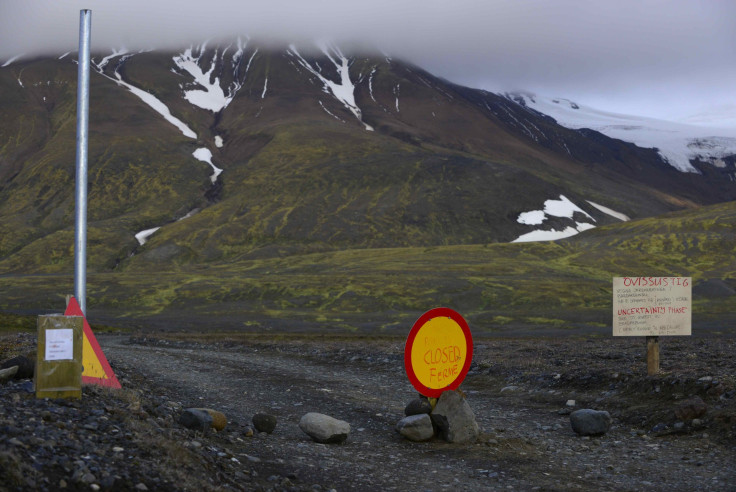 A small eruption began Saturday at Iceland's Bardarbunga volcano, which sits beneath a large ice cap. The explosion prompted the Icelandic Meteorological Office to issue its highest volcano alert. The office previously warned of severe flooding in case such a subglacial explosion were to occur.
A red alert is the highest warning on the met office's five-color scale. It signifies an "eruption is imminent or in progress -- significant emission of ash into atmosphere likely." Icelandic authorities said it is still too early to tell how damaging the ash cloud and flooding will be.
"The eruption is considered a minor event at this point," Icelandic police said in a statement. "Because of a pressure from the glacier cap, it is uncertain whether the eruption will stay subglacial or not."
The region surrounding the volcano has no permanent residents, BBC News reported. However, it's a popular tourist destination. Authorities evacuated the area Wednesday after about 300 earthquakes were recorded in roughly 24 hours. The airspace above the volcano was closed Saturday, but all of Iceland's airports remain open.
"The thicker the ice, the more water there is, the more explosive it will be and the more ash-rich the eruption will be," Icelandic Met Office vulcanologist Melissa Pfeffer told the Associated Press Saturday.
Bardarbunga is located in central Iceland beneath the 1,640-foot-thick Vatnajokull glacier, as noted by BBC News.
In 2010, the Eyjafjallajokull volcano erupted in Iceland, producing an ash cloud causing major air-travel problems for a week. More than 100,000 flights were canceled, as AP reported.
Live streams of Bardarbunga are available here and here, but the webcam quality in each case is highly variable.
© Copyright IBTimes 2023. All rights reserved.