Battles rage as rebels seize Libyan towns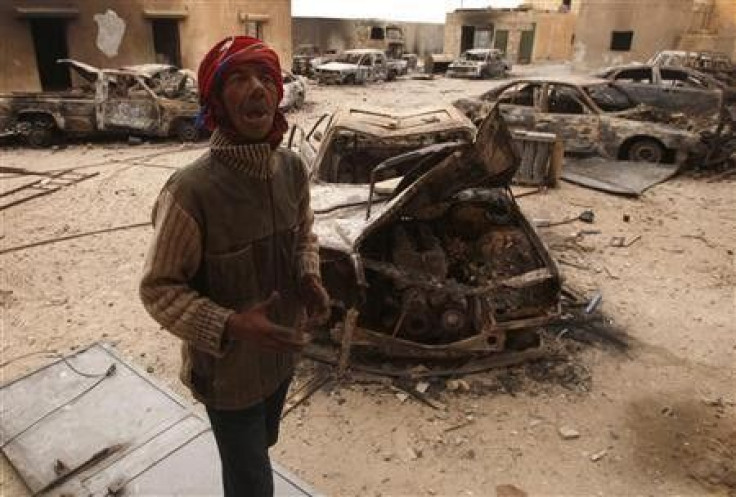 Forces loyal to Muammar Gaddafi launched a counter-attack on Thursday, fighting fierce gun battles with rebels who have threatened the Libyan leader by seizing important towns close to the capital.
The opposition were already in control of major centres in the east, including the regional capital Benghazi, and reports that the towns of Misrata and Zuara in the west had also fallen brought the tide of rebellion closer to Gaddafi's power base.
Gun battles in Zawiyah, an oil terminal 50 km (30 miles) from the capital, left 10 people dead, a Libyan newspaper said.
Gaddafi spoke on state television to offer condolences over those who had died, calling them Libya's children.
Speaking to the TV station by phone rather than appearing in person as he has in recent days, Gaddafi said people in Libya were fighting among themselves and had been taking drugs.
Calling for calm, he accused al Qaeda leader Osama bin Laden of orchestrating the uprising against him.
Bin Laden ... this is the enemy who is manipulating people, Gaddafi said. Do not be swayed by bin Laden.
FIGHTBACK
Forces loyal to the Libyan leader on Thursday attacked anti-government militias controlling Misrata, Libya's third-biggest city, 125 miles (200 km) east of Tripoli.
Lawyers and judges said they had Misrata in their grip, according to an Internet statement, several people were killed in fighting near the city's airport.
Soldiers were reported along the roads approaching Tripoli. In Zawiyah, witnesses said people in civilian clothes, who appeared to be both pro- and anti-Gaddafi forces, were firing at each other in the streets.
It is chaotic there. There are people with guns and swords, said Mohamed Jaber, who passed through Zawiyah on his way to Tunisia on Thursday.
Al Jazeera television broadcast pictures of what it said was a burning police station at Zawiyah. A witness told Reuters the Libyan army was present in force.
The uprising has virtually halted Libya's oil exports, said the head of Italy's ENI, Libya's biggest foreign oil operator. The unrest has driven world oil prices up to around $120 a barrel, stoking concern about the economic recovery.
Anti-government militias were in control of Zuara, about 120 km (75 miles) west of Tripoli, Egyptian construction workers who fled into Tunisia told Reuters on Thursday.
There was no sign of police or military and the town was controlled by popular committees armed with automatic weapons.
The people are in control. Police stations have been burned and we didn't see any police or army in the past few days, Egyptian labourer Ahmed Osman said.
World leaders condemned Gaddafi's bloody crackdown on the week-long revolt, but did little to halt the bloodshed from the latest upheaval reshaping the Arab world.
U.S. President Barack Obama made his first public comments, condemning as outrageous and unacceptable attacks on protesters that have killed hundreds in 10 days.
DEFIANCE
Washington and Brussels spoke of possible sanctions against a man whose 41 years in power have been marked by idiosyncratic defiance of the West, yet there seemed little cohesion or urgency in the global response to the Libyan crisis.
The desert nation pumps nearly 2 percent of the world's oil.
It is imperative that the nations and peoples of the world speak with one voice, Obama said. The suffering and bloodshed are outrageous.
French Defence Minister Alain Juppe said he hoped Gaddafi was living his last moments as leader. British Foreign Secretary William Hague urged the world to increase pressure on Gaddafi.
Residents have taken control of Benghazi, the eastern regional capital where the rebellion started a week ago.
After a week of violence in which it threw off government control, the city is starting to run itself under people's committees as the dust of rebellion settles. In the east of Libya, many soldiers have withdrawn from active service.
A Reuters correspondent was shown about a dozen people being held in a court building who residents said were mercenaries backing Gaddafi. Some were said to be African and others from southern Libya.
They have been interrogated, and they are being kept safe, and they are fed well, said Imam Bugaighis, 50, a university lecturer now helping organise committees to run the city, adding that they would be tried according to the law, but the collapse of institutions of state meant the timing was not clear.
Angry residents destroyed a compound they said had been used by the mercenaries.
In Tripoli, which remains largely closed to foreign media, locals said they were too scared to go outside for fear of being shot by pro-government forces.
People have started working today. But that does not mean they are not afraid. But until now, people are moving around, a resident told Reuters.
© Copyright Thomson Reuters 2023. All rights reserved.