Belak death adds to tragic off-season for league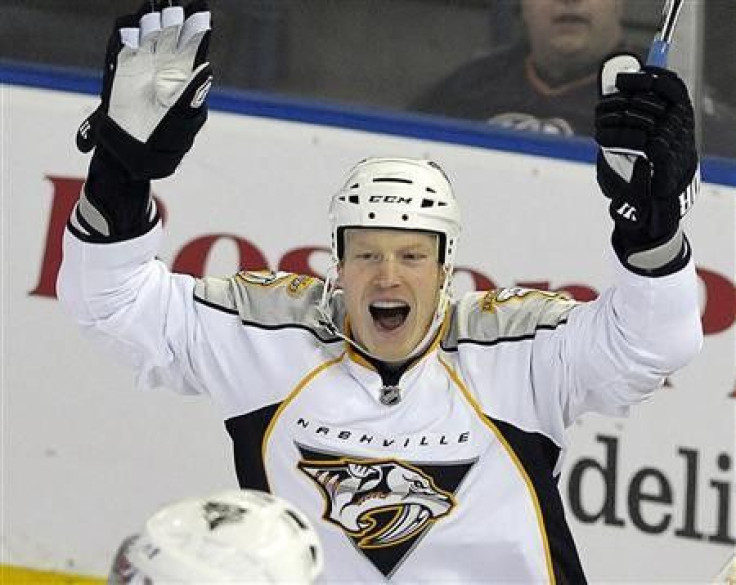 Recently retired NHL tough guy Wade Belak was found dead in a Toronto hotel Wednesday, adding to an off-season of tragedy for the National Hockey League.
Belak, who spent 14 fight-filled seasons in the league, becomes the third NHL enforcer to die suddenly in the last four months, raising concerns about a possible link between the deaths and the players' tough guy roles.
Winnipeg Jets center Rick Rypien, who battled depression for about a decade, was found dead at his Alberta home earlier this month at the age of 27.
Derek Boogaard of the New York Rangers, one of the NHL's most feared fighters, was found dead in May in Minneapolis, the 28-year-old's death ruled accidental and caused by a lethal combination of alcohol and painkillers.
A spokesman at the hotel where Belak was reported to be found on Wednesday had no comment.
However, as a police investigation continued, the shock of yet another death swept across a hockey community that has been left reeling just as training camps are set to open for a new season.
The National Hockey League family mourns the passing of Wade Belak, who competed to the utmost every minute of his NHL career, NHL commissioner Gary Bettman said in a statement.
Our hearts go out to Wade's loved ones, his friends, his former team mates and to all who feel the horrible void left by this tragedy.
Belak, picked 12th overall in the 1994 NHL entry draft by the Quebec Nordiques, was better known for his quick fist than his scoring touch, recording just eight goals while piling up 1,263 in penalty minutes in a career that included stops in Colorado, Calgary, Toronto, Florida and finally Nashville.
POPULAR PLAYER
The 35-year-old Canadian was also one of the most popular players wherever he skated.
After retiring in March, Belak was ready to embark on a new career providing radio analysis for Predators' games and was in Toronto filming Battle of the Blades, a hugely popular television program that matches retired NHL players with figure skaters who then compete in a Dancing With the Stars format.
All players and NHLPA staff are sincerely saddened and shocked by the passing of former member Wade Belak, said Don Fehr, executive director of NHL Players Association.
His affable personality made him popular with team mates, fans and media and he was a hardworking, respected member of the Association. He will undoubtedly be greatly missed throughout the entire hockey community.
The three deaths in the last four months have set off alarm bells at NHL headquarters.
During a visit to the NHL Research and Development camp earlier this month, Bettman said he expected the league would review its substance abuse and behavioral health program following the deaths of Rypien and Boogaard, who both sought out help.
Chris Dingman, another NHL tough guy who had several memorable run-ins with Belak on the ice, said on Twitter that fans have to remember that players are human too and struggle with the same demons.
Terrible news about Belak, Dingman said. Had many battles with him in junior, tough guy on the ice, great guy off the ice.
People think sports, and most just see a lifestyle. It is really hard mentally and physically. Especially hard when you're done.
When you're done, your left to let ponder, what do I do with, myself now?
© Copyright Thomson Reuters 2023. All rights reserved.