Benedict XVI's Legacy: Doctrine Defender, Marred By Sex Abuse Scandal
Analysis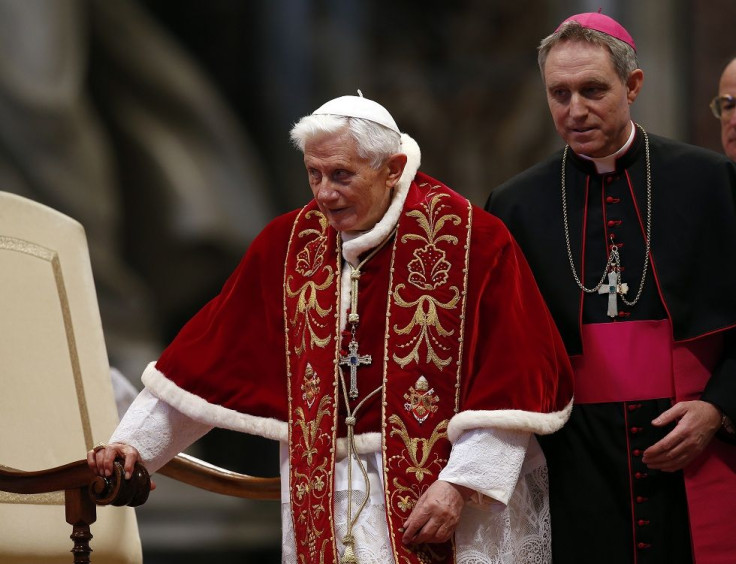 For the first time in 719 years the head of the Catholic Church is resigning on his own volition. The Vatican announced Monday that Pope Benedict XVI, 85, will step down on Feb. 28.
The former Cardinal Joseph Ratzinger became the 265th pope in April 2005, carrying on the legacy of his predecessor Pope John Paul II to defend traditional doctrine against what was viewed by many Catholics, especially conservatives, as controversial and too liberal interpretations of the Second Vatican Council, a conference of the Cardinals that modernized the church in the early 1960s.
As a youth Ratzinger was drafted into the Hitler Youth, like most young fit German males, and served briefly as a child soldier before being trained as an infantry solider. He deserted toward the end of World War II back to his home town of Traunstein and returned to the seminary.

He was ordained a priest in 1951 and became a highly regarded theologian by the late 50s, serving at several German universities. Pope Paul VI appointed him cardinal and Archbishop of Munich and Freising in 1977. The appointment was a nod to Ratzinger's academic reputation despite his lack of pastoral experience that was normally required for such high position in the clergy.
In 1981 Ratzinger moved to Rome and became Dean of the College of Cardinals in 2002, where he developed a respected reputation among many of his peers for his strong traditionalist views. He became an outspoken critic of secular trends invading traditional liturgy.
As a cardinal, Ratzinger convinced Pope John Paul II to centralize the church's own internal investigations surrounding sexual abuse by priests under the Vatican's Congregation of the Doctine of the Faith, which oversees church doctrine. While he claimed the move would allow the church to address the abuse issue more efficiently, it was viewed by many - especially those outside the church -- as a kind of Vatican-administered cover-up operation moving priests around rather than treating them as sexual predators and assisting law enforcement in prosecuting their crimes.
In 1999, Ratzinger was persuaded to back off a high-profile sex abuse case involving a priest in Mexico by the name of Marcial Marcial Degollado, accused of sexually abusing two boys, and had relations with two women with whom he fathered six children. Degollado was later honored by Pope John Paul II, after which new abuse accusations emerged. After Ratzinger become pope he had Dellogado removed on the basis of "very serious and objectively immoral acts."
Lawsuits and accusations of massive cover-ups of accused sexual criminals followed Ratzinger when he became pope. Critics say as cardinal, the pope was at the center of a policy of covering up sex abuse cases and keeping allegations secret rather than assisting law enforcement in prosecuting these criminals and pursuing justice for sex crime survivors.
But regardless of the ongoing sex abuse issue and the Ratzinger's central role in the Vatican's efforts to address the issue, a pope is a pope; he lead a church with an estimated 1.1 billion members who view him as the successor of the Apostle Peter. For these Catholics, it would take much more than what Pope Benedict XVI has been accused of to shatter this faith.
The last time a pope decided on his own to step down was on Dec. 13, 1294, when Pope Celestine V resigned to devote the remaining years of his life in solitude. However he was captured and imprisoned by his successor Pope Boniface VIII and he died in prison.
© Copyright IBTimes 2023. All rights reserved.