Berkshire Sanctuary Wolf On The Loose Near Kate Middleton's Family Home: Report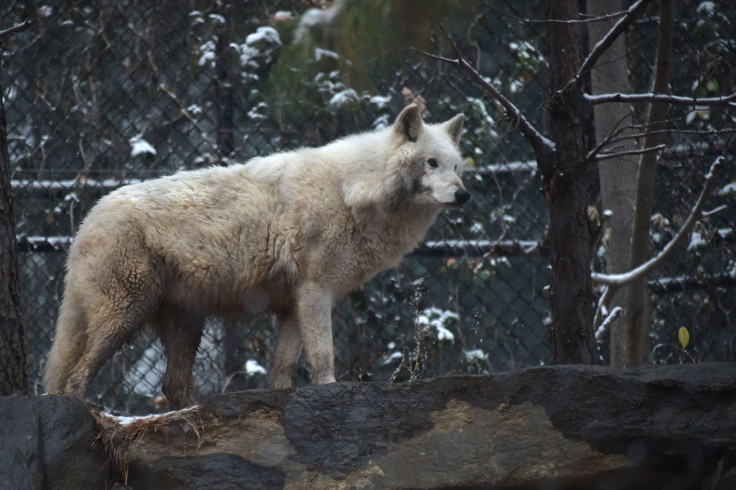 Armed police in U.K. are hunting for a wolf that escaped from a sanctuary, the U.K. Wolf Conservation Trust, based in Butlers Farm in Picklepythe Lane. According to a report, the farm is just two miles from Bucklebury, the village where Kate Middleton has her family home where her parents Carole and Michael Middleton live.
Police have warned residents and children not to go outside or approach the animal if they spot it as the wolf could be dangerous. The incident took place early Thursday following which the emergency services were called to the scene.
"Officers have sight of the wolf and are working with staff from the sanctuary to detain it," a Thames Valley Police spokesman said. "Together with staff from the sanctuary, they are trying to detain it without the need to shoot it... Do not approach the wolf if you see it."
While there was no confirmation as to how the wolf escaped the sanctuary, some reports said it was believed that strong winds damaged the cage Wednesday night, allowing the beast to escape.
Sian Champkin, whose husband works at Elstree Independent Boys Preparatory School in nearby Woolhampton, said students were asked not to go outside.
"He phoned me to tell me about it because we have a child, a dog and a cat and not to go outside. The sanctuary is about a mile away," she said. "I was slightly shocked, nothing like this has ever happened before."
Local resident Tony Roe told Newbury Today: "I just took my son to school and there was a police officer outside the gate. I asked why they were there and she said a wolf had escaped because the wind had damaged the sanctuary."
"There is no panic or worry in the village as far as I can see. The sanctuary has been there for years, we all support it and even the school kids have an emblem of a wolf on their jumpers," Roe said. "I am sure they [the sanctuary] have got protocols in place for dealing with this sort of thing when it occurs... We live close to the sanctuary and we have seen nothing. We hope that the wolf is found and captured safely."
The sanctuary, which was founded in 1995, currently has 10 wolves from the Arctic and Northwestern breeds, living in four packs.
© Copyright IBTimes 2023. All rights reserved.