Best Payroll For Small Business 2021: OnPay vs. Gusto Pricing, Features & Customer Service
This article uses affiliate links, which means if you purchase products through these links, we may earn a commission. Click here to see our
T&C
. For licensing please click
here
.
People always look forward to payday. But for many owners of small and medium sized-businesses (SMB), it can be frustrating and stressful. Why? Payday means payroll -- and payroll is a complicated task that takes time and hours of intensive work.
Luckily, there are now payroll services available. It's much easier to calculate employee pay, deliver payment and send the required tax forms. Payroll services will do all the hard work for you and keep you up-to-date with any legal state requirements so you can better focus on running your business. To help you decide on which payroll service to go with, we compared the best payroll services available today: OnPay and Gusto.
OnPay Vs. Gusto
With so many payroll services available today, it can be easy to get overwhelmed and pick the first one you see. However, OnPay and Gusto easily stand out.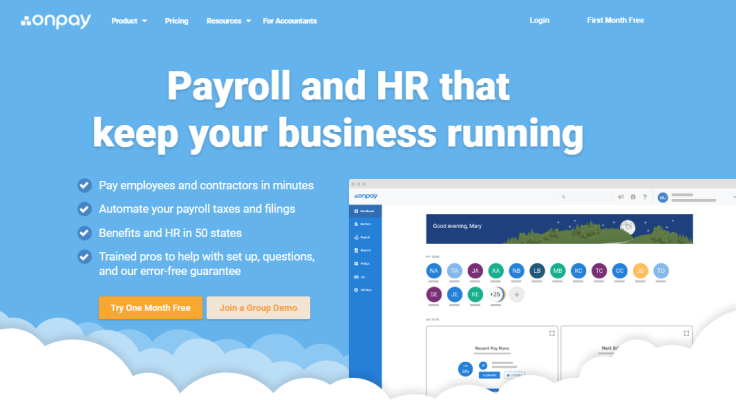 First, OnPay is a cloud-based complete payroll solution that allows managers and small business owners create comprehensive employee records and make unlimited payrolls monthly. Borne out of the founder's longstanding family payroll business, OnPay successfully blends customizable payroll solutions and HR tools.
On the other hand, Gusto is a relatively young payroll service that provides excellent payroll processing and payroll tax responsibilities. Much like OnPay, the service comes with a comprehensive set of HR tools that can help manage your business more efficiently thanks to exceptional user experience and clean UI.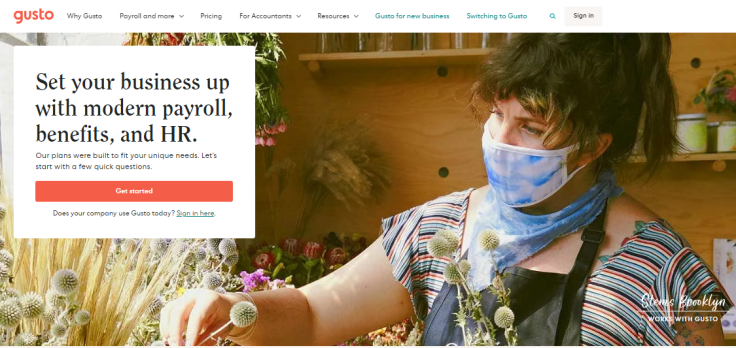 Payroll features
When it comes to features, both offer plenty at excellent price points.
OnPay has services, features and tools that small businesses will find helpful, like:
Payroll processing - As a payroll service, OnPay's payroll calculator automatically determines the pay for each employee based on their rate and hours worked. Enter the information and let the software handle the rest.
Unlimited payroll runs - One of OnPay's best features is that it lets you run as many payrolls as you want each month. This means you can input different pay cycles for different employee types, such as full-time, part-time, even contractors.
Payroll deductions - OnPay's software also allows for different deductions. The software automatically calculates these and includes them on each pay stub.
Payroll taxes - Say goodbye to stressful tax calculations with OnPay, as the software also files your taxes, fills out all the forms and pays the proper amount to each agency automatically. Taxes are also guaranteed to be delivered on time and OnPay assumes responsibility should an error be made.
OnPay also lets you pay all employee types regardless of their tax status. You can also set up employee self-service, have different payment options, set paid time off and automatically report all your new hires to the government. Of course, the software also offers retirement savings plans, workers' compensation insurance, employee benefits and an online HR library. The software is also intuitive, easy to use and setting up assistance is a cinch.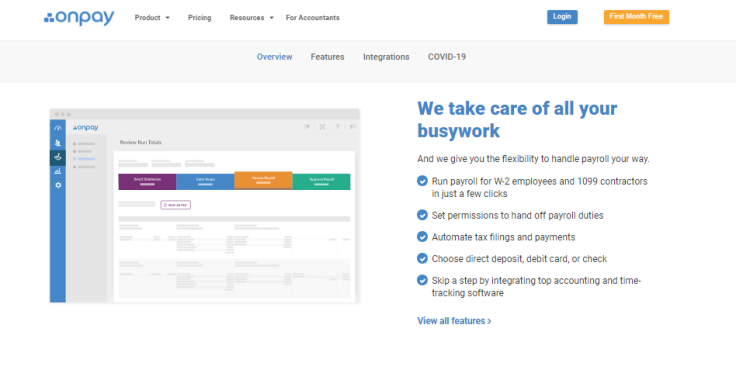 Gusto's offerings are a bit similar to what OnPay provides, although it has its standout features. Here's what small business owners will find valuable in this service:
Payroll processing - Like all payroll services, the Gusto payroll calculator automatically computes the payroll after you've entered all the necessary information. This way, payroll can be done in just a few minutes. Additionally, if you don't have much variation every pay period, Gusto also allows for automatic payroll runs every month, adding more free time on your end.
Payment options - Gusto also lets you pay your employees in several ways during each pay period. You can pick between direct deposit, prepaid debit cards, printed checks and Gusto will handle the rest.
Taxes - Gusto also handles all tax responsibilities, automatically calculating your payroll taxes, filling out the required forms and then filing them with each local, state and federal agency.
Human Resource services - Gusto also offers a wide array of HR tools, such as online offer letters, signature documents, employee directories, on-demand access to HR professionals, policy templates and so much more.
Gusto also offers new-hire reporting, comprehensive software integration, paid time off, year-end forms, commuter benefits, 529 college savings plans, 401(k) retirement plans and of course, health benefits. Another huge plus to Gusto's service is how simple and straightforward it is to use. There's no software to download and the cloud-hosted service is optimized for smartphones and tablets.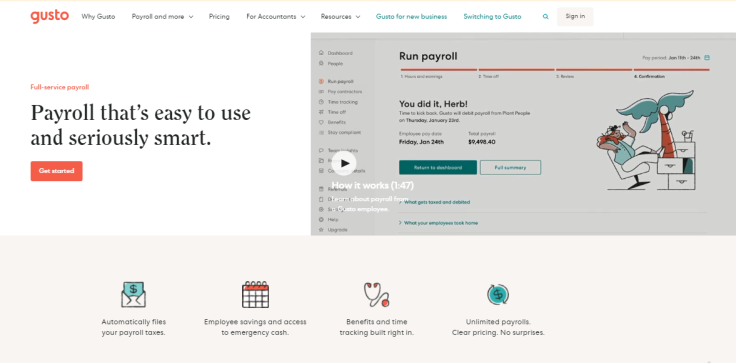 Payroll software pricing
OnPay has maintained its one payroll pricing plan for all users, which means that all users have access to every feature on the software. There's also no contract to sign and payment is made monthly. As for prices, OnPay comes at a very affordable $36 per month plus $4 per employee per month. The base fee stays the same, while the employee fee changes whenever you add or reduce the number of employees.
The only other fee that may be charged is for yearend tax forms. Additionally, OnPay offers the first month for free, which you can use to run a couple of payrolls and see if it meets your needs. This way, you don't end up wasting money.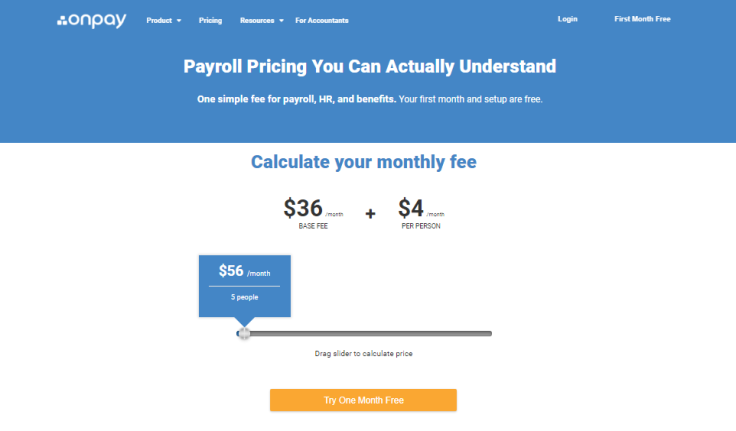 Gusto's payroll pricing structure is varied and is of great value. As a service, Gusto provides multiple service plans:
Core - Gusto's core service plan costs $39 per month, plus $6 per employee. This plan includes full-service payroll, employee onboarding tools, accounting and time-tracking integrations, payroll on autopilot and other basic features.
Complete - Costing $39 per month plus $12 per employee, it includes everything in the core plan with additional functions like next-day direct deposit, time-off requests, etc.
Concierge - Gusto's most expensive plan costs $149 per month plus $12 per employee. It offers everything in the previous plans, plus more features like on-demand access to HR professionals, an HR resource center and a dedicated support team that you can contact.
Gusto also offers a contractor-only plan, which costs only $6 per month. There is no base fee for this plan. You can also switch plans at any time and there are no set-up or penalty fees. There are also no contracts much like OnPay, which means you pay every month.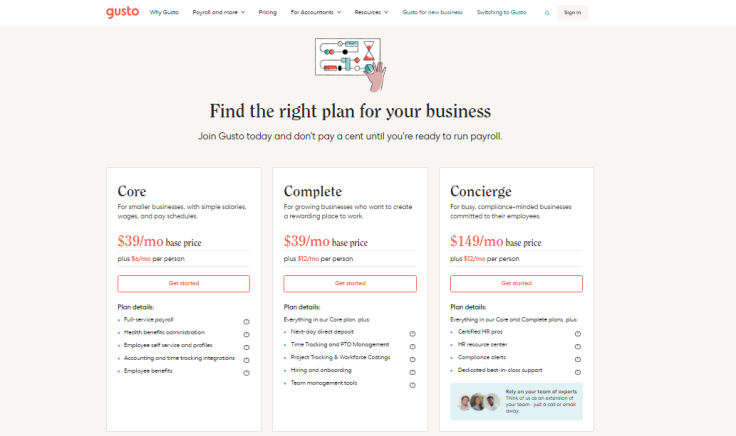 Customer Service
As far as customer service goes, both OnPay and Gusto excel greatly. Both are dedicated to helping you with your needs.
OnPay representatives are guaranteed to answer any question you may have, while Gusto's live chat support gives you immediate responses to any query.
OnPay offers customer support over the phone between 9am and 8pm, Monday to Friday and live chat and extensive knowledgebase via its website. On the other hand, Gusto provides several valuable resources and tools on its website, including a demo of the payroll software.
Conclusion
When it comes to the best payroll for small businesses, feel free to choose the one which meets your needs and requirements. That said, OnPay and Gusto are excellent payroll services at a fraction of the usual price.
OnPay is perfect for starting businesses, while Gusto is an excellent choice for small companies transitioning into a more extensive employee base. Both services make payroll processing understandable, fast and straightforward without sacrificing depth and other vital features.
If any of these fit your business needs, sign up for OnPay by clicking here and Gusto by clicking here.