Sponsored Article
Best Payroll Software For Small Business: OnPay Review 2021
This article uses affiliate links, which means if you purchase products through these links, we may earn a commission. Click here to see our
T&C
. For licensing please click
here
.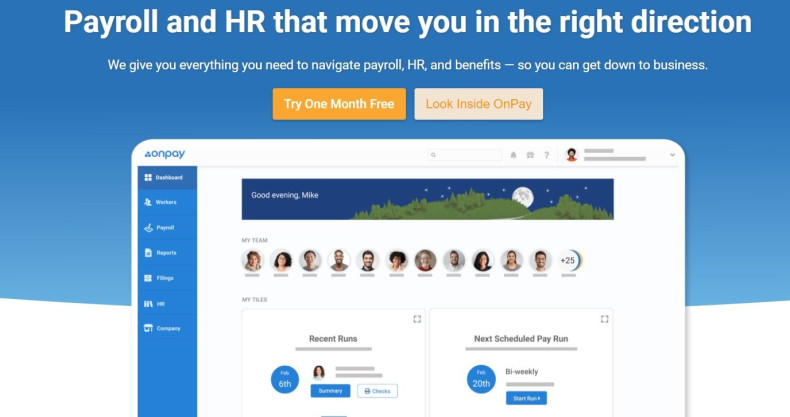 Paying your employees should be a simple process but it can get difficult once you onboard more employees. Once forms and insurance requirements start piling up, it becomes nearly impossible to manage your business and your employees' payrolls at the same time. Unless you're willing to work at least 20 hours a month managing employee payrolls as a small business owner, then you should start outsourcing all that extra work so you can focus on managing your business.
The payroll process goes beyond paying employees. You need to deal with processing quarterly payroll taxes, new hire forms, year-end tax forms for employees (such as W-2s and 1099s) and FICA taxes, just to name a few. Plus, if the IRS sends you notices or if you miss a payroll, you can be heavily fined for a minor slip-up. If you're making errors or missing deadlines, the solution to your payroll problem is to get the best payroll software, especially for small businesses.
Check out OnPay, the best online payroll tool that efficiently streamlines processes and automates repetitive tasks.
What makes OnPay different from other companies that offer similar software is that OnPay isn't a startup -- it's an actual payroll business. Through the combination of expert advisers -- with decades of experience and the latest technologies, OnPay takes care of the payroll services for small businesses and helps owners focus on improving the business side of the company.
OnPay is not just one of the best payroll software of 2021 but has expanded to HR and employee benefits as well to provide increased levels of support.

OnPay offers full-service payroll which includes paying employees, processing and paying taxes. In addition to these features, it also offers some of the best integrations to help you streamline the payroll process and avoid erroneous reports. With OnPay's payroll software, you have access to unlimited monthly pay runs, all tax filings and payments, processing of W-2 and 1099 workers, ability to pay by direct deposit, debit card or check, multiple pay rates and schedules, unemployment insurance withholding, report designer with custom reporting, accounting and time tracking integrations, mobile optimization, plus a multi-state payroll.
When it comes to recurring invoices for your clients, you can save time and effort by automating the process. Invite your recurring clients or suppliers who have contracts with you to hop on your payroll. This way, you no longer have to take time out of your day to manually create and pay the same invoice each month if their details are already in your system with OnPay.

Get everything you need to tackle HR demands so you can stay compliant and on time. OnPay offers tools that automate administrative tasks, organize documents, templated documents including offer letters, I-9 and W-4 forms. Plus, get access to document storage and online personnel files, custom workflows online, automated onboarding flows, e-signing, new hire reporting within your state, customized personnel checklists, ability to delegate and track non-HR tasks i.e. the IT department, direct messaging to employees, compliance audits and a rich HR resource library.
Hiring new personnel has never been easier with OnPay's in-app offer letters. Stop micromanaging and let your employees onboard themselves. Now they can work on the tasks you've assigned to them and the team with customizable checklists and to-do lists that you can track and delegate. Automate the administrative part of HR which is recommended where employees and contractors update their information, schedule leaves and access personal documents like their invoices.
Manage your employees' benefit plans with confidence and ease. OnPay's team of experts will help set you up with the best benefit plans for your employees. OnPay will help you offer health, vision and dental insurance from the best companies with advice from its team of licensed brokers that will also set it all up but you still have the option to work with your preferred broker. OnPay also offers pay-as-you-go workers' comp plans that are updated with every new hire so you and your employees are protected from liability.
With OnPay, you can provide your employees with a 401(k) plan without any effort. OnPay is integrated with the best low-fee 401(k) providers that offer you and your employees an advantage when it comes to retirement. All of these are offered at low up-front costs so you're not surprised by hidden fees in the future.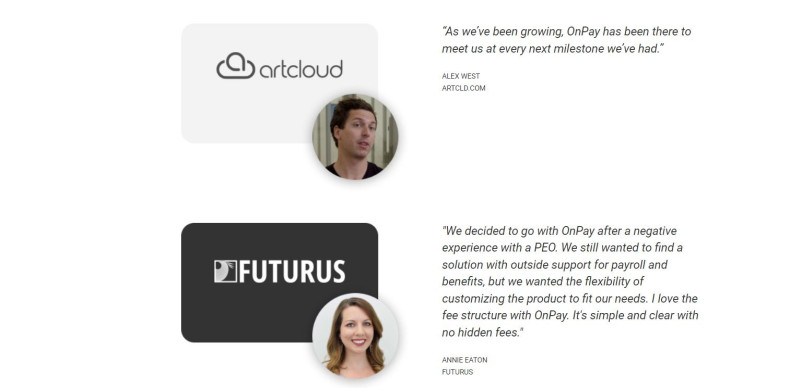 OnPay has been featured in several publications and media outlets for its flexibility, ease-of-use and comprehensive payroll solutions plus HR and benefits features. It has so much to offer that it has received a rating of 4.8 stars out of 5 in Capterra, G2 and Trust Pilot. Another reason that it is so well-loved is that it offers amazing customer service and a robust library of resources when you need help. From its reviews, owners of small and medium-sized businesses truly love and trust everything that OnPay has to offer.
OnPay's pricing is very straightforward. If you decide to use its services and tools, you will need to pay a base fee of $36 per month then an extra $4 per month per employee. Let's say you have a small business with five employees, you end up paying the $36 base fee plus $20 for your five employees. You end up paying OnPay $56 per month for everything they have to offer which is a really good deal.