Biggest Military In The World: China Wants To Catch Up To United States, Russia Now That Trump Is President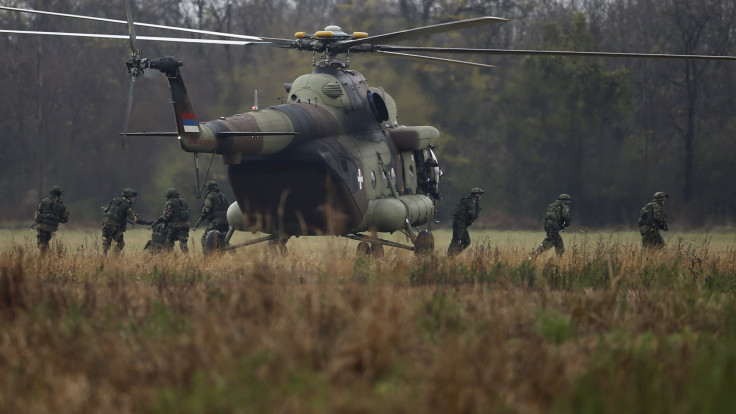 The United States has the world's most powerful military, with more than 1.4 million troops, 13,000 war planes and nearly 9,000 tanks ready to take down anything in there path. But with President Donald Trump vowing to increase the nation's defense budget by $54 billion, other nations are also looking to bolster their ranks.
Russia has the world's second biggest military, with more than 1 million troops, 3,500 war planes and 15,000 tanks. China is the world's third biggest military with roughly 2.3 million soldiers and 3,000 war planes. India is in fourth place with 2 million troops and 2,000 military aircraft.
Chinese Premier Li Keqiang announced Sunday China would grow its defense budget by 7 percent, the smallest military spending increase in seven years, but still ensuring Beijing remains the second-biggest defense spender in the world. In all, China spends about $145 billion on defense.
"China's military development and construction is to continue. This is the requirement for the defense of our national sovereignty and security," NPC spokeswoman Fu Yang said Saturday.
Trump announced this week he would grow defense and security spending by $54 billion, a 10 percent increase on top of the $600 billion the U.S. already spends on its military. Altogether, U.S. defense spending represents 40 percent of the world's total defense spending.
In comparison, Russia's budget is expected to grow to $41.4 billion by 2020, or about 5 percent of its GDP. Russian Prime Minister Dmitry Medvedev said in January that Moscow would grow its domestic defense industry through 2025.
"Currently several programs are being implemented for upgrading the defense-industrial complex alongside the program for the country's military-industrial development," he said. "The program, which is still in the drafting phase, will take effect as of 2018 and last till 2025."
© Copyright IBTimes 2023. All rights reserved.