Bill Clinton Defends Obamacare, 'Impressed' By What He's Seen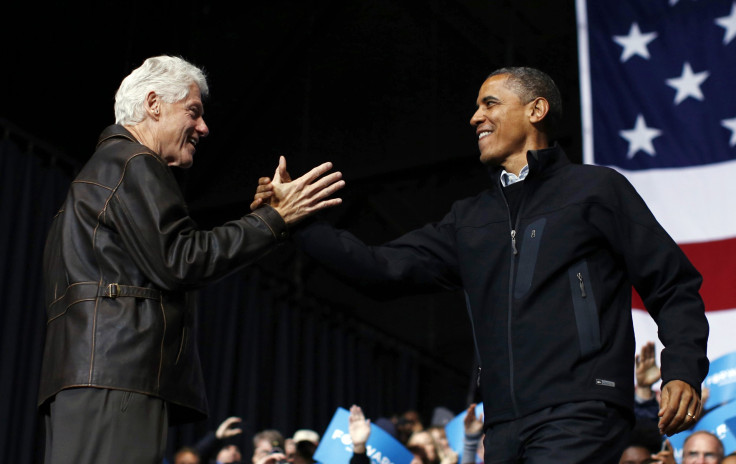 President Barack Obama has found a very influential ally to counter Republicans' quest to defund Obamacare, the health care law passed in 2010. He's tapped none other than former President Bill Clinton, whom he once famously dubbed "secretary of explaining stuff."
With less than a month to go before the health care exchanges roll out, both Obama and Republicans, who oppose the law and have tried at least 40 times to stop its implementation, are campaigning to convince the public to join their side.
Clinton began making the case for the law, officially known as the Affordable Care Act, on Wednesday in his home state of Arkansas. Among his selling points: Studies show a large number of young people are enrolled on their parents' plan; more young Republicans are enrolled on their parents' plan than young Democrats; and surveys say most young people want health insurance but don't earn enough to afford it.
The former president said tax credits will make insurance affordable.
"I think if young people can afford the coverage, they should buy it and contribute to a well-funded system with lower rates, if for no other reason than they will not always be young," Clinton said. "It's both the right and smart thing to do."
Under the new health care law, young people can stay on their parents' plan until they're 26, and insurance companies are prohibited from raising rates because of pre-existing conditions.
The employer mandate, which says companies must provide insurance, has been delayed for a year, which has been an attack point for Republicans who want the same delay for families.
The public's ongoing confusion over Obamacare is also red meat for its opponents.
Here's Clinton talking about being impressed with Obamacare:
© Copyright IBTimes 2023. All rights reserved.