Black Friday 2015: Best Deals On Apple Watch, iPhone 6, 6 Plus, iPads, iPad Mini, On Best Buy, Wal-Mart, Target, Staples, Sam's Club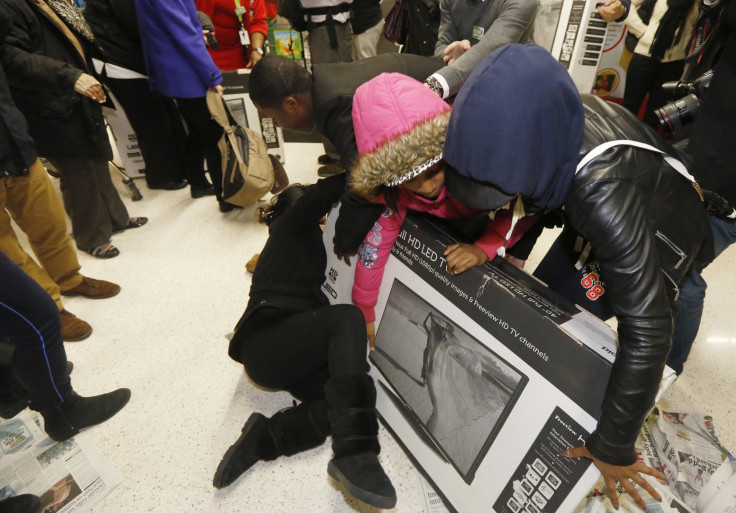 All the major retailers in the U.S. are offering massive discounts on Apple products like Apple Watch, iPhone 6, iPhone 6 Plus, iPad and iPad Mini variants. Hence, customers who are looking forward to purchase an Apple device can take advantage of the massive discounts available during the Black Friday 2015 sales.
Apple Watch Deal
According to Mac Rumors, different variants of the Apple Watch will be available with Best Buy with a discount of up to $100. The retailer giant will kick-start the deal from Nov. 25.
Apple iPhone 6S, 6S Plus, 5S, 5C, 5 Deals
Best Buy is providing a free $200 Best Buy gift card for customers who avail iPhone 5c, iPhone 5S, iPhone 6 and iPhone 6 Plus on-contract through AT&T. Also, it is giving away the same gift card exclusively to iPhone 6S or 6S Plus through carriers like AT&T, Sprint and Verizon to buyers who ready to trade-in iPhone 5 or higher models.
On Target, customers who purchase the iPhone 6S and 6S Plus through AT&T, Verizon or Sprint can benefit from $250 gift card. Wal-Mart will be offering $200 discount to buyers who purchase any iPhone through AT&T Next or Verizon Device Payment along with a $100 gift card.
Apple iPad Air 2, Original iPad Air Deals
The iPad Air 2 models will be available with a discount of $150 on Sam's Club. Staples will be offering $150 price cut on 64 GB iPad Air 2. The 16 GB (Wi-Fi) variant is also available with a discount of $125.
Target is offering $150 and $100 gift cards on the models of iPad Air 2 and original iPad Air. Fry is also providing a $100 gift card on purchase of 16 GB iPad Air (Wi-Fi) for $399.
Apple iPad Mini 4, iPad Mini 2 Deals
Best Buy has dropped the price of iPad Mini 4 of 64 GB and 128 GB models by $100. Both devices are now available for $349 and $399, respectively. The iPad Mini 4 (Wi-Fi) with 16 GB storage is available on Staples for $299 after a discount of $100.
The 16 GB iPad Mini 2 (Wi-Fi) is available on Wal-Mart only $199. The same device is listed for $269 on Fry along with an $80 gift card. Target is offering gift cards worth $100 and $200 on all the variants of iPad Mini 4 and iPad Mini 2
© Copyright IBTimes 2023. All rights reserved.