Blacklisted Iranian Airline Continues To Acquire Aircraft, Transport Weapons To Syria, Defying US Law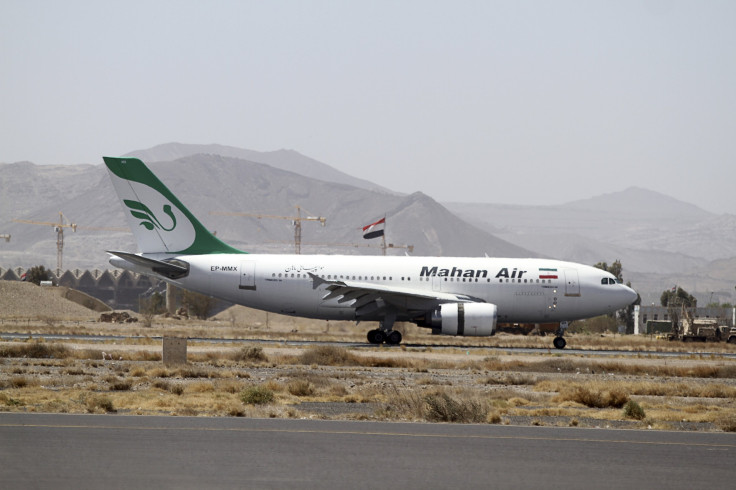 Senior U.S. officials told International Business Times they are investigating the purchase of a U.K.-manufactured aircraft by one of Iran's airlines. Because the jet has an American-made engine, it is subject to U.S. export laws. The Iranians planned to use the plane to deliver soldiers and weapons to Syria in support of the embattled regime of President Bashar Assad.
Even if the U.S. penalizes the sellers of the aircraft, it is unclear whether these kind of transactions can be stopped in the future, experts said.
The latest deal marks the second time in five months that the Iranian airline, Mahan Air, one of the country's largest domestic and international carriers, has purchased aircraft to expand its Tehran-based fleet, despite being blacklisted by the U.S. since 2008. The transaction underscores the airline's intention to expand the company through new subsidiaries.
As the airline expands, analysts said, the U.S. is struggling to keep up. The Commerce and Treasury departments have implemented measures to prevent third parties from selling aircraft to Mahan.
The U.S. first moved against Mahan back in 2008, forcing an aircraft seller -- Bali Aviation -- to pay a large fine.
In October 2011, the Treasury Department announced that Mahan would be sanctioned for providing financial, material and technological support to the Quds Force in the Islamic Republic Guard Corps. The airline was also accused of flying Quds Force members linked to a plot to kill Saudi Arabia's former ambassador to the U.S., Adel al-Jubeir.
Then, six months ago, the Treasury Department took punitive action against an Iraqi company, Al-Naser Airlines, and a Syrian businessman for selling Boeing aircraft to Mahan. The department froze American-held assets of Al-Naser as well as the businessman, Issam Shammout, and his Sky Blue Bird Aviation firm, banning U.S. entities from conducting business with them.
The third party that sold the plane to Mahan most recently could be subject to similar proceedings, as could the plane's previous owners -- assuming it's proven they had knowledge of the plane's ultimate sale to Iran. They could face other civil and even criminal charges. Financial institutions involved in the transaction are also at risk of being blacklisted.
Over the years, the Commerce Department has intercepted several third parties attempting to sell to Mahan Air. Still, the department is unable to stop every transaction. Some analysts said that's because it is in the U.S. interest to look the other way.
"The impression is, the minute the U.S. began its direct negotiations with Iran in Oman in late 2012, the number, intensity and profile of designations against Iran entered by the U.S. government declined," said Emanuele Ottolenghi, a senior fellow at the Foundation for Defense of Democracies, a Washington think tank that is critical of American diplomacy with Iran. "The appetite for going after Iranian networks went away. There was a reluctance by the U.S. administration to target Iranian companies and a reluctantance to go after intermediaries that have been working with Mahan."
Ottolenghi said all the institutions that service Mahan should also be penalized. Some of those include high-profile American companies.
Records of the U.S. Securities and Exchange Commission show that Hilton Worldwide Holdings Inc., a major holding of the global investment firm Blackstone Group L.P., hosted Mahan crew members in Malaysia in 2013. And American Express Global Business Travel booked tickets on Mahan Air.
Aviation records maintained by a private registry show that Mahan Air purchased the jet at the center of the current investigation from an individual listed as A. Grundlingh Oct. 15. Anton Grundlingh registered the plane in South Africa, where he is the director of three aircraft-affiliated companies and a shareholder in a financial-services firm. Records show he is a shareholder in one American company based in Dallas.
Phone calls to Grundlingh were not returned.
Aviation records show Grundlingh bought the plane May 7 from Triangle Regional Aircraft Leasing, previously known as BAE Systems Regional Aircraft Leasing, which at the time was operated by Falko, a company that provides aircraft asset-management services. From May to October, the aircraft stayed parked. Then, last month, it was transported to several different airports in South Africa for maintanence before being flown back to Tehran, where it is parked now.
Before Mahan Air purchased the aircraft, several other European airlines owned it, including Malmo Aviation, a Swedish company, and Blue 1, a Finnish firm. Mahan Air is supposed to transfer the plane to a different location next week to give it to Mahan Air Tours, a new operator that has not been publicized yet.
Mahan Air Tours is not the only new venture in the company. Iranian media have reported that a new airline, Nasim Air, is funded by Mahan money. They also reported last week that Nasim bought a Boeing aircraft, but aviation records do not yet reflect the deal. An aviation specialist at a private firm said the transaction could show up in the records next week.
The Grundlingh jet seats about 80 people and has significant cargo space. It would be capable of transporting not only soldiers but also small arms and anti-tank missiles. The aircraft has not been assigned a tail number, so it is not trackable yet. But several other Mahan Air aircraft have flown to Syria recently.
IBT tracked several Mahan Air flights over the span of two days and found at least two flights that took off from Damascus, landing in Al-Hasakah, Syria, the site of intense fighting between the Islamic State group and regime forces and their allies, before flying back to Tehran.
Joining Mahan Air in expanding operations are a couple of other Iranian airlines: Caspian Airlines and Iran Aseman Airlines have purchased several Boeing jets recently, according to Iranian press reports. Both those airlines are also blacklisted by the U.S.
© Copyright IBTimes 2023. All rights reserved.