Boehner, Heritage Action Clash Again, This Time Over Immigration Reform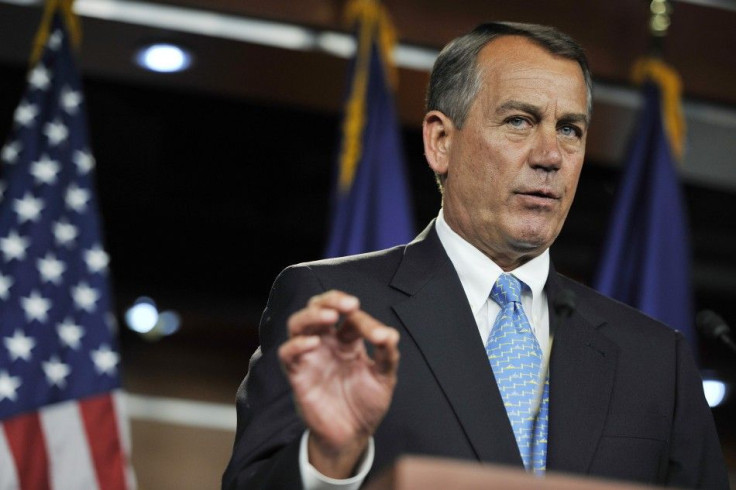 The tension between House Speaker John Boehner and conservative groups increased Thursday evening after the Ohio Republican mocked his congressional colleagues for shying away from immigration reform.
In speaking to the Middletown Rotary Club in his home district Thursday, Boehner suggested Republicans are whining about having to overhaul the system both parties have conceded is broken. Boehner and a few others in the GOP leadership have said they favor immigration reform but want to mend what they believe is a trust deficit between their party and President Barack Obama.
"Here's the attitude. Ohhhh. Don't make me do this. Ohhhh. This is too hard," Boehner said at the luncheon. "We get elected to make choices. We get elected to solve problems and it's remarkable to me how many of my colleagues just don't want to ... They'll take the path of least resistance."
Boehner, as quoted by the local media, said he has taken some punches for supporting the reform. The Republican-led House of Representatives has chosen to take a piecemeal approach to immigration reform, passing thus far only a handful of bills that focus on border security and interior enforcement. When Boehner released a set of principles earlier this year to help Republicans renew the stalled talks, he withdrew it less than a week after, blaming Obama's use of unilateral action on things like delaying parts of the health- care law for Republicans' change of heart.
Boehner and other Republicans have come out in favor of providing legal status to the estimated 11-million undocumented population. However, no bill has been drafted as yet. On the other hand the Democratic-controlled Senate passed a comprehensive immigration reform bill last year that toughens border security and proposes a 13-year pathway to citizenship. "I've had every brick and bat and arrow shot at me over this issue just because I wanted to deal with it. I didn't say it was going to be easy," Boehner said.
Boehner's frankness irked some conservative groups he has criticized in the past for having "lost all credibility" when they balked at a two-year budget deal last December to keep the government open. Republican and Democratic budget leaders struck up the agreement after a funding lapse in October partially closed the federal government for 16 days and furloughed hundreds of thousands of workers.
Heritage Action's Chief Executive Officer Michael A. Needham released a statement Thursday evening calling Boehner's speech "disappointing" but said he's not surprised that Boehner is "attacking conservatives looking to retake the Senate."
"The Republican Party should be large enough for fact-based policy debates," Needham said. "Unfortunately, John Boehner is more interested in advancing the agenda of high-powered D.C. special interests than inspiring Americans with a policy vision that allows freedom, opportunity, prosperity and civil society to flourish."
Boehner is running in a GOP primary on May 6 where a Tea Party group is investing money and manpower to try to defeat him. Boehner had nearly $3 million in his campaign coffers at the end of February, according to reports.
© Copyright IBTimes 2023. All rights reserved.