Boeing (BA) 787 Dreamliner Deliveries To Japan Airlines (JAL) And All Nippon Airways Rival: Delivery Log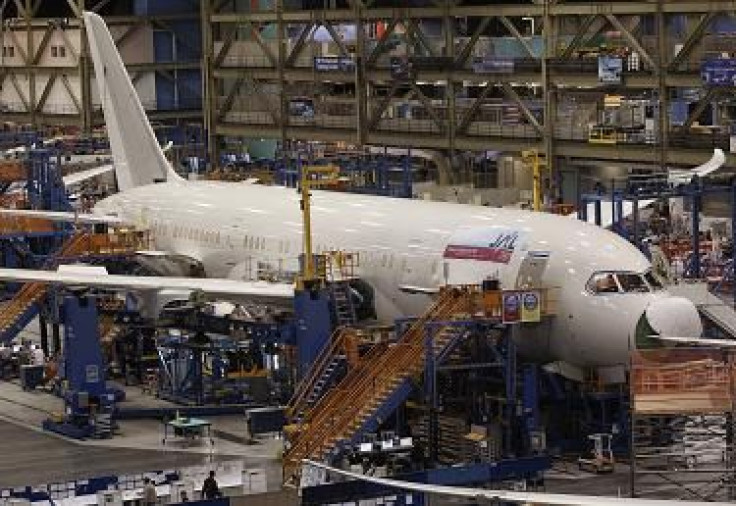 Japan Airlines Co. Ltd. (TYO:9201) and planemaker Airbus S.A.S. (EPA:EAD) unveiled a $9.5 billion landmark deal on Monday for Airbus to deliver 31 A350 jets to the Japanese airline, in a heavy blow to rival plane producer the Boeing Company (NYSE:BA).

In a research note from last week, Swiss bank UBS AG (VTX:UBSN) compiled a comprehensive delivery log for the 88 Boeing 787 Dreamliners delivered to date from September 2011.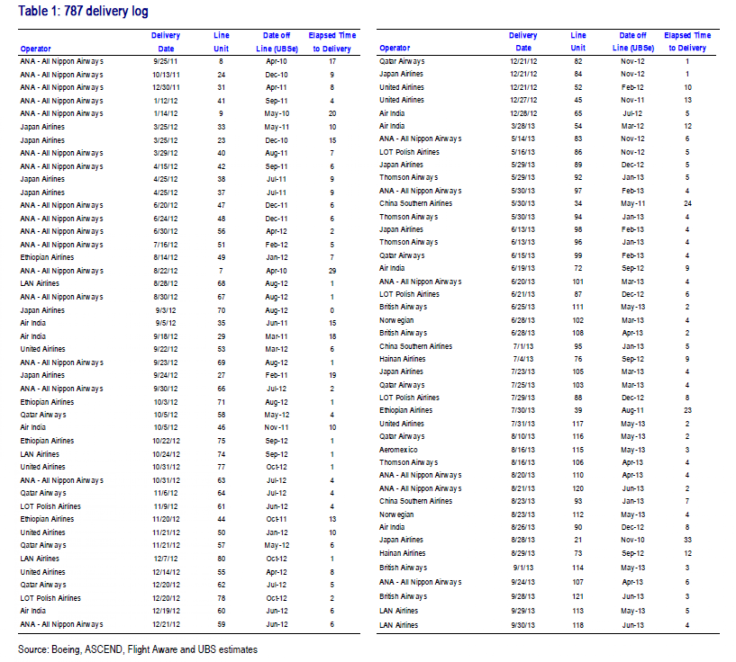 The longest it took to deliver a Boeing 787, from among dozens of deliveries to a handful of airlines, came to 33 months. The plane that took almost three years to deliver went to Japan Airlines.

Line unit 21 rolled off the assembly line in November 2010, but reached Japan Airlines in late August 2013. The next slowest delivery, to a rival Japanese airline, ANA Holdings Inc.'s (TYO:9202) All Nippon Airways, took 29 months.

In contrast, the five Boeing jets delivered in September 2013 took an average of four months to reach their airlines, UBS estimated, showing marked improvement by Boeing on this front.

Of the 88 deliveries of the jet so far, delivery took an average of seven months.

Other delivery delays to Japan Airlines included jets that took 10, 15 and 19 months to deliver. In other cases, though, delivery was made promptly to JAL.

Individual delivery times were problematic, Teal Group aviation analyst Richard Aboulafia told International Business Times.

But those were mere details in the context of a disastrous 787 Dreamliner program, he continued.

"The entire program has been a catastrophe of the highest order," he said of the production and sales of the commercial aircraft. "When they finally got deliveries going, they did it at a pretty good clip – it was merely four years late, an unprecedented disaster."

He said tardy individual deliveries could have been managed better by Boeing. Unplanned design changes and retrofitting could have contributed to delays, he said.

Boeing took an average of seven months to deliver its 23 craft to All Nippon Airways, and a mean of 10 months to deliver its 11 planes to JAL, according to an IBTimes analysis.

The 787 jet has had a tough time so far. Battery overheating caused the entire 787 fleet to be grounded earlier this year, reports Reuters, with industry experts doubting Boeing's capacity to deliver its jets on time.

All Nippon Airways has been most affected by the delays, since it has the world's largest fleet of Dreamliners, and came on board as the first airline to fly the plane, according to Reuters.

Now JAL's deal with Airbus has broken Boeing's near-monopoly of 80 percent of the Japanese commercial aerospace market.

Forty-one aircraft have come out of Boeing's Everett Modification Center (EMC), wrote UBS analysts, with 22 aircraft still held there for necessary changes. These are expected to take longer to deliver than most Dreamliner craft.

Boeing has 890 planes left to deliver, according to its latest order log.
© Copyright IBTimes 2023. All rights reserved.