Boko Haram Abducted 2,000 Women And Girls, Forced To Fight: Amnesty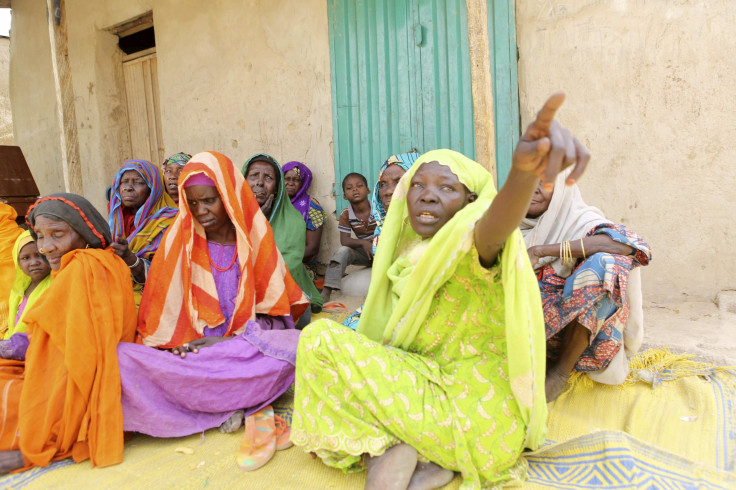 LONDON (Thomson Reuters Foundation) - Boko Haram has abducted at least 2,000 women and girls in Nigeria since the start of 2014, forcing many into sexual slavery or combat, Amnesty International said on the first anniversary of the abduction of more than 270 schoolgirls.
The Islamist militants' abduction of girls from Chibok village in northeastern Nigeria on April 14 last year shocked Nigerians and triggered international outrage. One year on, the majority remain in captivity.
The abduction of women and girls are among crimes - including crimes against humanity and war crimes - documented by Amnesty researchers, who interviewed nearly 200 people, including 28 women and girls who had escaped their captors.
Boko Haram fighters have killed thousands of people in their six-year bid to create an Islamist caliphate in northeastern Nigeria.
"Men and women, boys and girls, Christians and Muslims, have been killed, abducted and brutalized by Boko Haram during a reign of terror which has affected millions," said Salil Shetty, Amnesty International's secretary general.
"Recent military successes might spell the beginning of the end for Boko Haram, but there is a huge amount to be done to protect civilians, resolve the humanitarian crisis and begin the healing process."
Aisha, aged 19, told researchers she was abducted from a friend's wedding in September along with her sister, the bride and the bride's sister.
She was repeatedly gang raped, trained to fight and forced to take part in an attack against her home village. She saw Boko Haram kill her sister and about 50 others.
"Some of them refused to convert, some refused to learn how to kill others," she told Amnesty.
Amnesty also gathered reports of widespread abuses of people living in areas under Boko Haram's control.
Hundreds of men and boys have been forcibly recruited since the start of 2014, Amnesty said.
The number of forced recruits rose when Boko Haram began losing public support, after its campaign for an Islamist state in northern Nigeria became increasingly violent, following the death of its leader Mohammed Yusuf in police custody in 2009.
Many men who refuse to join Boko Haram's ranks have been killed. Two young men told researchers that at least 100 were executed in one day in December when the armed group took over Madagali town, near the border with Cameroon. They survived because the killers' knives had become too blunt to slit more throats.
One 15-year-old boy from Bama town in Borno state described how children were forced to stone people accused of adultery to death.
"These appalling executions, the sexual violence, the recruitment of child soldiers, these are war crimes and crimes against humanity and they need to be investigated (by the Nigerian authorities)," Daniel Eyre, author of the report, said in an interview.
"It's clear that the extent of destruction by Boko Haram and the toll it has taken on the civilian population is huge, so the kind of investment that's needed to rehabilitate communities is enormous," he added.
Nigerian, Chadian and Niger forces have driven militants out of a string of towns in simultaneous offensives over the past few weeks.
More than 3.5 million people in Nigeria, Cameroon, Niger and Chad have been affected by the insurgency, and face months of food shortages as a result, the Famine Early Warning Systems Network said last month.
About 800,000 children have been forced to flee fighting, according to the United Nations children's fund.
© Copyright Thomson Reuters 2023. All rights reserved.
FOLLOW MORE IBT NEWS ON THE BELOW CHANNELS