Boko Haram Rescue: Pregnant Women, Girls Among Those Found In Sambisa Forest By Nigerian Army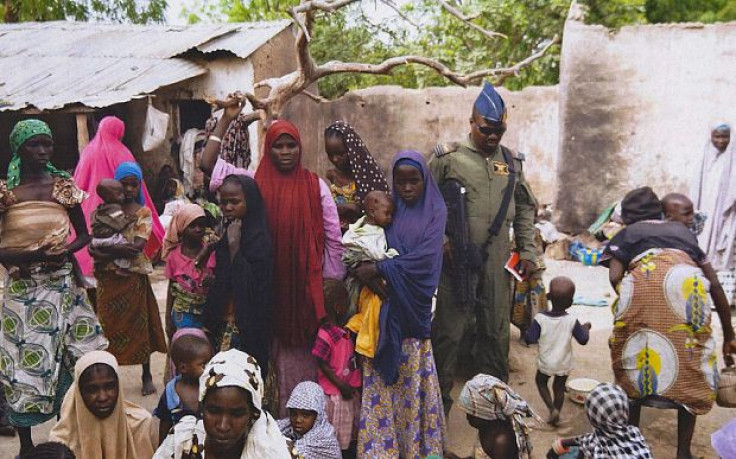 A number of women and girls recently rescued by the Nigerian army from Boko Haram camps in Borno state appear to be pregnant, local media said. Unofficial reports said 214 female captives out of the 234 freed from the Sambisa Forest over the weekend were visibly pregnant. The former hostages also face severe psychological trauma after spending days, weeks and months in captivity.
Boko Haram militants have kidnapped more than 2,000 women and girls since the beginning of last year, many of whom were forced into sexual slavery and trained to fight, Amnesty International said last month. Babatunde Osotimehin, executive director of the United Nations Population Fund (UNFPA), told Vanguard in Lagos the organization had seen more than 16,000 pregnancies and deliveries in northeast Nigeria in the past year.
"In conflict and disasters, most people would only think of water and sanitation, provisions of tents and housing and food, which are all important. But women and girls have specific needs that nobody else looks after; it is only UNFPA that is doing this," Osotimehin told Vanguard on Monday. "We will always have pregnant women, but nobody segregates the needs of the pregnant women, which are very important and different from the needs of the average community. We look after them and ensure they get antenatal care and that they deliver properly and that they even get cesarean section when necessary."
Nigerian troops have rescued hundreds of women and girls from Boko Haram in the past week. The military said it had destroyed over a dozen camps in the Sambisa Forest, the last stronghold of the Islamic insurgents, which covers more than 23,000 square miles -- mostly across Borno, Yobo, Gombe and Bauchi states in northeast Nigeria.
It's not yet known whether the Chibok schoolgirls are among the freed hostages. It was thought the missing schoolgirls, who were abducted from a government school in the town of Chibok last year, were still being held in the forest. However, experts have said it's unlikely the group is still alive.
UNFPA officials are working with Nigerian local and federal governments to provide special services for the freed captives and facilitate their reintegration into their communities. "What we found is that some of the women and girls that have come back actually have much more in terms of the stress they have faced, so the counseling has to be more intense and working with them one-on-one," Osotimehin told Vanguard.
© Copyright IBTimes 2023. All rights reserved.
FOLLOW MORE IBT NEWS ON THE BELOW CHANNELS