Boko Haram Suspected In Latest Bombing Attack On Northern Nigeria Town By 2 Girls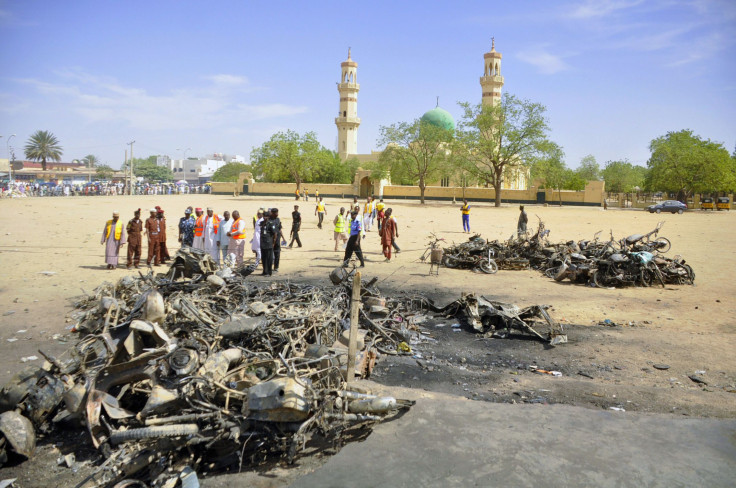 Boko Haram is suspected of using two more young girls to detonate bombs at a marketplace in northern Nigeria, the latest in a series of increasingly bold and violent attacks from the militant Islamist group weeks before national elections. "I saw their dead bodies," one witness told Reuters, which reported 46 people were injured and three killed during the bombing in the town of Potiskum, in Yobe state, where Boko Haram insurgents have struck before. "They are two young girls about 10 years of age … you only see the plaited hair and part of the upper torso."
A day earlier, the group is believed to have used a third girl, likely no older than 10, to detonate a bomb that killed at least 16 people and injured more than 20 in the northern town of Maiduguri. Boko Haram members reportedly killed more than 2,000 people Friday in the town of Baga -- the deadliest attack in the group's history.
"The use of young children as suicide bombers by Boko Haram, as apparently was the case in the attacks in Maiduguri and Potiskum this weekend, represents a new twist on an escalation of Boko Haram's brutal campaign of violence," Peter Pham, director of the Africa Center at the Atlantic Council, told International Business Times.
"But there is also a continuity with the previous trend line of growing boldness on the part of the militant group that we have seen in recent months with its occupation of larger and larger swaths of territory, its direct challenge to traditional Muslim authorities and its threats not just to Nigeria, but to leaders of neighboring states," he said.
The group, whose name roughly translates to "western education is forbidden," has been attacking with more and more frequency the rural, poverty-stricken areas of northeastern Nigeria since 2009. According to the Council on Foreign Relations, Boko Haram violence has caused more than 10,000 deaths since the beginning of 2014. Nigerian president Goodluck Jonathan has declared an ongoing state of emergency in the Nigerian states of Borno, Yobe and Adamawa because of Boko Haram's activities, which have displaced hundreds of thousands of people, the United Nations has reported.
Nigerian security forces have been fighting back, but have suffered recent losses. Last weekend militants seized the remote town of Baga, in Borno, which was home to an army base. In recent months, members have attacked a series of key cities along the border with Cameroon, where thousands of locals have fled to refugee camps, and security forces are struggling to fight back.
Experts say Boko Haram may be increasing its activity ahead of national elections scheduled for February, which will pit Jonathan against former military leader Muhammadu Buhari.
"This is clearly Boko Haram's intent to further corrode the legitimacy of the Nigerian state that it rejects," Pham said, "and a reminder that there is nothing too sacred that the militant group's leaders won't touch or too low that they won't stoop."
© Copyright IBTimes 2023. All rights reserved.
FOLLOW MORE IBT NEWS ON THE BELOW CHANNELS