Boko Haram Versus Bill Gates: Terror Groups Battle Efforts To Eradicate Polio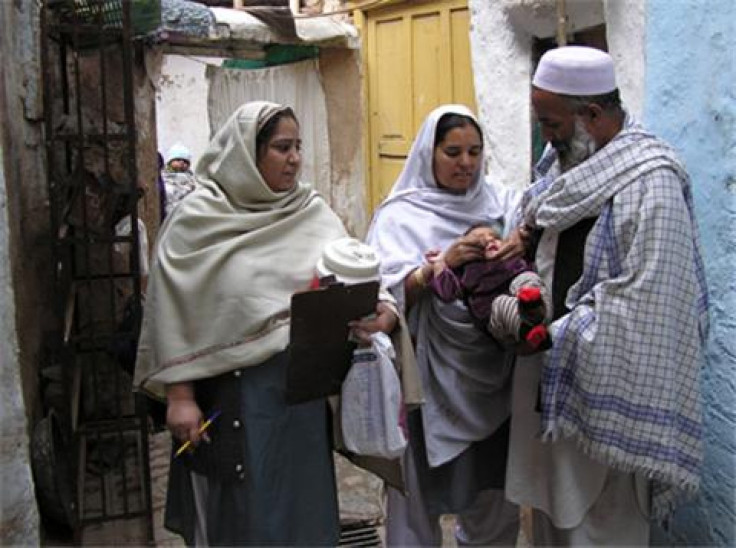 Despite more than $1 billion in annual funding from Bill Gates and others to eradicate polio, the disease is still endemic in some regions of the world that are dominated by anti-Western extremist groups like Nigeria's Boko Haram.
Boko Haram, which is thought to be responsible for the kidnapping of 91 people from villages in Nigeria's northeast on Saturday, is responsible for thousands of deaths in the region over the past few years, including children who never receive vaccinations against polio and the health workers who try to help.
"The polio program is operating in the face of targeted violence, with more than 25 front-line workers having been killed because they are associated with the polio program," says a report from the Global Polio Eradication Initiative.
Even though doctors created a vaccine for polio in 1955, the crippling and potentially fatal virus is still endemic in Nigeria, Pakistan and Afghanistan. Extremist groups such as Boko Haram and the Taliban have targeted health workers they view as possible spies for Western governments, a theory supported by the fact that the CIA used a fake vaccination campaign to track down Osama bin Laden in 2011.
"Things took a turn for the worse as far as direct targeting of vaccinations workers after it came out that the U.S. used a polio vaccination campaign in Pakistan to locate Osama bin Laden," said Amy Pate, expert on Boko Haram at the National Consortium for the Study of Terrorism and Responses to Terrorism.
"Once that information came out, it sort of justified some of their earlier narratives that these organizations were just stooges for foreign governments," she added.
Worldwide, more than 2.3 billion children around the world have been immunized against polio since 1988, bringing global cases down by 99 percent, according to the GPEI. However, since 2013 there have been 53 reported cases in Nigeria and 93 in Pakistan. Last month, World Health Organization Director-General Margaret Chan officially declared the situation a "Public Health Emergency of International Concern."
This year alone, the Gates Foundation has put more than $55 million toward grants for Unicef, WHO and Duke University to fight the disease and help vaccination workers in Nigeria.
Boko Haram, whose name translates to "Western education is forbidden," in the Hausa language, has been responsible for thousands of deaths in the country's poverty-stricken northern region since it rose to prominence in 2009. In March, members abducted three vaccination workers in Bauchi state and killed nine others in the city of Kano, according to the Associated Press.
"When security problems are there, it's very difficult in terms of accessibility, but also in terms of mobilization of vaccinators," Rui Vaz, WHO's Nigeria representative, told Bloomberg. "There are always fears, logistic problems to reach those areas."
The violence stems from the group's mandate that Western medicine, along with science, education and much of modern life, is contrary to Islam, along with suspicions of foreign workers.
"Part of the rhetoric surrounding this is that it is not authentic to their culture or is being used to corrupt their values," Pate said.
In a 2009 interview with the BBC, Mohammed Yusuf, then leader of Boko Haram, explained that his view of Islam didn't allow for Western science, and he later openly rejected vaccinations. More than a decade ago, a Kano physician on the Supreme Council for Shariah in Nigeria claimed vaccination was an attempt to sterilize Muslim children, according to a brief on the problem from Harvard University's Program on Humanitarian Policy and Conflict Research. The report said that subsequent vaccine boycotts led to polio spreading to 20 other countries.
Years later, in 2011, these suspicions were ratified when news broke that the CIA organized a fake vaccination program while looking for Osama bin Laden in Pakistan.
"Boko Haram and the Taliban in Pakistan and Afghanistan share a common ideology and common strategy and also pose a common danger," activist Shehu Sani, president of the Civil Rights Congress of Nigeria, told the Guardian, which initially broke the story.
In both these regions, networks of secret vaccination teams have developed to help vaccinate children without militant groups knowing.
"It's probably better than nothing," Pate said, though added that it's nowhere near a good solution, and real change will come only if local religious leaders speak out in favor of vaccinations.
© Copyright IBTimes 2022. All rights reserved.
FOLLOW MORE IBT NEWS ON THE BELOW CHANNELS