Brandon Marshall Signs With Chicago Bears: Was He Recruited By Matt Forte?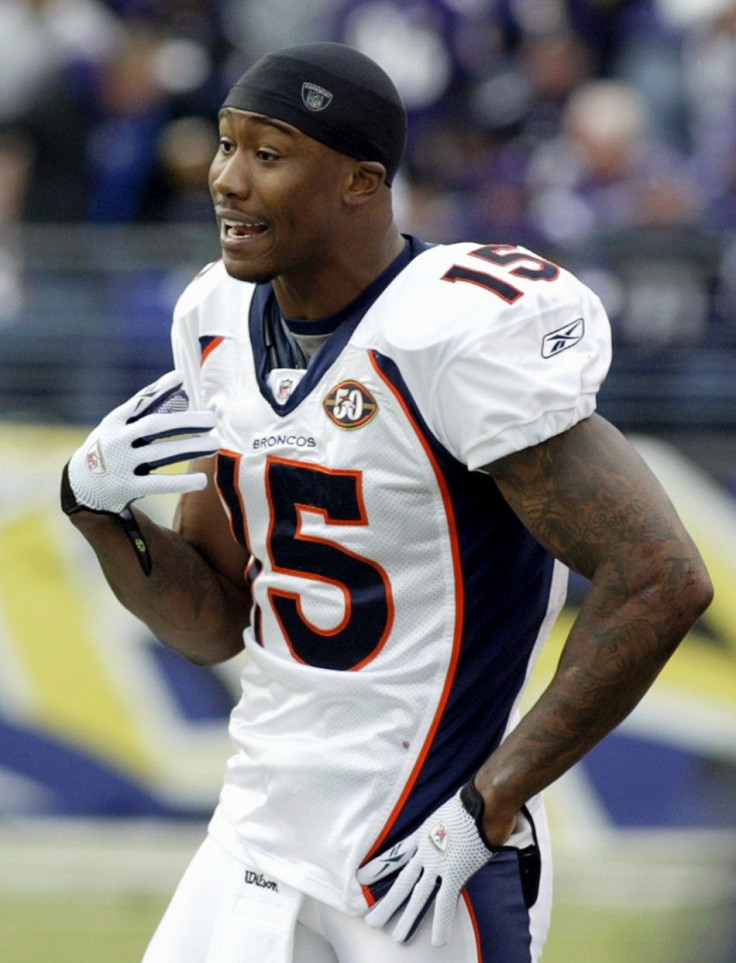 The Chicago Bears have acquired Pro Bowl wide-receiver Brandon Marshall in a trade with the Miami Dolphins. League sources have told ESPN that Chicago will send a third-round pick in 2012 and 2013 to Miami for the game-changing wide-receiver.
The Bears were expected by most experts to go after a high-profile wide-receiver during the off-season, and by trading for Marshall, the team fulfilled most fans' and experts' expectations. Chicago was originally thought to be eyeing free agent wide-receiver Vincent Jackson, formerly of the San Diego Chargers, but his price tag may have surpassed what the team was willing to spend, the Chicago Tribune reports.
The Chicago Bears' trade for Marshall will reunite the 6-foot-4 receiver with the quarterback that threw to him during his most productive seasons -- starting quarterback for the Chicago Bears, Jay Cutler. Marshall and Cutler played together for three seasons in Denver.
In addition to the Cutler-Marshall reunion, Jeremy Bates, who was Cutler and Marshall's offensive coordinator in Denver, will help the players reclaim their greatness as a Bears' passing game coordinator. The arrival of Marshall has man expecting a dramatic increase in offensive productivity from the Chicago Bears.
Marshall racked up huge numbers in Denver while playing as a receiver for Cutler. During his tenure in Denver from 2006-2009, Marshall logged several career highs for statistics in several categories including touchdowns and recieving yards. In 2007, Marshall logged 1,325 yards receiving; in 2009, Marshall had career-high 10 touchdowns during the regular season.
Cutler also racked up huge numbers from 2006-2009. In 2008, Cutler garnered a career-high 4,526 yards passing; in 2009, with ample support from Marshall, Cutler threw for 27 touchdowns.
Was Brandon Marshall Poached?
Chicago Bears running back Matt Forte alluded to the Marshall acquisition back in February, during the weeks following the Pro Bowl. Forte tweeted, Just recruited [Brandon Marshall] and Reggie Wayne...ur welcome guys lol.
A few hours later, Forte followed up with another tweet alluding to the friendship he established with Marshall during Pro Bowl weekend. Forte tweeted, Me and Randy are good friends im trying to get him too RT @Macksumus: @bmarshall19 not fair to tease can you get R.Moss out retirement tho.
The tweets made clear that Forte--who, near the end of last season, accounted for 46.2 percent of the Bears offense--was eager to have a top-tier wide-receiver help him stabilize the offense.
Coming off of a disappointing season, the Bears are desperate to establish some consistency on offense and having a field-stretching wide-receiver such as Marshall will definitely help them do that. The Marshall acquisition stands to benefit Forte and the entire offense demanding that defenses account for more quick-striking threats on the offense.
When the trade was announced earlier today, Forte took to Twitter once again to publicly reach out to his new Pro Bowl friend. Forte tweeted, @BMarshall19 bout time bro...welcome home lol.
© Copyright IBTimes 2023. All rights reserved.
FOLLOW MORE IBT NEWS ON THE BELOW CHANNELS