BRAZIL COPA AMERICA 2011 PREVIEW: Ecuador Match Has Surprises - Starting Lineups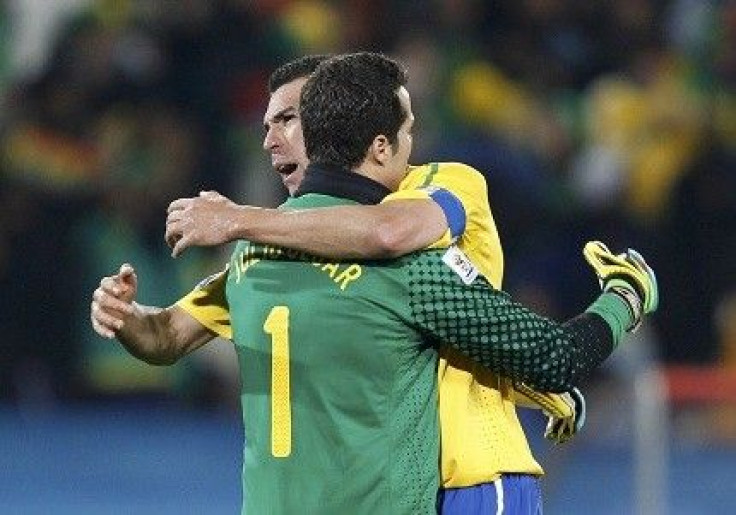 The unthinkable might happen Wednesday night in Cordoba: global giants Brazil might not advance to the knockout round.
More than likely, though, Brazil will find a way to beat Ecuador, who need a victory to advance. Brazil is loaded with talent, and when pushed to the limit tend to rise to the occasion, and need only a tie to make the quarterfinals.
In this tournament, their play has been lackluster to say the least, and the Brazilian press and fans have been furious with the effort.
Brazil already received bad news with Tottenham midfielder Sandro tearing cartilage in his left knee, causing Mano Menezes to take him off the squad.
On Monday night, Argentina advanced to the quarterfinals with a victory over a Costa Rica squad lacking their big names. Ecuador is better than Costa Rica, so Brazil can't expect to not play hard.
One player that Ecuador sure could use is Antonio Valencia. The Manchester United winger is clearly the best Ecuador player but he has been sidelined for the Brazil match with an ankle injury.
Brazil will go into the match with Robinho and Neymar in the starting lineup. In Robinho, Brazil has a forward who reportedly has had problems with Menezes, and is known for his inconsistency. In Neymar, Menezes has shown faith in a 19-year-old forward who has yet to prove he can provide the attack Brazil needs to succeed. Both will need to play above expectations if they expect to avoid criticism.
In the draw with Paraguay, Menezes pulled Neymar in favor of Fred, and the veteran forward scored the equalizer in the 89th minute. Neymar has garnered a lot of attention, and some critics believe he is more hype than substance.
In the biggest surprise going into the match, Maicon is in the starting 11, and gets the nod over Dani Alves. Maicon has yet to play a minute in Copa America, though the defender was expected to receive plenty of action.
Ecuador is no pushover, so Brazil will have to battle hard to defeat a team that is intent on not having the same fate as Costa Rica. The underdogs will hope that talented players like Maicon and Robinho will be rusty, and not out to prove that they deserve more playing time.
Here are the lineups:
BRAZIL:
G: Julio Cesar
D: Maicon, Andre Santos, Lucio, Thiago Silva
M: Lucas, Paulo Enrique, Ramires
F: Robinho, Pato, Neymar
ECUADOR:
G: Elizaga
D: Ayovi, Erazo, Araujo, Achilier
M: Castillo, Quiroz, Noboa, Mina
F: Benitez, Caicedo
© Copyright IBTimes 2023. All rights reserved.