Is Brazil Ready For The World Cup 2014? Delays Abound In Preparations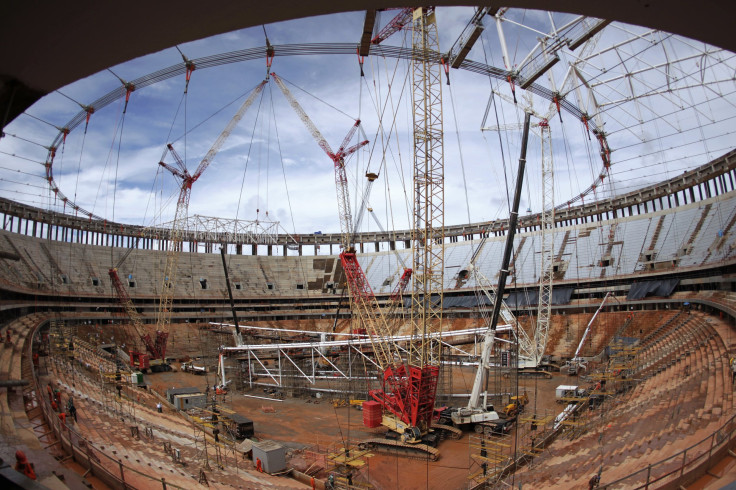 Construction delays, safety concerns and financial troubles are among the various obstacles Brazil faces as it prepares to host the World Cup in 2014.
Most recently, the construction of the Itaquerão stadium in São Paulo -- where the Cup's opening match is set to take place in June 2014 -- has hit a snag over financing after failing to receive a $202 million loan from Brazil's state-run banks.
"There's a risk of work stopping or [the stadium] not being ready on time," said Andres Sanchez, the former president of the Brazilian soccer club Corinthians, which has been financing construction of the $400 million Itaquerão stadium along with Brazilian conglomerate Odebrecht, Reuters reports.
Sanchez has been serving as the unofficial spokesman for the project in recent months, keeping the project in the media spotlight and demanding that the government banks issue the loan under less stringent terms.
"This isn't a technical problem with construction," he said. "We've put forth several [guarantees], but the bank wants more, so we have this impasse."
Workers have threatened to halt construction on the half-financed stadium -- an action that Sanchez said could happen in a matter of weeks.
Delays in the completion of the stadium could force the opening match to be moved to another city and could even result in the exclusion of São Paulo as a World Cup host city.
The financing issue is rooted in guarantees of future revenues for the stadium, as well as the complex regulatory system that governs bank loans.
The Itaquerão stadium is located in a low-income area of São Paulo and is a project intended to spur local development, but concerns remain over whether it will be able to attract investment.
Further complicating the issue, the loan must pass through a series of bureaucratic hoops to finally meet approval.
Brazil's state development bank BNDES, which is issuing the loan, is prohibited under Brazilian law from doing so directly and must go through another state bank, Banco do Brasil.
Meanwhile, stadiums in Rio de Janeiro, which is slated to host the World Cup final match, have raised concerns from FIFA officials over delays and safety concerns.
Rio's Engenhão stadium has been closed indefinitely after engineers discovered structural problems with the roof, while the city's other main venue, the Maracanã stadium, undergoes renovations.
According to an engineering report, the Engenhão stadium's roof could collapse under wind speeds of 40 miles per hour.
"It says there is a risk. Our priority here is to protect the lives of the people -- that's why we closed it," Rio mayor Eduardo Paes said, BBC reports.
"If it takes a month, then it will stay closed for a month; if it takes a year, it will stay closed for a year," he added.
Renovations of the Maracanã stadium have an April 27 deadline for completion, though the project has consistently lagged by missing previous deadlines. Nevertheless, it is expected to be ready for the World Cup.
FIFA has also expressed concerns over delays at other World Cup venues in 10 other host cities.
© Copyright IBTimes 2023. All rights reserved.
FOLLOW MORE IBT NEWS ON THE BELOW CHANNELS