For Brazil, World Cup Unlikely To Be An Economic Game Changer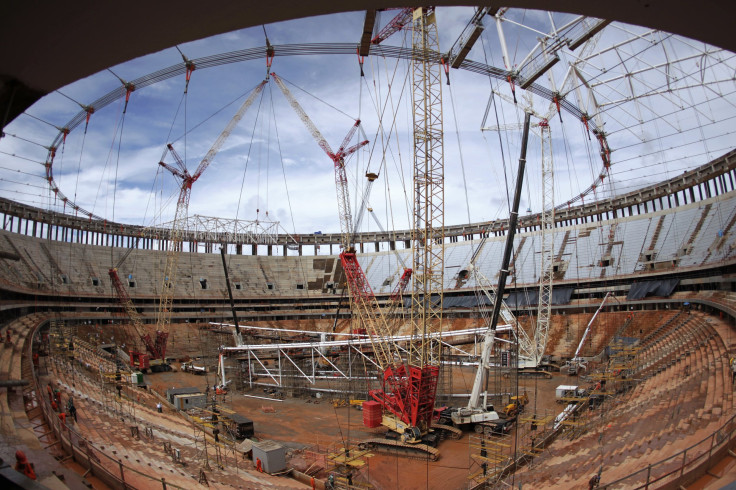 Brazil's longtime dream of returning the World Cup to South America after a 36-year hiatus is about to become a reality, but the government's extravagant promise to its increasingly skeptical citizens that the monthlong event will be a game changer for Brazil's moribund economy may be just that: an extravagant promise.
A report out Monday from Moody's Investors Service argues that, despite the eyeballs and increased visitors the World Cup will draw, the economic benefits from the world's biggest single-event sporting competition will likely be "short-lived." It could be a quick score for the beverage, travel, construction and broadcast industries, the credit rating company explained, but there will likely be little lasting impact for most other rated sectors.
"Some hope hosting the World Cup will help lift Brazil out of economic slowdown," Barbara Mattos, senior analyst at Moody's Investors Service in Sao Paulo, said on Monday. "But the associated economic activity ultimately pales before the country's $2.2 trillion economy, the usual levels of investment spending and the annual revenues of most companies."
When soccer's governing body FIFA awarded Brazil the World Cup in 2007, its economy expanded by 6.1 percent. Now, economists warn that it could be on the brink of a recession. Mattos cautioned that the 32-day event would provide "short-lived sales increases that are unlikely to materially affect earnings and disruptions associated with traffic, crowding and lost workdays that will take a toll on business."
Brazil pumped 26 billion reals ($11 billion) into football stadiums and airport, port and urban mobility upgrades related to the World Cup. Yet, Moody's said this accounted for just 0.7 percent of overall planned investment in Brazil between 2010 and 2014, and most of the impact from these projects has already been felt.
Moody's acknowledged in its report that the World Cup is a rare sporting event that offers a great deal of global media exposure. Each game of the 2010 World Cup in South Africa had an average audience of 188.4 million people, while 1 billion tuned in for at least part of the tournament.
Brand Brazil will likely benefit from this exposure if the event runs smoothly, but Moody's said the large corporate sponsors such as Coca-Cola Co., Adidas AG, Anheuser-Busch InBev and Oi SA could be the biggest winners, as hosting the marquee event comes with increased scrutiny for the host country.
"While the World Cup offers potential reputational benefit, Brazil's image would be marred by a reprise of the social unrest seen last June, during a runup event, the Confederations Cup," Mattos said, referring to the protesters who took to the streets en masse to urge the government to spend less on sporting events and more on improving health and education standards. Brazil's image could also be marred "if needed infrastructure were not ready in time, with negative implications across sectors."
The South American powerhouse is racing against the clock to finish several overdue infrastructure projects (including three stadiums) before an estimated 600,000 foreign tourists and 3 million domestic travelers arrive for the start of the games on June 12. Deadlines set by FIFA for facilities in the 12 host cities have come and gone, while seven deaths at stadium building sites, including one in Sao Paulo two days ago, have reignited domestic tensions over the high cost of what many see as an unnecessary vanity project.
Brazil has already scrapped or delayed several of its promised transport projects. Work to erect temporary facilities mandated by FIFA, meanwhile, is only just beginning in several host cities two months out.
© Copyright IBTimes 2022. All rights reserved.
FOLLOW MORE IBT NEWS ON THE BELOW CHANNELS