Brexit Vote 2016: 'Remain' Camp Gains Slight Lead As Campaigning Resumes Following Jo Cox Slaying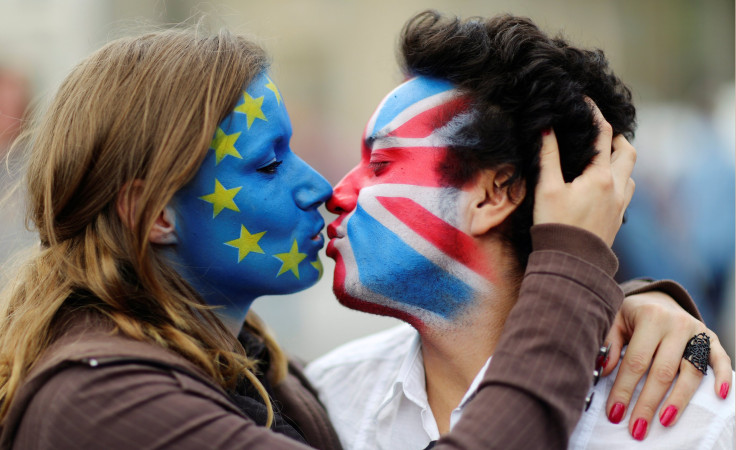 With only five days left before voters head to the polls to decide whether Britain will remain in the 28-member European Union, the "remain" camp regained a slight lead in polls Sunday following the killing of lawmaker Jo Cox.
The "leave" and "remain" camps resumed campaigning Sunday following a three-day pause after Cox was shot and stabbed Thursday. Thomas Mair has been charged with the slaying. Cox, a rising star in the Labour Party, had campaigned along with her husband and two young children for Britain to remain in the EU.
Prime Minister David Cameron, the face of the "remain" camp, warned his country faces an "existential choice" when voters decide on Thursday, saying a "leave" vote could trigger a recession.
"So ask yourself: have I really heard anything — anything at all — to convince me that leaving would be the best thing for the economic security of my family?" Cameron wrote in the Sunday Telegraph.
A telephone poll conducted by Survation showed the "remain" camp regaining a slim lead ahead of the historic vote Thursday that could see the first country ever vote to leave the EU. The survey of 1,001 adults taken after Cox's killing indicated 45 percent support for a "remain" vote and 42 percent for a "leave" vote. A survey by YouGov, two-thirds of which was conducted after Cox's slaying, showed 44 percent of the 1,694 respondents supporting a "remain" vote and 43 percent supporting a "leave" vote. Four percent of respondents said they would not vote and 9 percent said they were still undecided making the vote too close to call.
"While there will be speculation about whether this movement is connected to the tragic death of Jo Cox, we do not think that it is," wrote Anthony Wells of YouGov. "The underlying figures suggest the movement may be more to do with people worrying about the economic impact of leaving the European Union."
Leader of the U.K. Independence Party Nigel Farage told ITV Cox's killing appeared to have slowed his campaign's recent gains. "We did have momentum until this terrible tragedy," he said.
Conservative politician Michael Gove, who is a spokesman for the "leave" campaign, argued that leaving the EU would ultimately place Britain in a stronger economic position.
"I can't foretell the future but I don't believe that the act of leaving the European Union would make our economic position worse, I think it would make it better," Gove said in an interview with the Sunday Telegraph.
Immigration has also become a prime argument of the Brexit campaign with the "leave" campaign arguing Britain would have greater control of policies outside of the EU. Only a few days before her death, Cox argued a leave vote would not solve the country's immigration challenges.
"We cannot allow voters to fall for the spin that a vote to leave is the only way to deal with concerns about immigration," Cox wrote. "We can do far more to address both the level and impact of immigration while remaining in the EU. I very rarely agree with the prime minister but on this he's right: we are stronger, safer and better off in."
© Copyright IBTimes 2023. All rights reserved.
FOLLOW MORE IBT NEWS ON THE BELOW CHANNELS