Bright Red Tesla Semi Truck Spotted At Supercharger Near Lathrop Facility
A first-hand account on spotting the fascinating red Tesla Semi truck prototype suggests how great is the "wow" factor with the yet to be released electric truck in terms of looks and reported efficiency.
The Tesla semi truck was sighted last Saturday at a Supercharger located near Tesla's Lathrop facility and main factory in Fremont, California.
According to Tesla fan John Grinley, he was staying at a hotel in Dublin, CA last Saturday and stepped into nearby Tesla store seeking a test drive of Model 3.
In the store, the aspirant Model 3 owner was told by the staff that if he could stay back a little longer, he can see the Tesla Semi in person. An overjoyed Grinley was ready to wait.
Minutes later, a Tesla Semi drove into the Dublin Store and got parked at the Supercharger.
Grinley and other at the store had an up-close look at the all-electric long hauler. He captured a couple of photos and shot a video of the vehicle at the charging spot.
Tesla semi has got a good hype in the market although the release date is yet to be confirmed.
Reports of sighting the two Semi prototypes—one version bobtailing without a trailer and when others pulling a trailer are too frequent.
Like all Tesla's vehicles, the Semi is counted potential disruptor in the lucrative trucking market. The four electric motors powers Tesla Semi with immense torque to accelerate from 0-60 mph in 5 seconds minus the trailer. Even with a full load, the Semi will attain highway speeds in 20 seconds.
It is likely that Tesla semi truck may give fossil fuel cousins a run for their money.
Tesla Semi will be like a sports car
In terms of specs, Musk had given the outline that semi will ride like a sports car and pricing will also reflect that luxury.
To be offered in two variants, the electric cargo-haulers will have a 300-mile range starting at $150,000 and with a 500-mile range for $180,000 plus a $20,000 base reservation for each vehicle.
An average diesel semi truck is in the range of $80,000 and $150,000.
According to Tesla CEO, Elon Musk pre-orders of Tesla semi would be delivered in 2019. Tesla unveiled the semi-truck almost two years ago. But a waiting period of one or two years before it hits the roads looks too obvious.
The way Tesla Semi truck has charmed EV enthusiasts can be seen from the figures in the order book. The buyers include many big companies and government organizations.
Companies that booked Tesla semi include UPS (125), PepsiCo (100), Sysco (50), Walmart (45), and J.B. Hunt (40).
During its launch, Musk said, the top attraction of Tesla semi will be its ability to scoot from 0 to 60 in five seconds and an advanced autopilot feature. Having kept the driver seat in the center of the cab like a space pod, the driver will have a better view of the surroundings.
"You're positioned like you're in a race car with complete visibility of the road and all your surroundings," Musk added.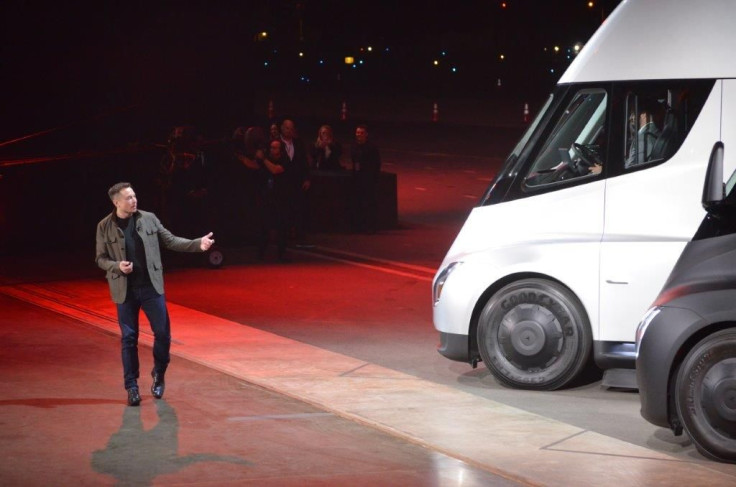 Competitors to Tesla Semi
At the competition front, Toyota and truck manufacturer Paccar unveiled a prototype called the Kenworth T680, at CES 2019. It claims a range of about 300 miles. The electric motors of Kenworth T680 will be powered with a combination of hydrogen gas and air to generate electricity and emission will be just water vapor.
Nikola Motor in Arizona is also employing hydrogen fuel cell and its semi-truck fleet is expected in 2019. Claiming a big price tag of $375,000, Nikola trucks aim to purify the air while driving by inhaling bad air and emitting clean air.
Tesla semi's challenge from electric automaker Rivian has been in news for long. According to CEO, RJ Scaringe states Rivian wants to revolutionize the electric vehicles market.
The upcoming models of Rivian are R1T and R1S --electric pickup truck and SUV respectively will be special with great designs and great off-road capabilities. The R1T is also rumored to have vehicle to vehicle charging capability.
Rivian's pickup trucks are more like SUVs and different from sports car models of Tesla or Audi semi trucks.
© Copyright IBTimes 2023. All rights reserved.