Brooklyn Nets Owner Mikhail Prokhorov Not The Only Russian Billionaire Retreating From US Investments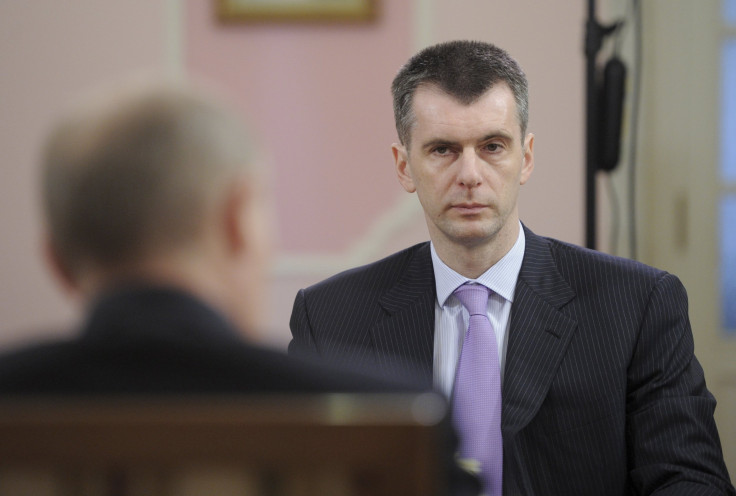 Russian billionaire Mikhail Prokhorov caused a stir among sports fans this week with news that he might sell his majority stake in the Brooklyn Nets basketball franchise. But the $1.3 billion New York City property isn't the only thing Prokhorov, the 12th-richest man in Russia, is backing out of. He and other wealthy Russians are suddenly pulling back on U.S. investments of all kinds, and the causes are not all financial.
Russia's struggling ruble and contracting economy are certainly contributing factors, but insiders say political concerns are also spurring the investment retreat.
"We work with a lot of Russian companies and this seems to be a common story. They're just not interested in the U.S. market," Sergei Millian, President of the Russian-American Chamber of Commerce, said.
"I strongly believe this might be because of the political situation within the Russian Federation," he said, alluding to possible pressure from the Kremlin. "There may have been some informal instructions from top government officials to be very careful about investing in the United States."
U.S. President Barack Obama and European allies have been increasing sanctions against Russian companies, banks and business leaders in response to Russia's continued aggression in Ukraine. More than 5,000 people have died since the conflict between pro-Russian separatists and the Ukrainian government began last year.
To be sure, the sanctions, a 50 percent drop in oil prices and a December currency crisis have certainly squeezed Russian investors.
"There are a few reasons why Prokhorov would want to sell the Nets," said Marlen Kruzhkov, attorney at New York-based firm Gusrae Kaplan Nusbaum, which advises wealthy Russian clients on U.S. investment opportunities. He explained that when the ruble fell 45 percent last year, the cost of servicing debt increased by the same amount.
"So even when you're making your money in rubles, you're still paying your debt in dollars so you end up losing a lot of money in the transfer," Kruzhkov said. "That, coupled with the U.S. sanctions that have cut off a lot of banks from creditors in the West, is forcing people to rethink their position in terms of which businesses to keep versus businesses of which to divest themselves."
But Millian thinks it's something more than currency problems. Though he did notice a slowdown amid increasing sanctions, he said this time it's more of an "abrupt halt," just in the past few days.
Millian said he expects further pullback from a particular kind of Russian investor. While many Russian-American millionaires and billionaires are suffering from the currency issues, they still live, work and make money in the U.S., so will likely maintain their current projects. But others, who spend most of their time in Russia or abroad, are more likely to continue withdrawing American investments.
Millian noted a recent example: A Russian company recently backed out of a massive high-rise building project with a top developer in a major city where they had planned to be the principal investors. He also mentioned another mining venture in California that should have been popular but had no interest.
"It was ready to be developed and is such a promising investment," he said, noting the mine already had almost $1 billion in assets. Though he reached out to people who would normally be interested in the same kind of project, none have taken it on.
"We've never seen anything like this. They don't even want to look at the documents," he said.
© Copyright IBTimes 2023. All rights reserved.