BSE Sensex Closes on a Bad Note after Govt's Growth Forecast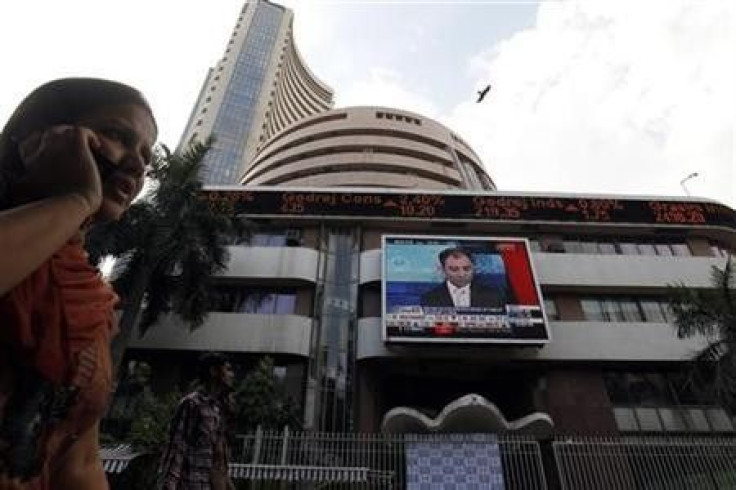 The BSE Sensex snapped a five-day rally on Tuesday as investors locked in profits after the government forecast growth may dip below 7 percent, the slowest pace since the 2008 financial crisis.
Bharti Airtel (BRTI.NS), the country's largest mobile operator, was among the big losers ahead of its quarterly earnings on Wednesday.
Mahindra & Mahindra (MAHM.NS) closed down 2.9 percent at 689.65 rupees, after the leading Indian utility vehicles maker, reported a bigger-than-expected 9.9 percent fall in quarterly profit.
Reliance Industries (RELI.NS) (RIL), the country's top company by market value, rose as much as 2.4 percent after Goldman Sachs upgraded the stock to 'buy' from 'neutral', citing a potential rise in margins on increased refining and recovering oil demand.
The company, controlled by Mukesh Ambani, India's richest man, ended up 1.4 percent at 844.55 rupees.
The main 30-share BSE index closed down 0.48 percent, or 84.86 points, at 17,622.45, with 22 of its components falling. The benchmark had risen 5 percent over the previous five sessions.
The sudden rise since January is making the market look overpriced in the short run, and if it continues to move up at the same pace there is a tendency for it to overheat, said Gajendra Nagpal, chief executive of Unicon Financial. I don't expect a significant correction because there is a lot of liquidity coming in through equity, derivatives and debt, he added.
The benchmark has gained 14 percent this year, with foreign funds pouring more than $3 billion into Indian equities. The index fell a quarter in 2011 as foreign portfolio investors pulled out about $500 million.
However, inflationary risks remain and a political logjam continues to hem in reforms, clouding the economic outlook.
The government on Tuesday cut the growth estimate for the current fiscal year that ends in March to 6.9 percent from a revised forecast of around 7.5 percent issued in December, sharply below the 8.4 percent growth of the last fiscal year.
The economy has slowed as the euro zone crisis combined with tight monetary policy and political paralysis at home discouraged investment.
BHARTI DROPS
Bharti ended down 2.7 percent at 378.75 rupees, having risen nearly 8 percent in the last three sessions after the Supreme Court ruling on Thursday to cancel some licences, which, analysts said, was a positive for bigger players like Bharti.
A Reuters poll of brokerages expects Bharti, which in 2010 bought mobile operations in 15 African countries in a $9 billion debt-funded deal, to report a 3.2 percent rise in quarterly net profit.
Kingfisher Airlines (KING.NS) rose 13.8 percent and SpiceJet (SPJT.BO) gained 11 percent, after the civil aviation minister said Indian carriers would be allowed to import jet fuel directly, a move that will help them save costs.
The broader 50-share NSE index .NSEI ended down 0.49 percent at 5,335.15. In the broader market, there were 932 losers against 526 gainers on heavy volume of more than 900 million shares.
In the overseas markets, European shares edged higher as traders grew hopeful of a resolution for a second bailout deal for Greece, although poor results for some top European companies rekindled fears about the impact of the crisis.
STOCKS THAT MOVED
* Hindustan Unilever (HLL.NS) dropped 1.3 percent to 382.15 rupees after Citigroup downgraded the leading Indian consumer goods maker to 'sell' from 'neutral' on possible margin pressure in the coming quarters.
* Drugmaker Cadila Healthcare Ltd (CADI.NS) closed down 2.1 percent at 660.15 rupees, after the company reported 8 percent fall in quarterly profit.
* Manappuram Finance Ltd (MNFL.NS) fell nearly 20 percent after the Reserve Bank of India said late on Monday the non-banking financial company is not eligible to accept public deposits.
MAIN TOP THREE BY VOLUME
* Unitech (UNTE.NS) on 37.9 million shares
* Kingfisher Airlines on 34 million shares
* Manappuram Finance on 26.7 million shares
© Copyright Thomson Reuters 2023. All rights reserved.