Buying Bump Stocks Online? 'No Longer Available' At Cabela's, Walmart, Bass Pro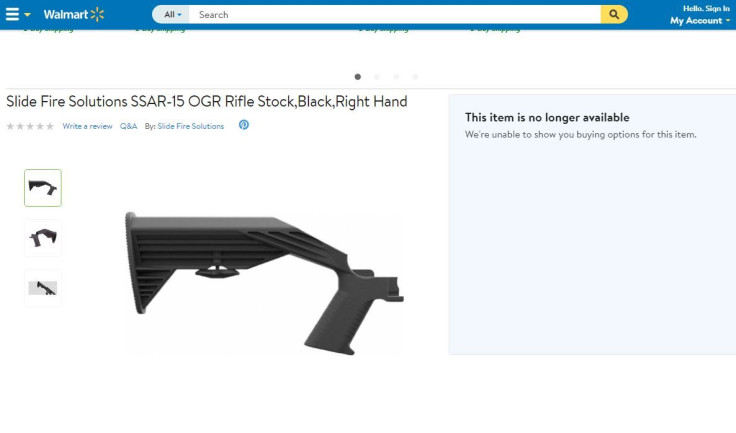 Bump stocks and recoil pads are increasingly "no longer available" online across the country's largest recreational firearm retailers including Walmart, Bass Pro Shops and also Cabela's – where alleged Las Vegas shooter Stephen Paddock reportedly purchased the semiautomatic weapon product.
So-called "bump stocks" have become "unavailable" on the online hunting equipment stores despite being available as recently as 24 hours after Paddock opened fire from Mandalay Bay and killed at least 59 people Sunday night. Since then, Walmart, Cabela's and Bass Pro Shops have all placed "no longer available" under all Slide Fire Solutions search listings – the company that first produced bump fire stocks. Images of the shooter's weapon cache first appeared online from Boston Fox 25 on Monday, with bump stocks and several other modifications clearly made to the weapons.
A bump-firing stock "allows you to shoot as fast as you want to", according to Jeremiah Cottle, inventor of the Slide Fire stock. "You hold your finger on the trigger rest and push forward to fire the gun," he said in 2011 interview.
Bump Fire Stocks, whose brand name is produced by Slide Fire, are legal modifications to the lower receiver of rifles that simulate more rapid, automatic fire. The modified stock harnesses energy from recoil, to force the firing mechanism to move faster than originally designed, according to the Trace, a nonprofit website that examines gun violence in the United States.
Bass Pro lists the products as "designed for fast-action, tactical environments where speed and durability are crucial."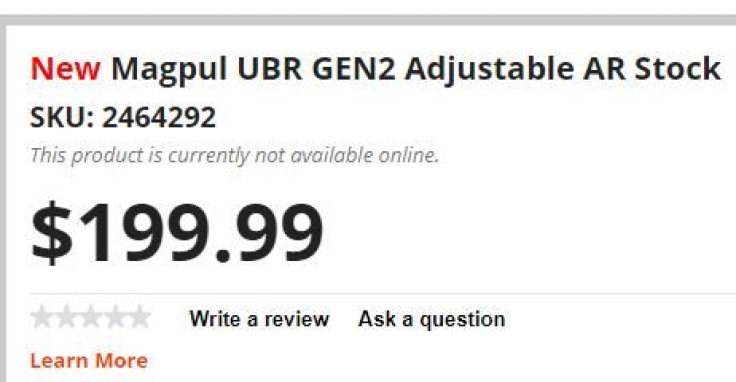 Cached versions of the website show that Cabela's listed numerous bump stocks for semi-automatic AR-15s and AK47s as recently as Monday before all such products became no longer available, Washington Examiner first reported.
Paddock is said to have purchased a number of weapons at Cabela's in Verdi, Nev., a federal law enforcement official told USA Today Monday. Several other local gun shop owners have also reported seeing Paddock, who Scorpius Tactical -- a store that doesn't sell bump stocks -- described as slovenly and who was not "well-versed in firearms."
The U.S. Bureau of Alcohol, Tobacco, Firearms and Explosives considers the Bump Fire Stock to be legal for manufacturing and sale in the U.S. But Senate lawmakers have proposed legislation this week seeking bans on the semiautomatic weapon devices.
"Automatic weapons have been illegal for more than 30 years, but there's a loophole in the law that can be exploited to allow killers to fire at rates of between 400 and 800 rounds-per-minute," said Sen. Dianne Feinstein, D-Calif. "The only reason to fire so many rounds so fast is to kill large numbers of people. No one should be able to easily and cheaply modify legal weapons into what are essentially machine guns."
So-called "bump firing" is a technique in which the gun is held somewhat loosely to allow a rocking back-and-forth motion against the trigger finger in order to simulate automatic fire in semi-automatic firearms. Slide Fire Solutions -- an Abilene, Texas, company – has seen its suppressors and stocks either sell out or become pulled from the online hunting retail stores. "Tax stamp...I don't need no stinking tax stamp! The SSAR15 MOD stock allows for 100% legal rapid fire without a tax stamp," reads the caption on the company's Facebook page.
Walmart, Bass Pro Shops and Cabela's did not immediately return International Business Times' requests for comment.
The AutoGlove, Akins accelerator and the Bump Fire Stock all allow semiautomatic weapon users to fire at rates in excess of 400 rounds per minute. The ATF defines a "machine gun" as "Any weapon which shoots, is designed to shoot, or can be readily restored to shoot, automatically more than one shot without manual reloading, by a single function of the trigger." Additionally, the ATF includes "Any part designed and intended solely and exclusively or combination of parts designed and intended for use in converting a weapon into a machinegun."
According to Trace, these three parts were all designed to evade U.S. federal law. The AutoGloveBass Pro "designed for fast-action, tactical environments where speed and durability are crucial." But because Bump Stocks don't augment a shooter's trigger finger with mechanical parts, it has avoided ATF regulation.
The Firearms Technology Industry Services Branch of the ATF ended legal sales of the AutoGlove this past September. The AutoGlove is a wearable device that combines a battery pack, glove and an electric plunger at the end of the trigger finger.
© Copyright IBTimes 2023. All rights reserved.