'Call of Duty: Warzone' Season 5 Leaks Suggest Major Event That Would Transform Verdansk
KEY POINTS
"Call of Duty: Warzone" Season 5 is just a few days away
Fans anticipate more content from the upcoming major update
Raven Software seemingly teased an event happening in the game's Season 5
"Call of Duty: Warzone" Season 5 kicks off Thursday and while fans expectantly wait for the incoming surprises, a new set of details surfaced online suggest an upcoming event that might take place in the forthcoming season, which could involve the mysterious Red Doors, a modified version of the Verdansk map and explosion.
On Monday, an industry insider who goes by the name HeyImAlaix, shared on Twitter about an in-game file. Called "explosion mp_don4_x2_explosion," the file might not make sense to some, but the insider revealed what the file means.
According to them, mp_don4 is the name of the current "Call of Duty: Warzone" map while the x2 is apparently the code for an event. The insider also noted, "So yeah, we are getting a modified version of Verdansk 84 for the event, and it might explode somehow."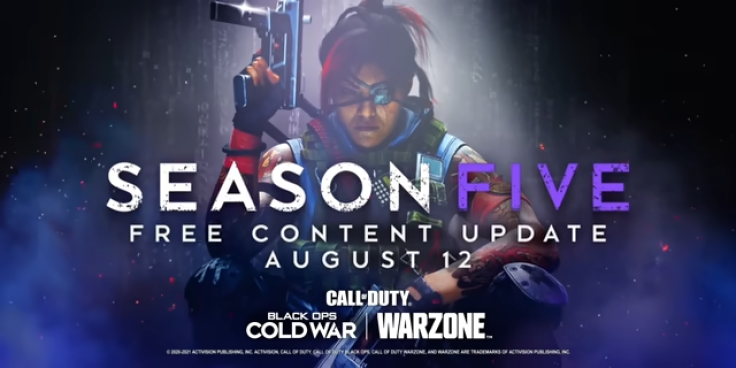 The leak somehow suggests Raven Software might modify the current version of Verdansk '84 for an upcoming "Call of Duty: Warzone" Season 5 event. The supposed event would reportedly involve explosions.
While the insider has not provided enough details about this supposed event, a recent blog post seemingly offered more details about a mid-season event in the upcoming season of "Warzone." One section of the post read, "the Red Doors grow unstable… mid-season event coming."
The blog post also mentioned Perseus' latest intrusion, which caused the volatility in the fabric of the mysterious Red Doors. "Whatever broadcast Perseus set up is causing the Red Doors to become more volatile than ever before, as Operators are now reporting [[REDACTED]] in their post-mission briefings," it said.
Moreover, the post warned fans about the Red Doors, stating, "Beware these doors sending you to locations other than the main room we all thought to be its lone destination point. The event may also have something to do with those Mobile Broadcast Stations seen around Verdansk…but at this time we cannot declassify further intel for fear of double agents."
It appears that game developer Raven Software is teasing about the event. And based on the post, it looks like these mysterious Red Doors in "Warzone" would serve as teleporters that could send players to random locations on the map.
It's unknown if the in-game file in "Call of Duty: Warzone" that the insider discovered is the same as the mid-season event that Raven Software is teasing. The only thing certain about the leaks is that players will once again enjoy another major event in the coming days.
© Copyright IBTimes 2023. All rights reserved.